Years ago I was in Puerto Rico with Dan – you can see the post here. Note – you'll have to scroll past the CURRENT Puerto posts to get to the ones from 2004, but since there were several it seemed easier. In 2004 we explored the island, but not Old San Juan, the reason for this trip.
Normally I'd do a "Day By Day" report of a destination city, but I've rolled all three days on the ground into one report. Could be that with the heat, I'm coming back to take a lot of naps in the noon day sun. Could be that I've just been a slug while I'm here, walking, eating, catching up of work, watching the rolling mess of the current administration.
But let's start with my first evenings meal here on the island – no help from Yelp, just wandering around until I found someplace that looked OK. Tonight, that would be Deaverdura. Basically, a hole in the wall with a small bar and a kitchen where I think it's Mom cooking. Don't expect quick service (it's Puerto Rico after all), or a menu –what would you like, grouper, pork, chicken, etc., all served with rice and beans. That said, I felt like I was eating at a family table, and felt guilty for being one person at a 4-top..
Started out with a Pina Colada – it is Puerto Rico after all: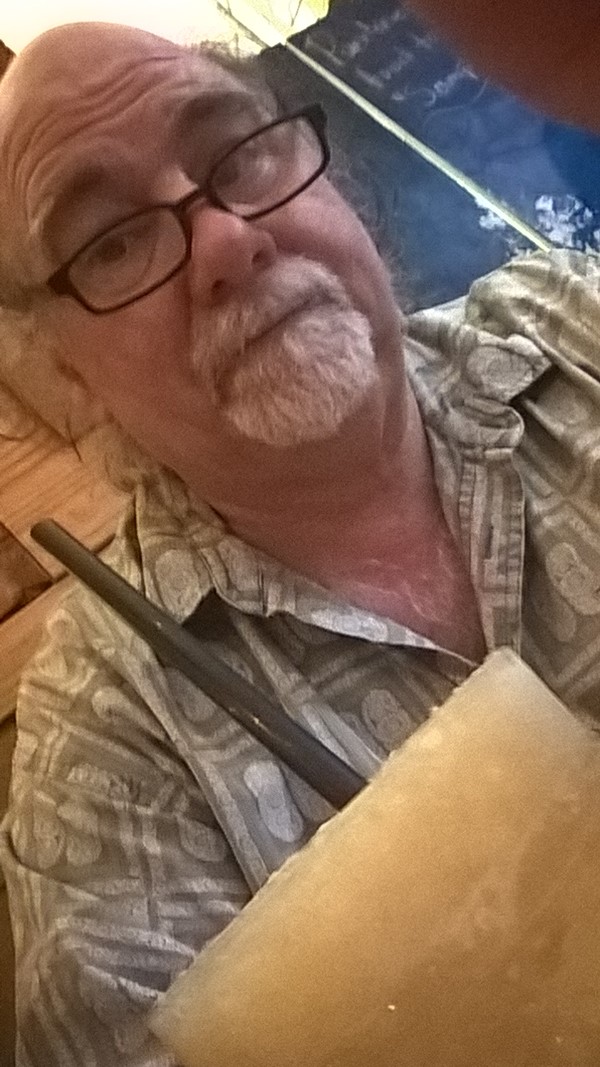 And moved onto the pork….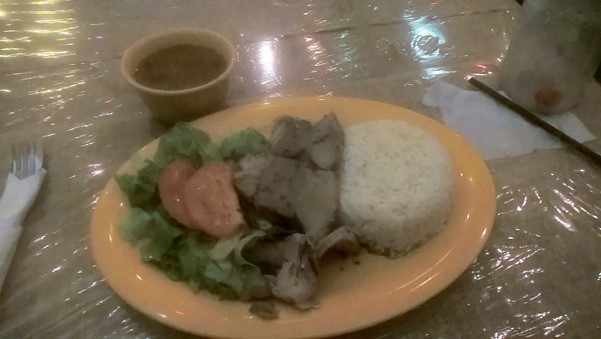 Those are the beans in the cup – they go GREAT over the rice.
I wanted a Mojito as my second drink – but they were out of mint. Truly a family place! I went for a light rum and coconut water…interesting, but not again.
After a night of sleep, it was off exploring the city. Walled down to the port and found a sandwich/wine bar for a bite. Mejunje Restaurant would be the place. I had the Sirloin Sandwich, which came with potato chips with a drizzle of balsamic – odd, but tasty: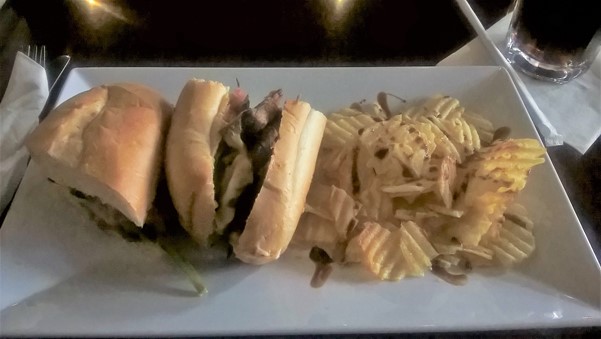 $13 with tip and a Diet Coke. Apparently, dinners and wine run more.
Off to the old fort after my food…ended up walking there. As long as you have good shoes, Old San Juan is very walkable, and there is a free (if crowded) public trolley that winds its way slowly around the old city.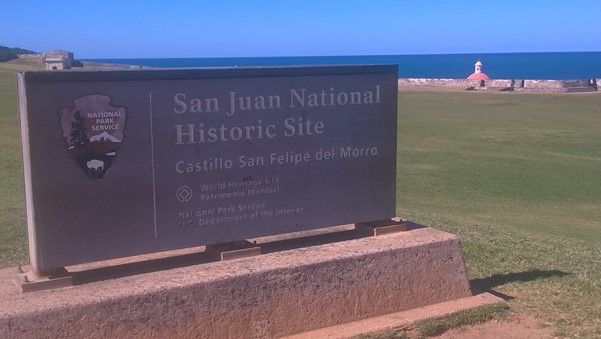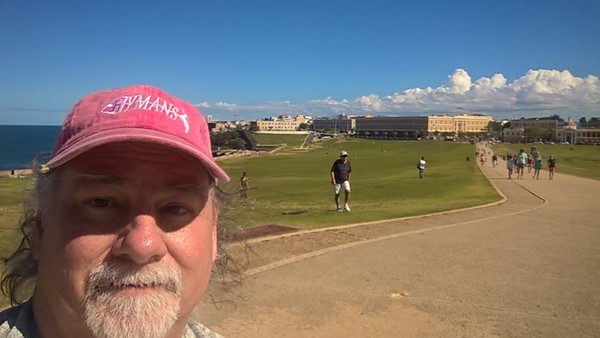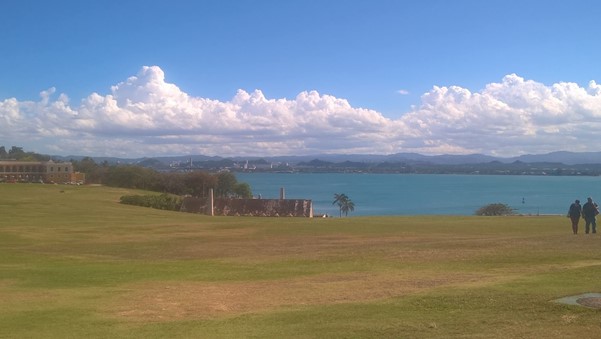 I opted for the trolley back into town for a nap. Uncle isn't used to this heat and humidity.
Dinner at Hecho En Casa (which had a couple of Rainbow Flags inside, but I don't see them on any Gay San Juan site, though the "hostess" was definitely family) for a local favorite, Mofongo, mine End Pulop (with Octopus). Here is a definition of Mofongo and here is a picture: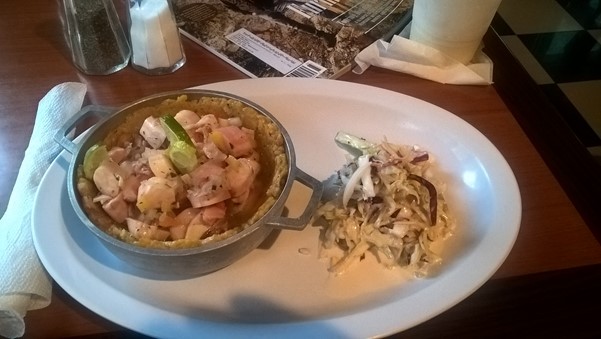 And your options: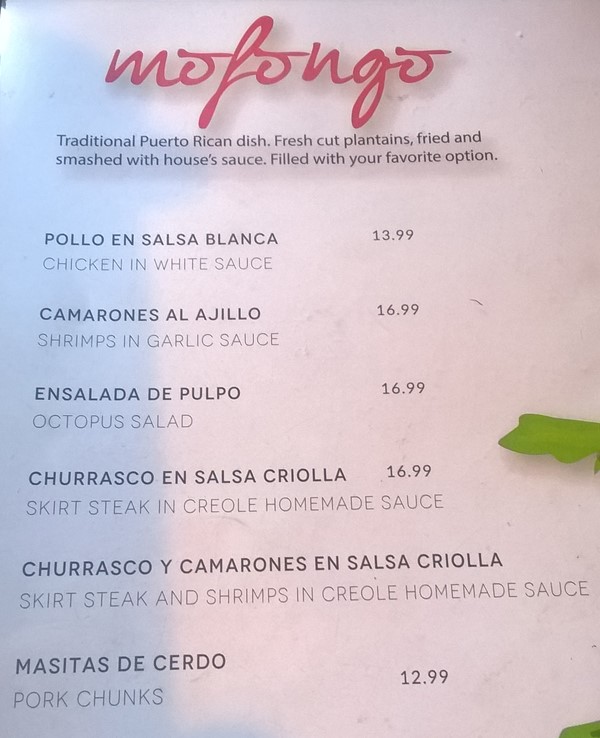 Happy Uncle Markie….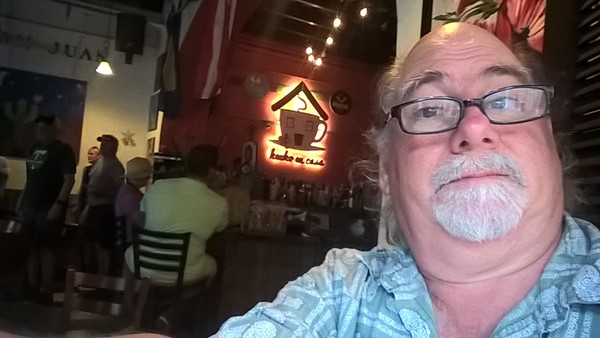 Time for more cable TV, something that doesn't exist in my house in Seattle. I'm an OTA (Over The Air) kind of TV watcher at home. Oddly, in the evenings, still watching the same thing, though during the day, it's CNN with the sound off.
Exploring the city the next day brought a bit of a shock. FOUR cruise ships in town – right at the edge of Old San Juan. Holly Moly!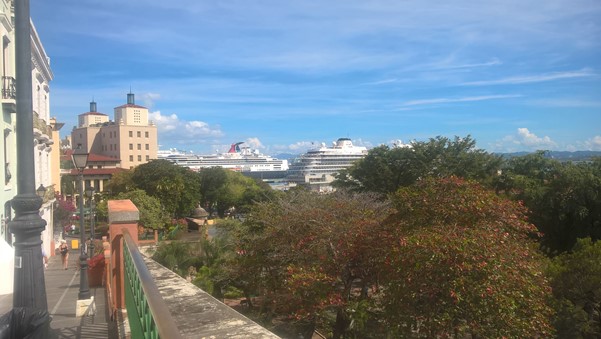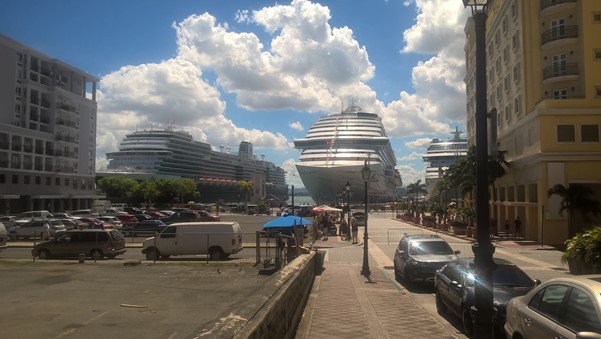 When I say "in the middle of the city", I mean it. The city changed overnight as it were. The free trolley was jammed with PPPs (pasty, pudgy, plainspeople). You should have seen the CVS across from the dock. If it weren't for cheap local rum I wouldn't have entered!
Sad to say that my morning/noon meal the next day was at Wendy's, on the Square across from the hotel, next to the Department of State (seriously, right next door, and there are cops everywhere) for a Clasico Singulare con Caso. This is what happens when you are cranky and need food NOW!
More exploring during the day, but I realized the cruise ships were in town for TWO days, so there goes my revisit to the Bacardi Distillery that I did in 2004. (LINK)
It might be the heat, or the new mini-dose blood pressure meds, or the humidity, but I'm taking a lot of naps in the air-conditioned cell.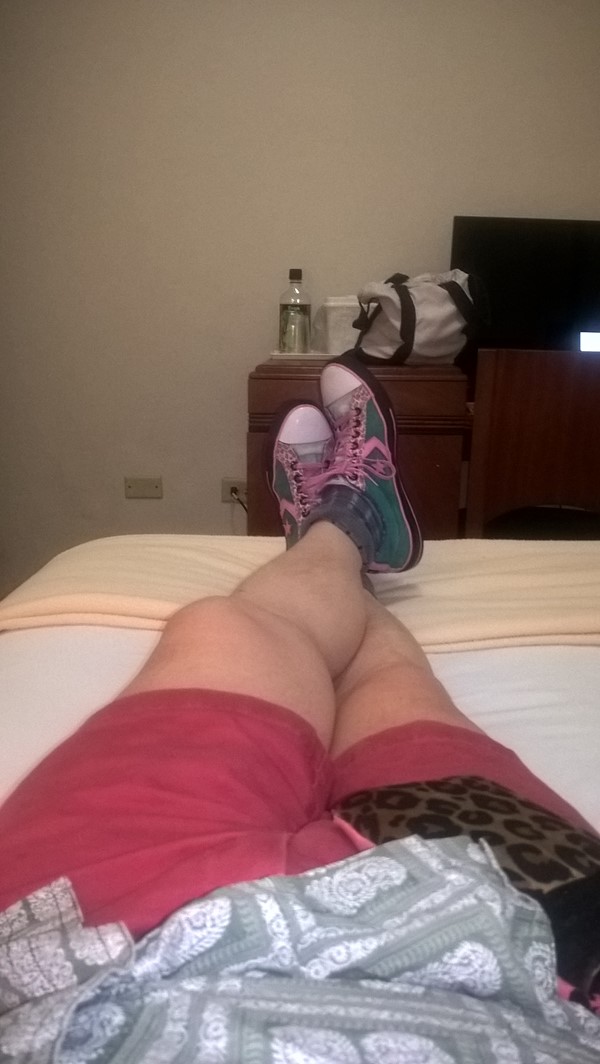 But you still have to do at least one church….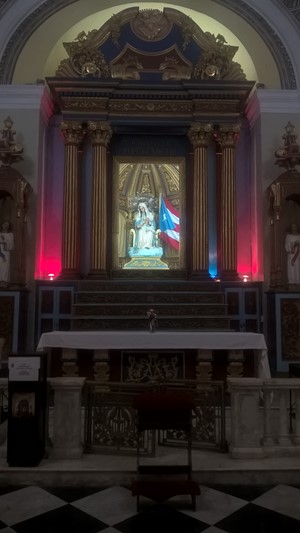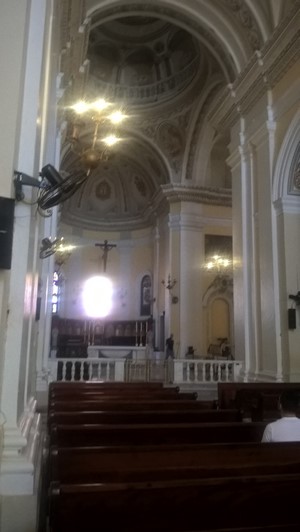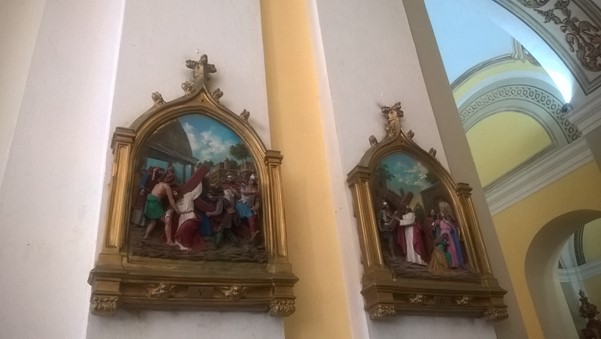 The church was right across the street from El Convento – the hotel (in an old convent) that I'd toyed with staying at, but the "discount" rate of $265 a night put me off: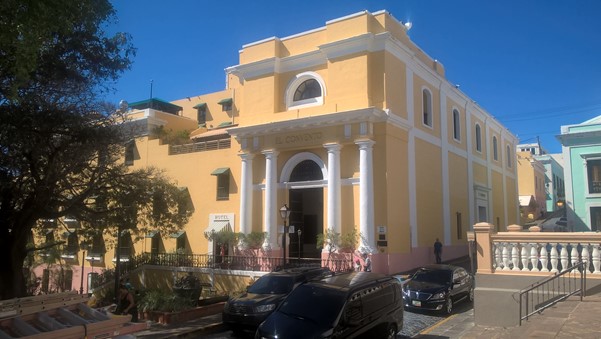 Maybe if I'd been travelling with someone I would have sprung for it (paging Rache!)
There was also this "odd" guy I saw a couple of time on the street – the first time is musket was not covered: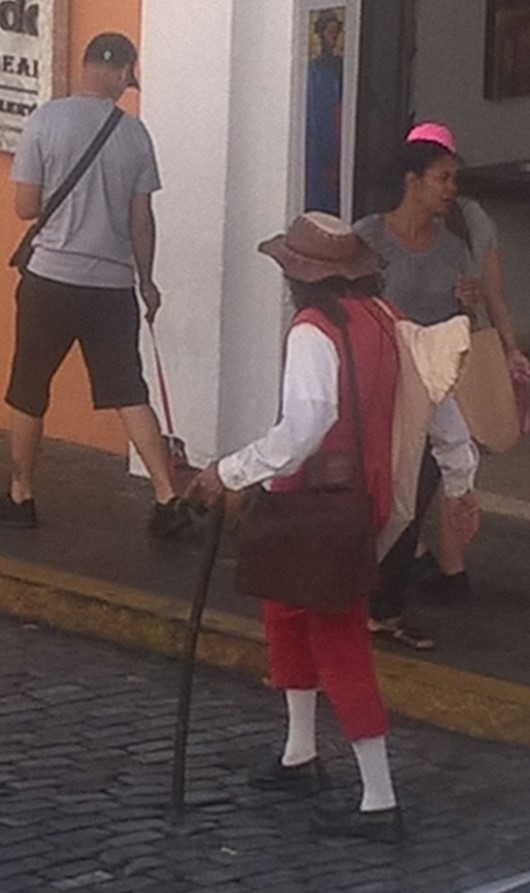 Guessing he was part of the National Park's Fort Program. Did I mention I didn't even go into the Fort – I left my Parks Pass as home, and was too cheap and too tired to pay the $5.
Dinner tonight was just around the corner from my hotel – at Café Punto. I opted for the non-air-conditioned hallway with more action that the two small square rooms with AC.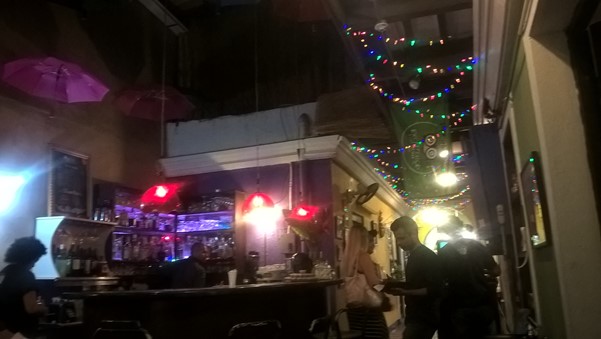 I ordered two appetizers off the extensive (and somewhat expensive) menu – the assorted meat/seafood turnovers and the fresh fish ceviche: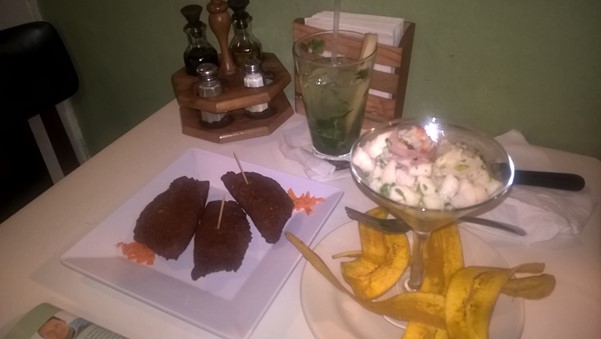 I love that it came with fried plantain chips. That would be a mojito with a slice of sugar cane as a stir stick. A little sweet for me, but when in Puerto Rico…
By day you notice that many of the street bricks are glazed (like Portugal):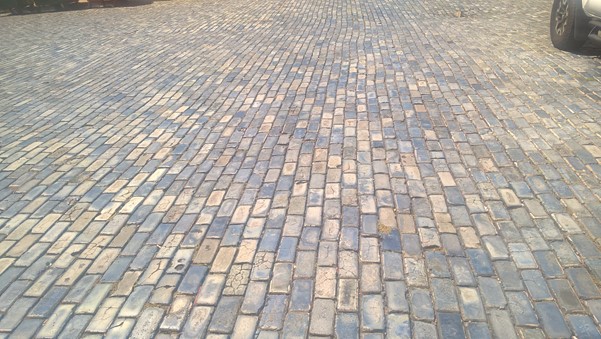 Unless the cruise ships are still hanging around…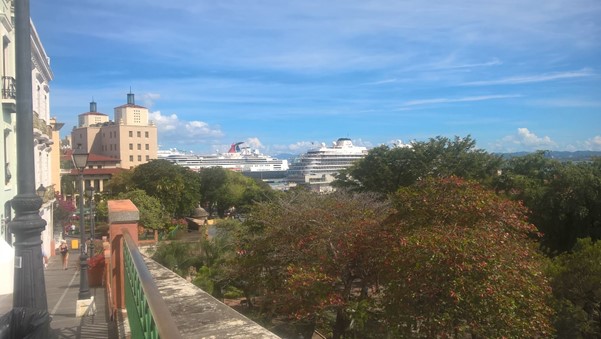 By night it is just as beautiful: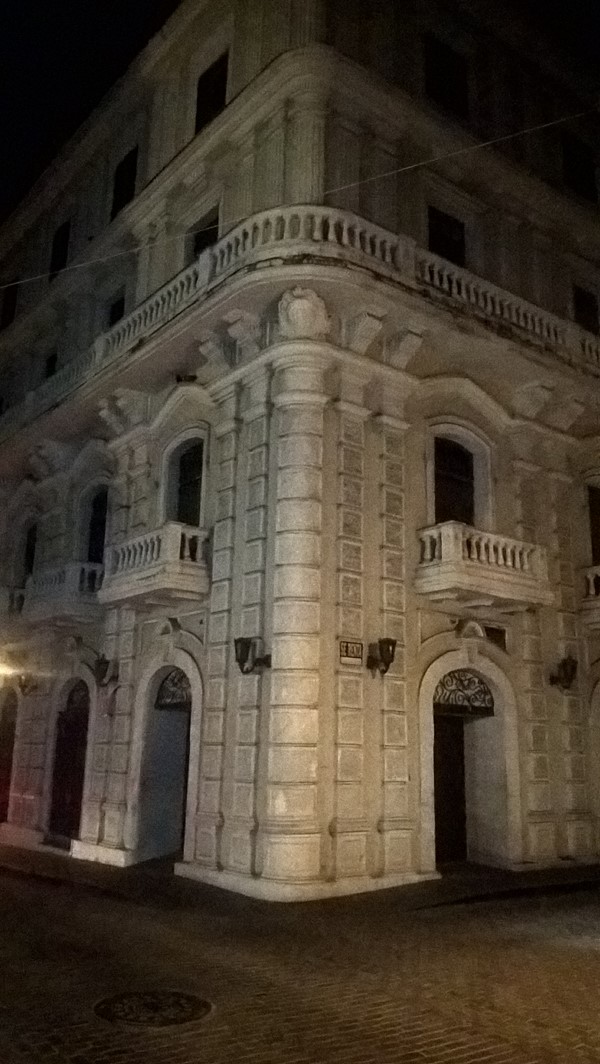 For my last full day in San Juan, decided to try the café in the lobby of the hotel for a sandwich…. Which was pretty good! The place is called Caldera.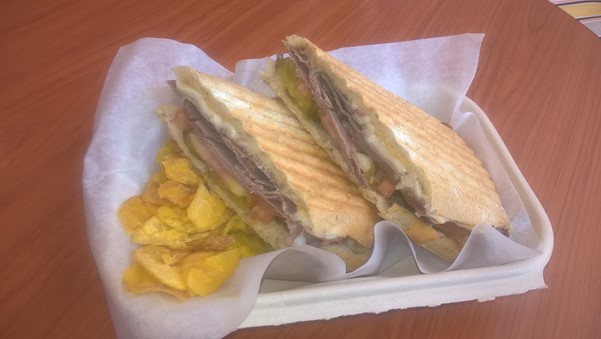 And there is one very cute staff member (Ernesto?):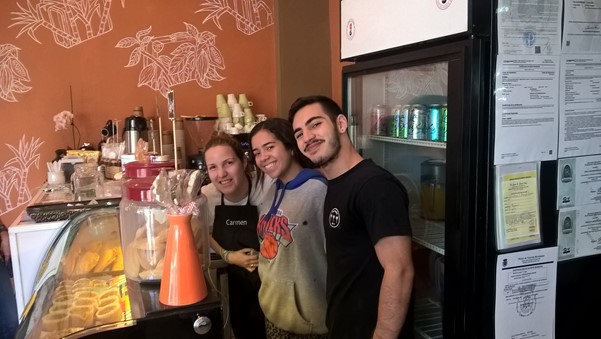 Wandered around the city a little more, took another nap (the heat kills me), got a little blogging and shop work done: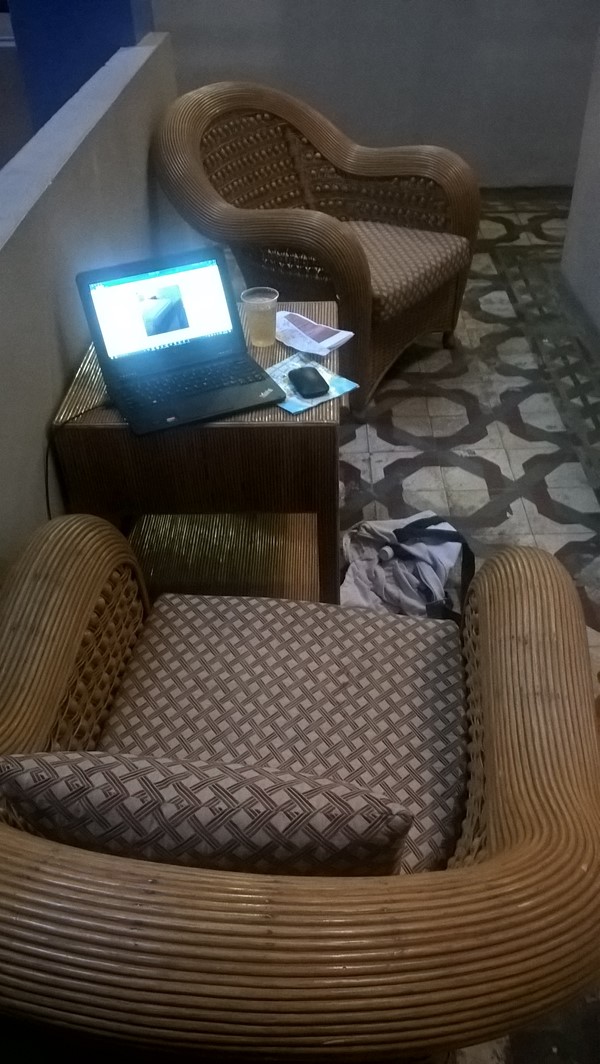 Even though there is no power, the second-floor breezeway between my room and the incredibly noisy ice maker is a nice quite space with a decent cell signal since I can't get the laptop to connect to the network, but my phone will. Finally gave up and just tethered laptop to the phone.
For dinner I ended back at Café Punto to try their other ceviche which was baby conch, and their tropical ensalada capresse: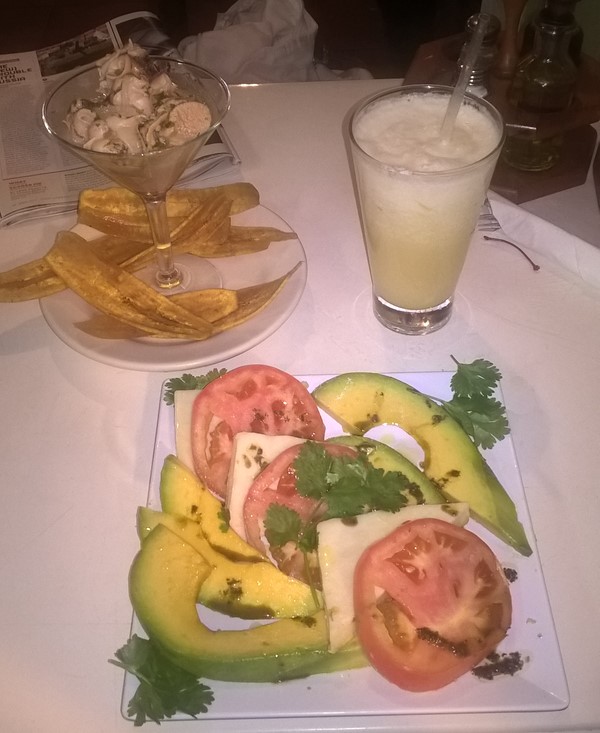 Basically I've been spending in the $30-$35 a night on dinner that included a cocktail or two. Trust me, I could have spent MUCH more looking at some of the menus in windows.
Well, that's it for this post for tomorrow I leave the Caribbean and go back to Seattle.
[220.2]