My final day in Uruguay and I'm sleeping in again, waking to go get breakfast before they stop serving, and then go back to bed for another hour or so. Today is going to be a long day that stretches into tomorrow. Missed a market with Rache – but figured I needed the sleep more.
After he returned, we headed out to Tres Cruces to pick up tickets for the 1st Class airport bus: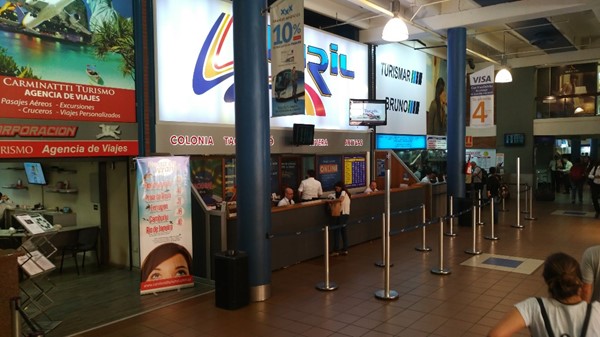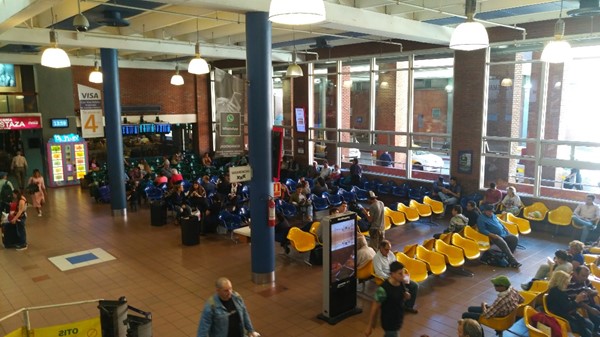 We picked a restaurant close by, one that I'd passed the first day in town assuming it was only pizza. El Refugio. Unlike Monday's restaurant, no Visa excepted here – guess I shouldn't have bought the bus tickets with cash!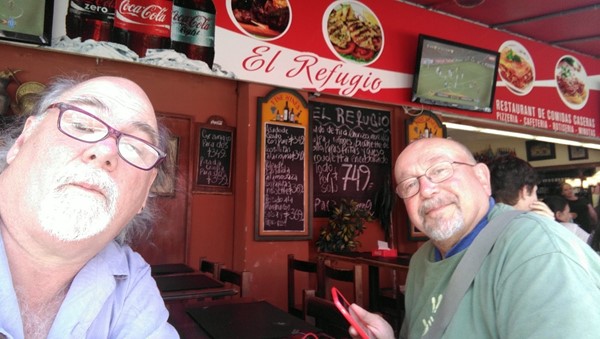 We ordered a bottle of Tannat and sparkling water to go with lunch, only to find out they had no Tannat. We settled for Merlot.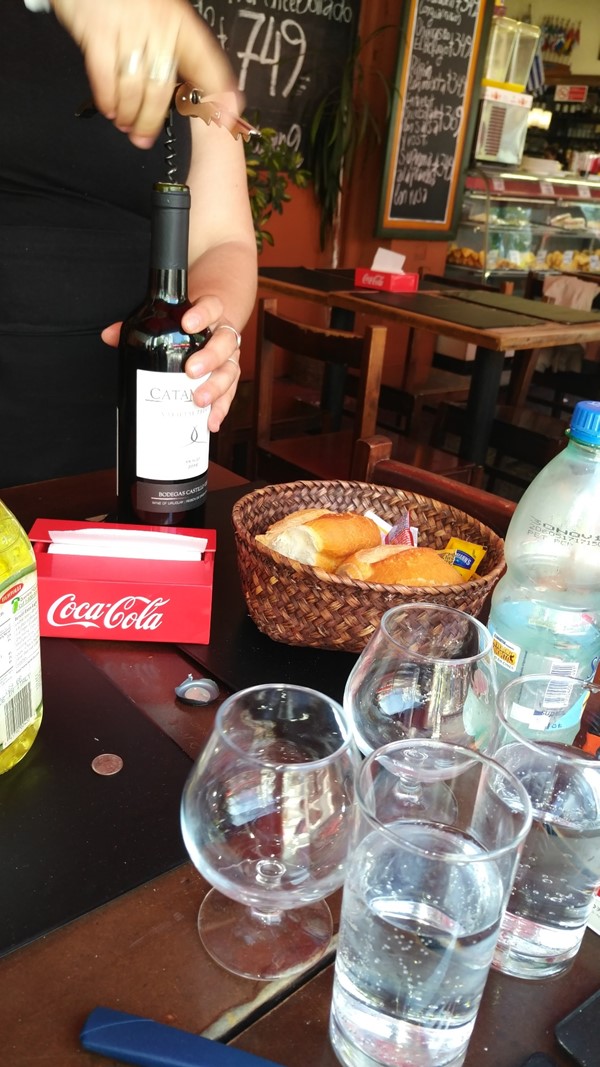 Today, it's my order that turns out to be something other than I'd expected (which was grilled octopus and a salad):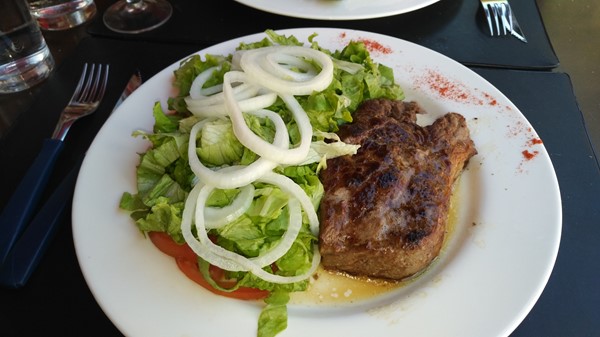 Rache got what he expected…chicken and rice: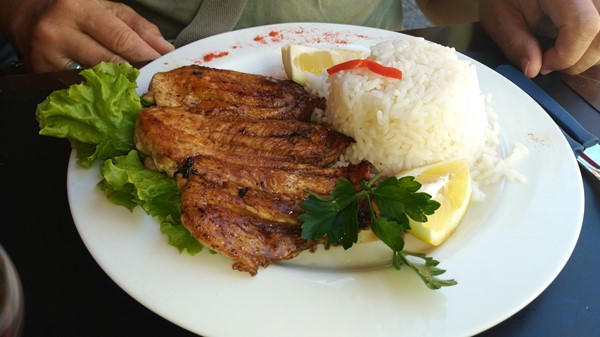 Lovely meal, lots of people watching…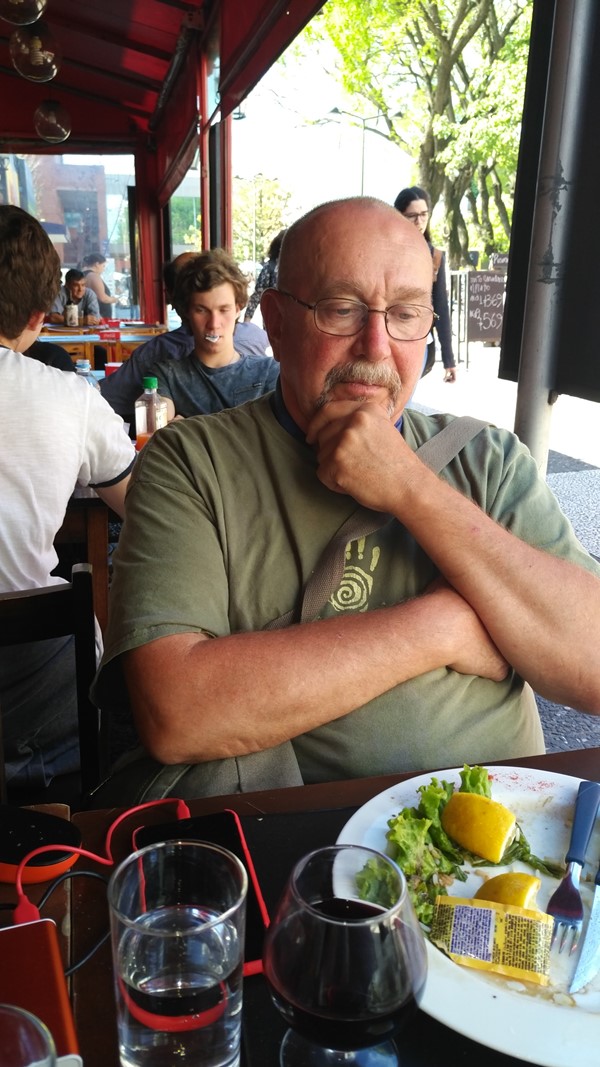 But soon, it was time to grab the bus to the airport – Rache is sweetly going with me, which in retrospect, now seems silly, but it was nice. It was $6.50 to the airport, and he caught a local bus back for $2: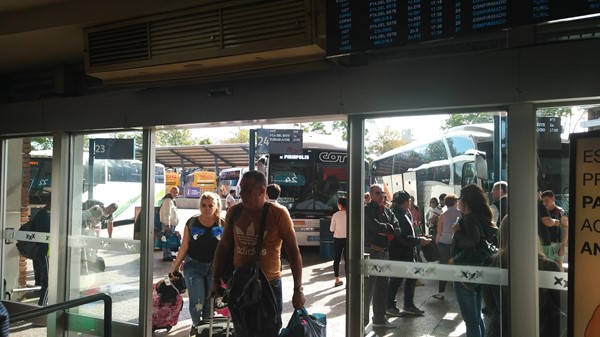 The bus made a couple of quick stops, but we got to the airport in less than 45 minutes: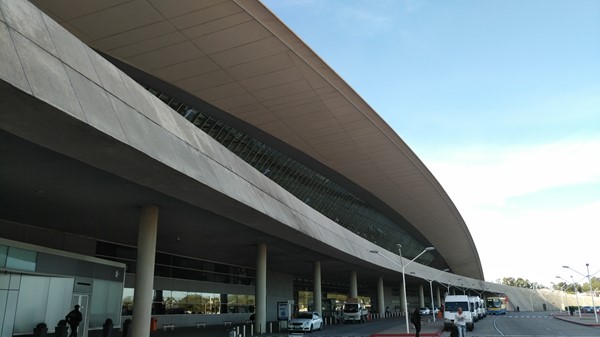 Wasn't long to get through security and immigration, and off to explore what's on offer in the airport – apparently more wine if I'd like it, and I saw seats and a bar, so I'm guessing they do glass pours…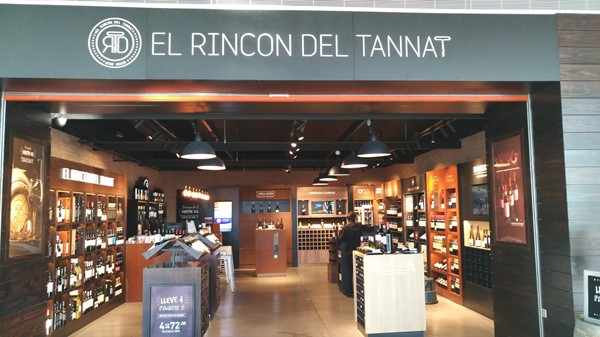 After a little snack and a cocktail or two, boarded to plane and hung my headphones and phone holder on the brochure holder. Tips and tricks of travelling a lot. Only once have I been asked to hold them during takeoff/landing: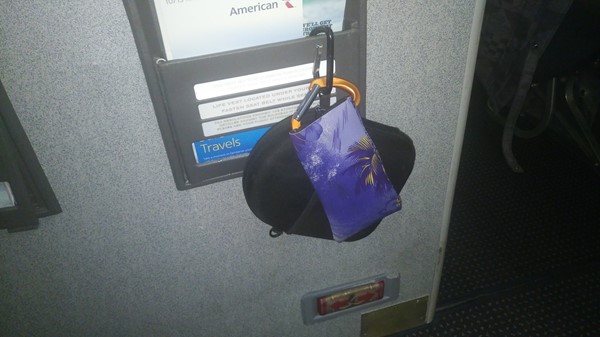 The rest of the post is all about the return flights home. Red-eye to Miami, then to Dallas, finally to Seattle.
On the upside – ALL the legs of my return were in Main Cabin Extra, ALL with an open seat next to me (which is rare these days).
On the downside – the 767-300ER on the Montevideo route, while more recent than the one on the way down, still had some mechanical issues. Yes, the reading lights worked. Yes, the audio worked. Sadly, what didn't work was the heat. It being a red-eye flight, we had pillows and blankets – which weren't enough to be comfortable when only half the heat sources on the airplane were working. It was so cold that even the cabin crew was saying it was ridiculous and stripped down the crew beds once they were done with their naps and distributed the thicker blankets to those who looked in distress (myself being one of them). I'd packed my jacket in my checked bag – and even having a spare blanket from the empty seat next to me. I was VERY thankful to get one of the thicker ones. EVERYONE on the plane was bundled up in whatever they had.
Got to Miami half an hour early, happy to be in a warmer environment, even if it was having to trek a half mile to immigration and customs, which was quick because of Global Entry. First stop – the Admiral's Club for a long hot shower to get my body temperature back to normal. The breakfast snack was also welcome. Too early to actually get a cocktail though.
Got four newspapers read before grabbing my flight to Dallas/Ft. Worth on a MUCH newer A321S, complete with USB charging, free in-flight entertainment system with LOTS of movies, I opted for "Classic" titles like Lost In Translation.
Arrived in A terminal in Dallas/Ft. Worth, the terminal with the Admirals Club under renovation, and a tight connection with just enough time to grab a wrap at 7-11 (yes, there is a convenience store in the terminal – wish ALL airports had them).
Another A321S, another open seat next to me, all was good, though the memory of shivering the night before still fresh in my memory. Guessing there will be a letter to American about the equipment they use on their South America routes.
Grabbed an Uber home, dumped luggage, drove to the Post Office for a "must sign for" couple of small packages, came home, took a nap, made fresh chicken noodle soup (OK, the noodles, the vegetables, the bone-picked chicken, and the stock were all in the freezer) to make sure I didn't get sick from all the people I'd been around.
Work the next two days, and leave again after work on day two. Boston, here I come!
[224.4]
For more than just this post, check out the whole blog at https://blog.unclemarkie.com