I had to look it up. Hip Contusion. That's most likely what I suffered the other day. Right leg pain and flexibility issues. NOT the thing you want when you are headed out of town doing tourist stuff that requires lots of walking and lots of stairs. Welcome to Japan!
Julian has a great view from his building, FYI. Took this shot while waiting for the elevator: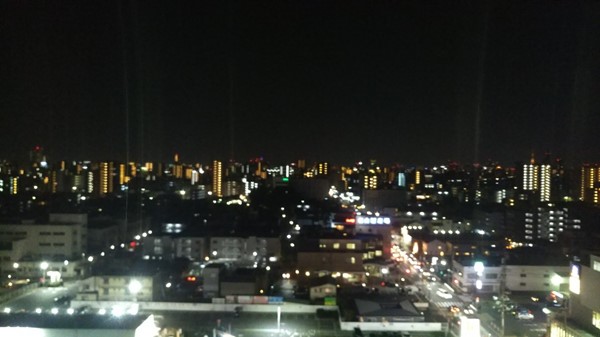 Because Julian works until after 9PM, I headed into Nagoya Central Station ahead of him to grab our two tickets on the Shinkansen headed to Osaka. Julian and I were to meet up under the infamous "Golden Clock".
Got the tickets but needed a little food: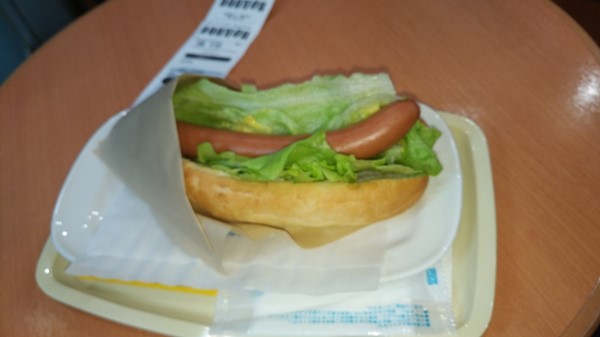 My choice of food was as much about my love of hot dogs as it was for a place to sit down.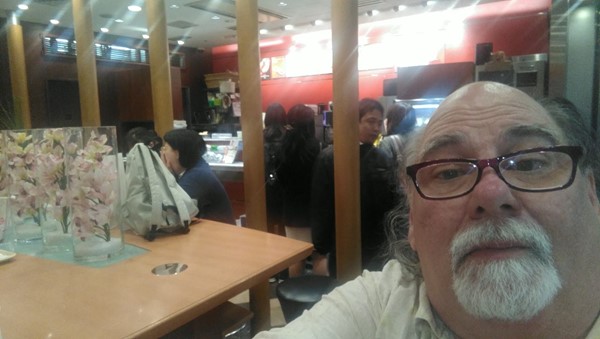 While Japan has plenty of trains that run on time, they lack much in the way of seating ANYWHERE (stations and throughout public spaces), which considering all the walking and stairs, with an aging population, it's probably not a good mix. But I digress.
Before leaving the house, I popped out to the store for some supplies for the trip. All the food groups. Whiskey and mixers: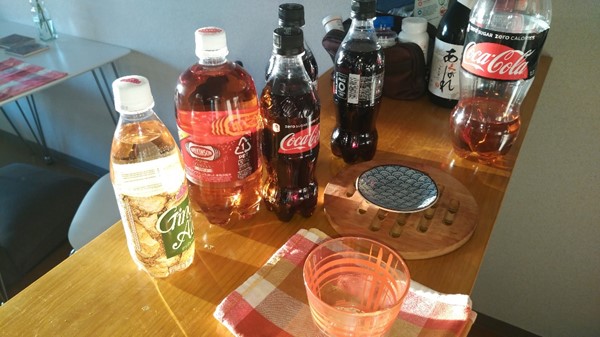 Chocolate: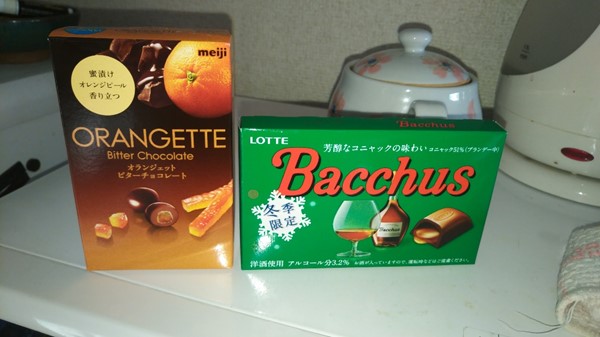 Dried squid, wasabi peas, and little sausage sticks: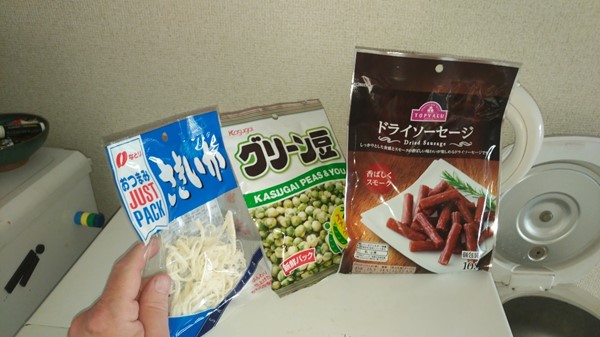 Julian was on time getting to "The Golden Clock", and so was the train: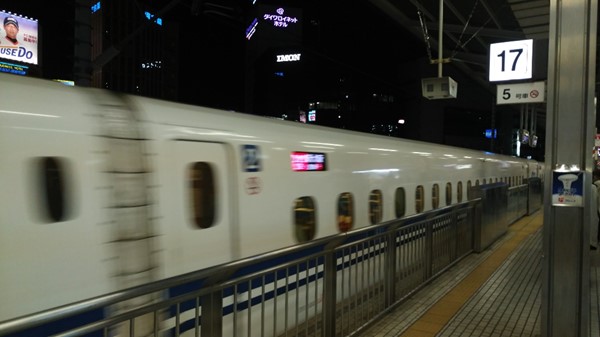 Never seen a urinal on a train!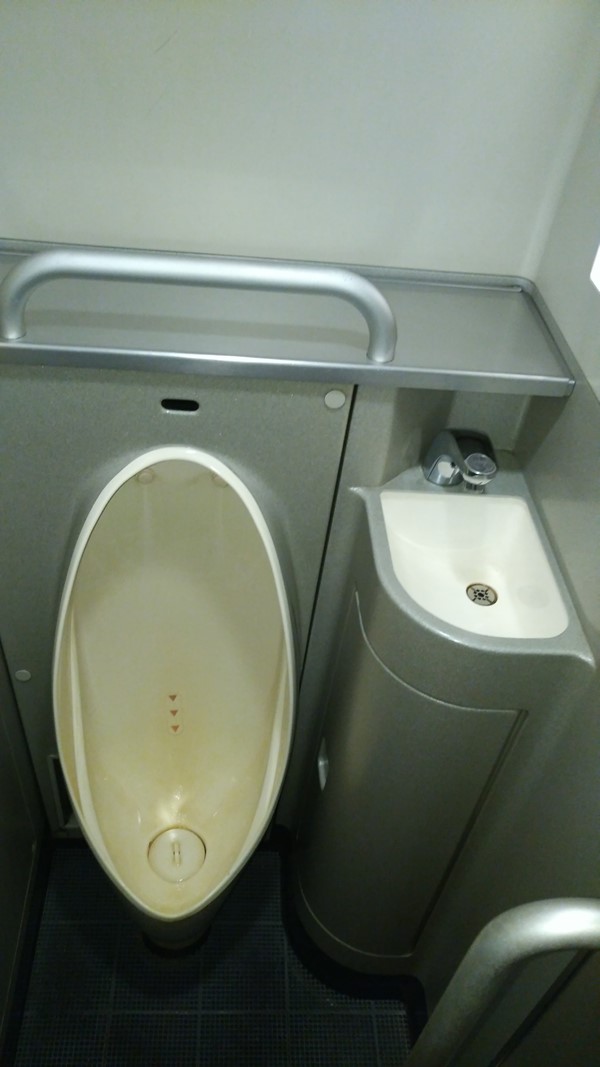 It took us a little over an hour to get to Osaka. Then there was the hike to the Asahiplaza Capsule Hotel.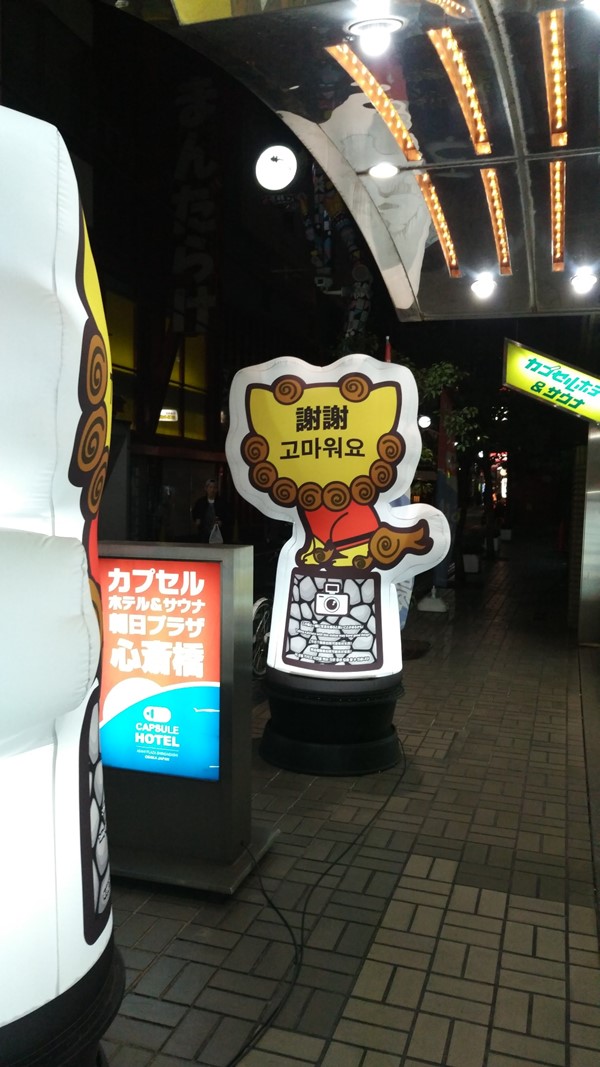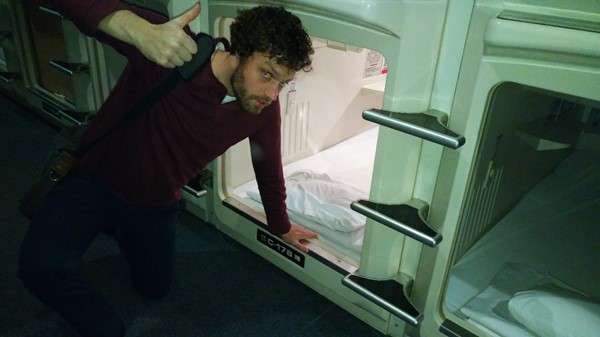 We still needed to explore the nightlife of the Dōtonbori neighborhood and get some food.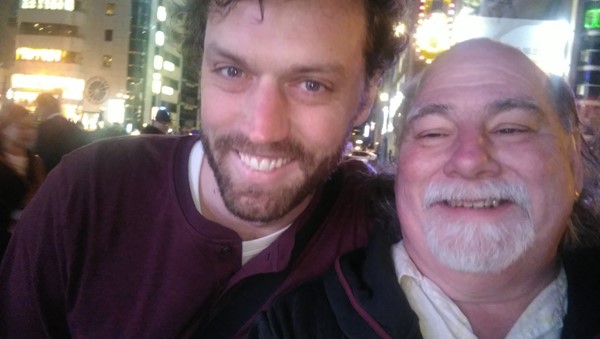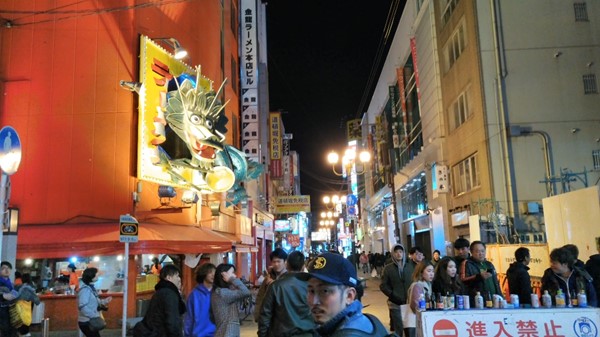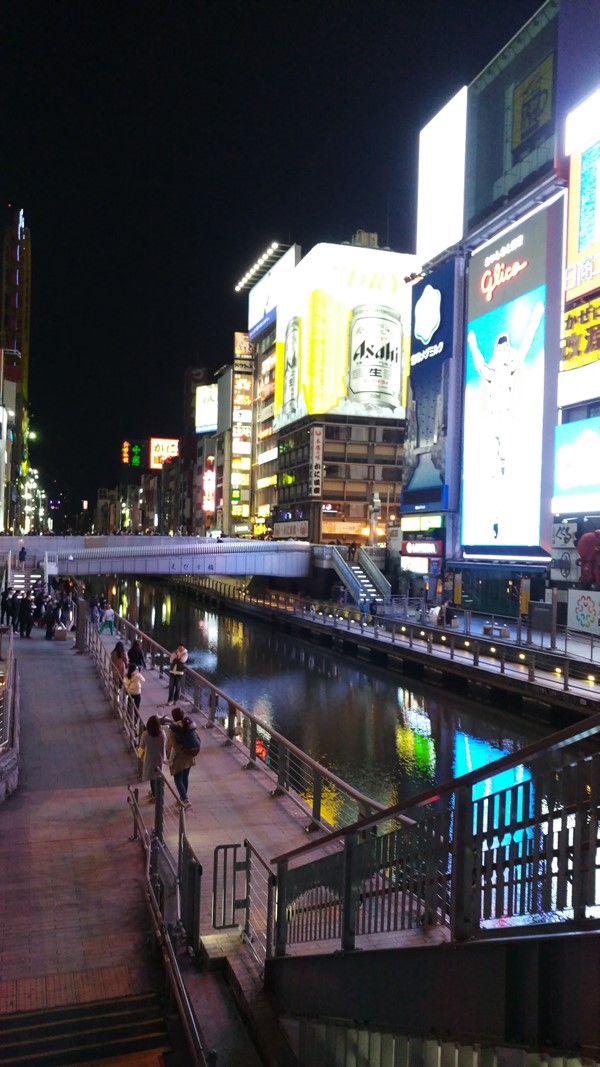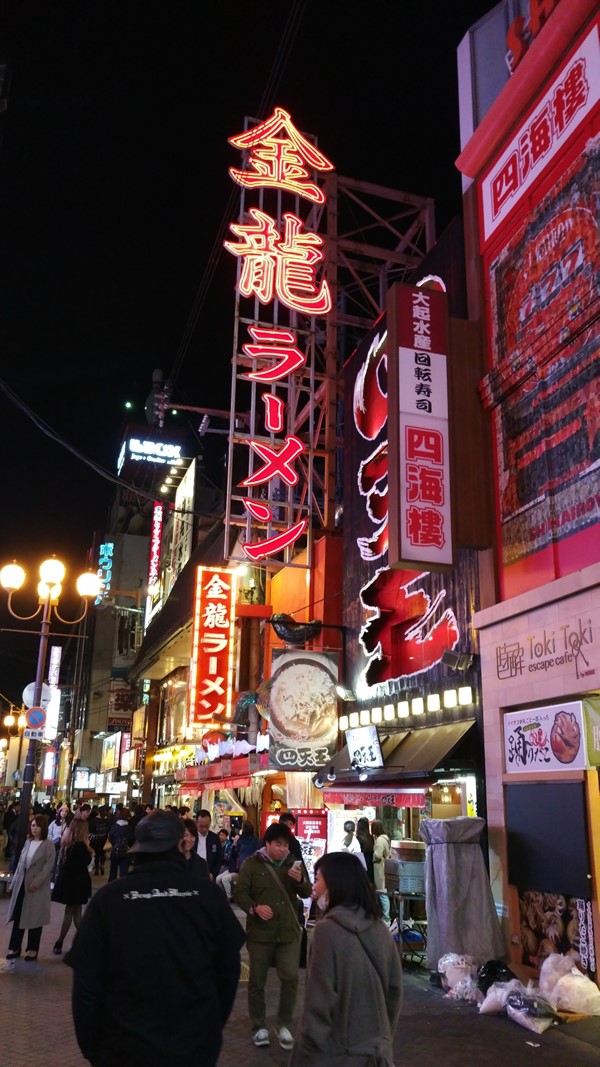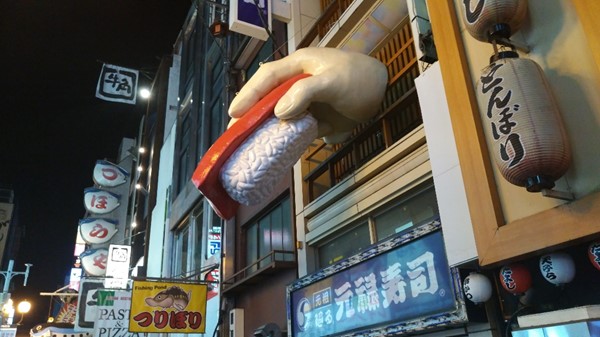 A specialty of Osaka is their Octopus Balls (Takoyaki), so we split one: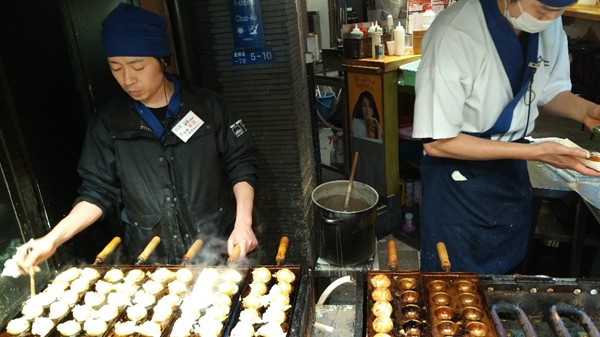 And then it was off to a table top cooking restaurant: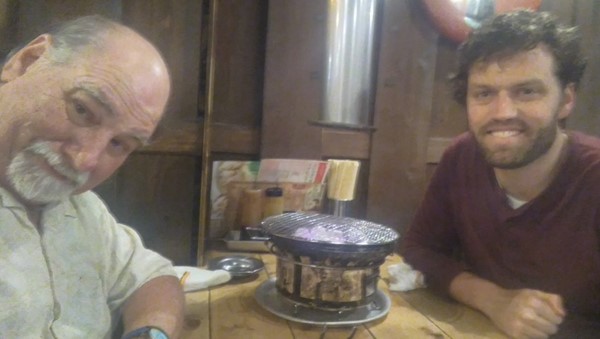 Julian's Japanese comes in handy when ordering from our VERY CUTE waiter: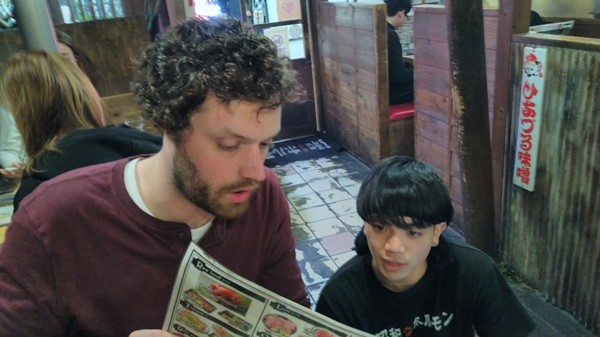 Throat? Penis? Red fibrous meat of the cow's front stomach?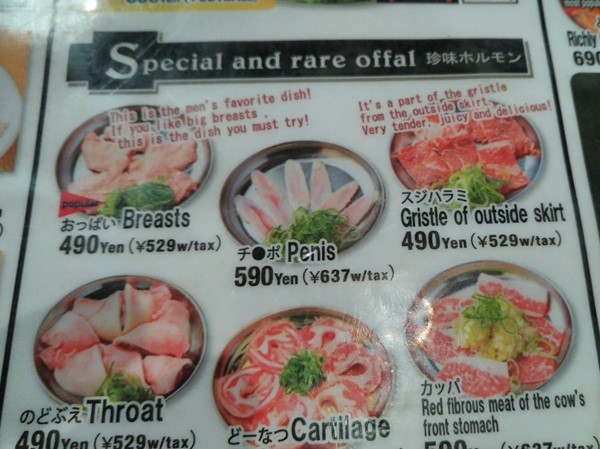 Not your style? Maybe Heart Crotch, or the variation, Spicy Tongue Crotch? They have, and I quote, "Hard To Find Intestine."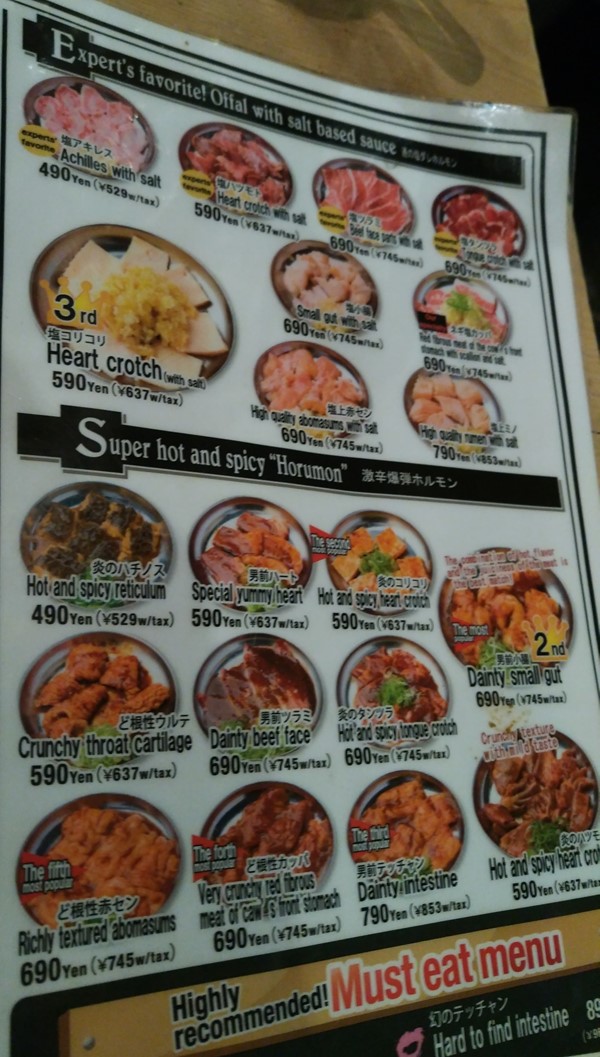 And I didn't even mention the Hot & Spicy Retuculum or the Dainty Beef Face, nor the Red Fibrous Meat of the Cow's Front Stomach with Scallion and Salt (how VERY SPECIFIC).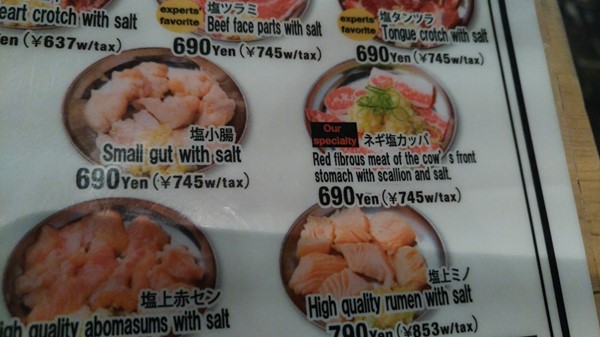 We weren't as adventurous when we ordered…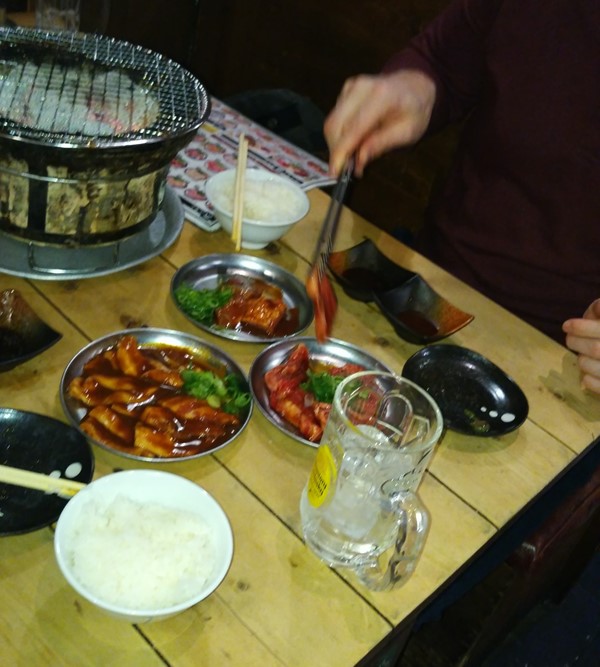 Back to the hotel we went…full, and a little tipsy.
So, capsule hotels are a little odd, and rule bound. Shoes off in the lobby, check in, put your shoes in the shoe locker, turn in that key and get your personal stuff locker key. Luggage is not allowed in the "capsules", so if it doesn't fit in the gym-sized locker, that will be an extra 200yen (on top of the 3000yen [about $30] capsule rate). At the lockers you change into your yukata (rob top/drawstring bottoms), throw some personal items in the pod, and head to the basement where there is a full Japanese bath included in your room rate. Nothing like a long washing session before popping your tired bones in either still or bubbling hot water, or maybe just hanging out in the sauna (which, oddly, had a TV set in it). It being a traditional Japanese bath, no swimsuits are allowed, and they are serious about the heavy bathing before. Needless to say, no pictures of the facilities, oh, and by the way, like most of the public baths, you are not allowed in if you have tattoos, as they are associated with the Yakuza (Japanese Mafia).
LINK TO ALL THE RULES. Interestingly, the no tattoos was a sign in the bath itself, but not on the brochure or website, so I'm guessing that this is not strongly enforced for Westerners.
Here is a view from the inside of your pod. You have your choice of a TV or an electrical outlet. It's an up-charge if you want both.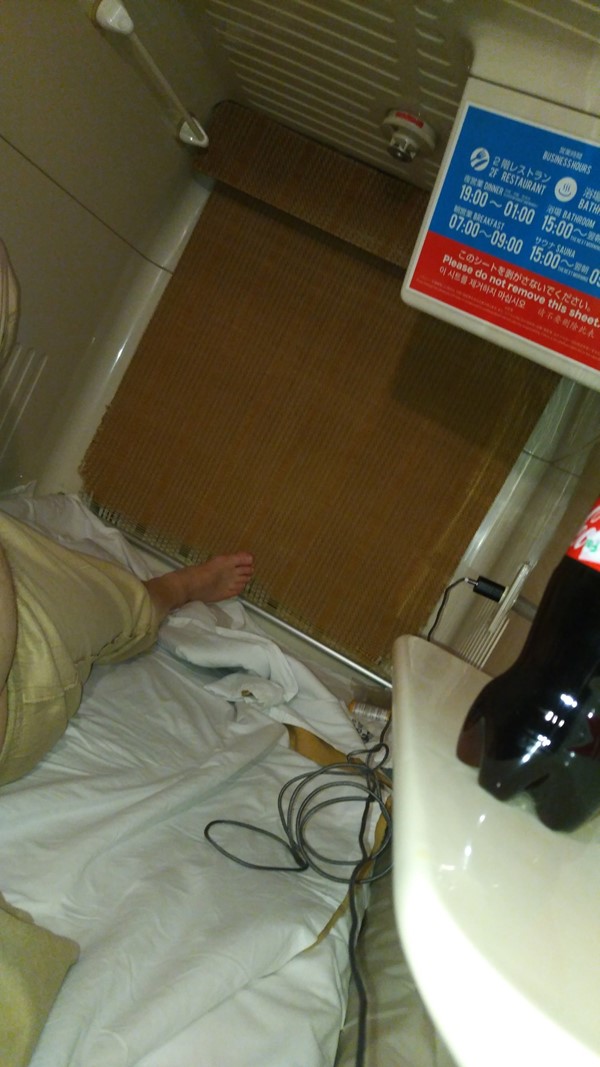 We went for the outlet as they were sold out of combo units.
I slept amazing well for it being a coffin. I think the booze helped.
In the morning we are off on our final sightseeing experience of Osaka – the Cup Noodle Museum. On the way there, passed this sign, which Julian informed me, that while Kobe, famous for its Kobe Beef, the beef at these stand is just overpriced from that region, rather than been raised in the Kobe tradition of pampering your cows: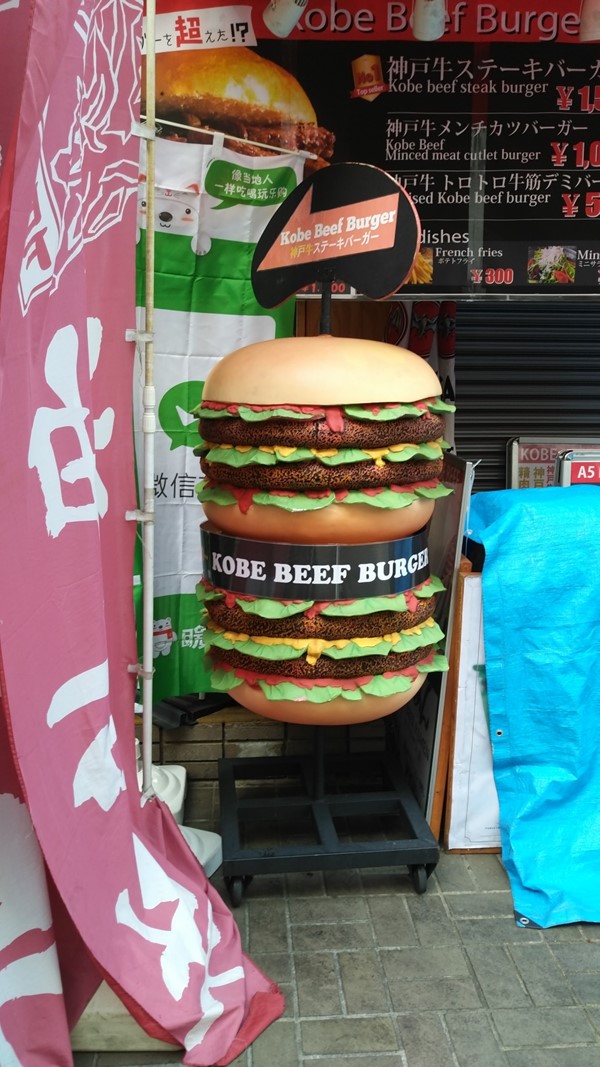 The museum is several trains away from the hotel: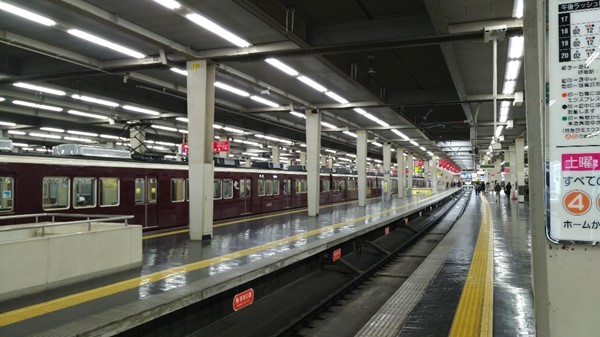 And amazingly well-signed at the destination station: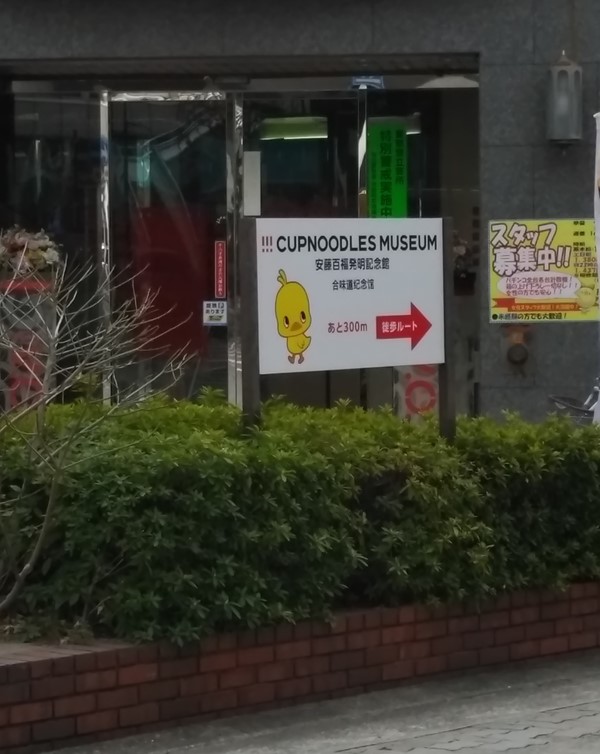 Talk about KIDS everywhere…to get to the museum we passed hundreds – all clutching these air-filled bags with their cup noodle inside so they would survive the trip home.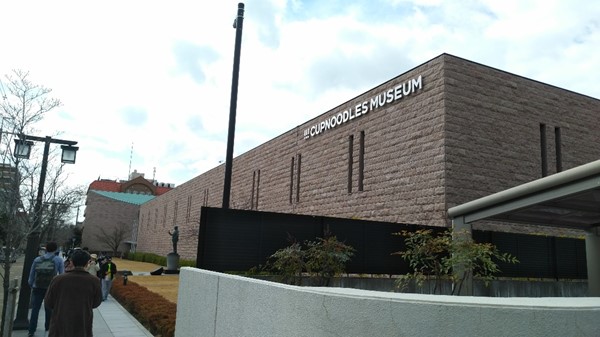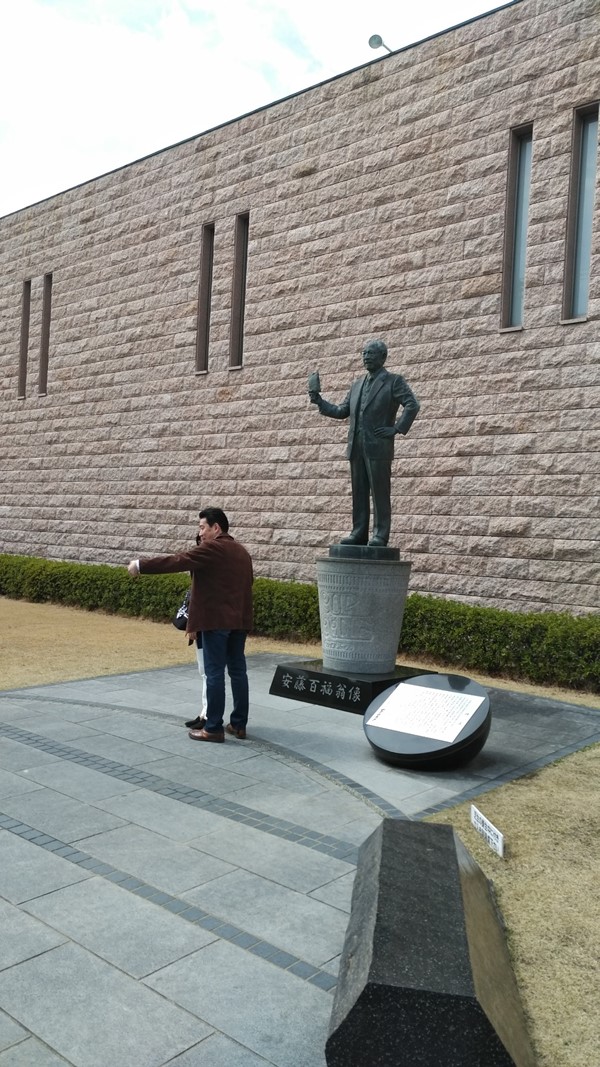 Yes, the statue of the founder has a packet of noodles in his hand.
If you ever wanted to know the history of ramen in its own serving container – this is the place.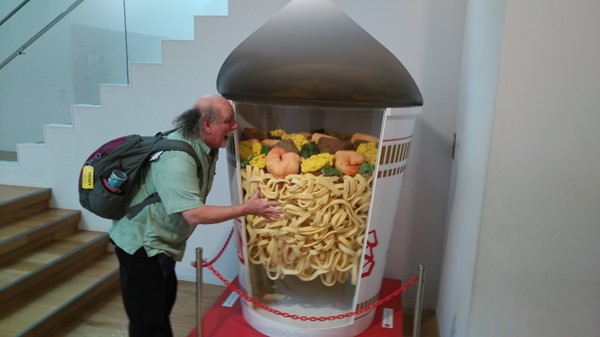 Ramen through the ages: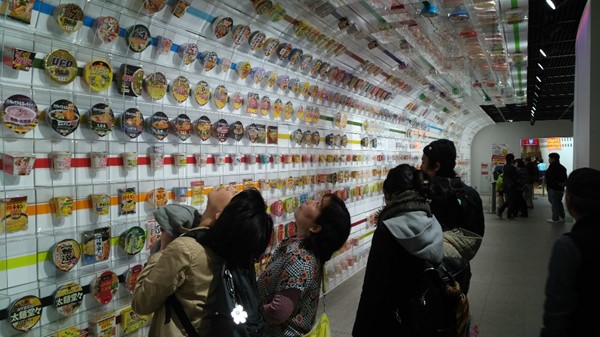 Ramen in space: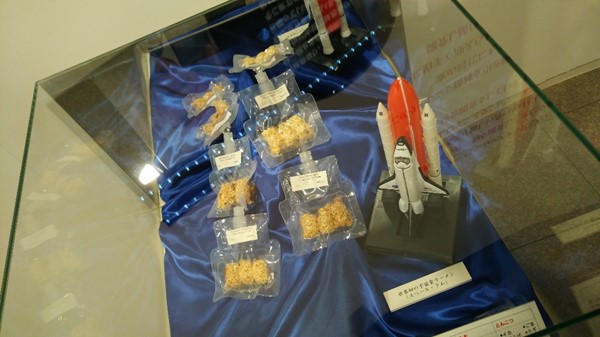 Let's not forget the theatre presentation: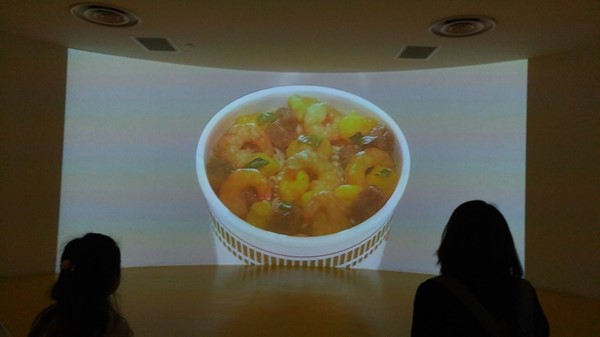 Its free for the self-guided tour (2000yen deposit if you want the English language audio tour), but if you want the hand-on, make-your-own-from-scratch experience, that's extra.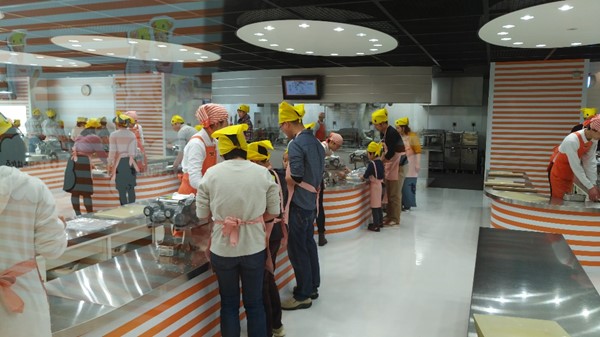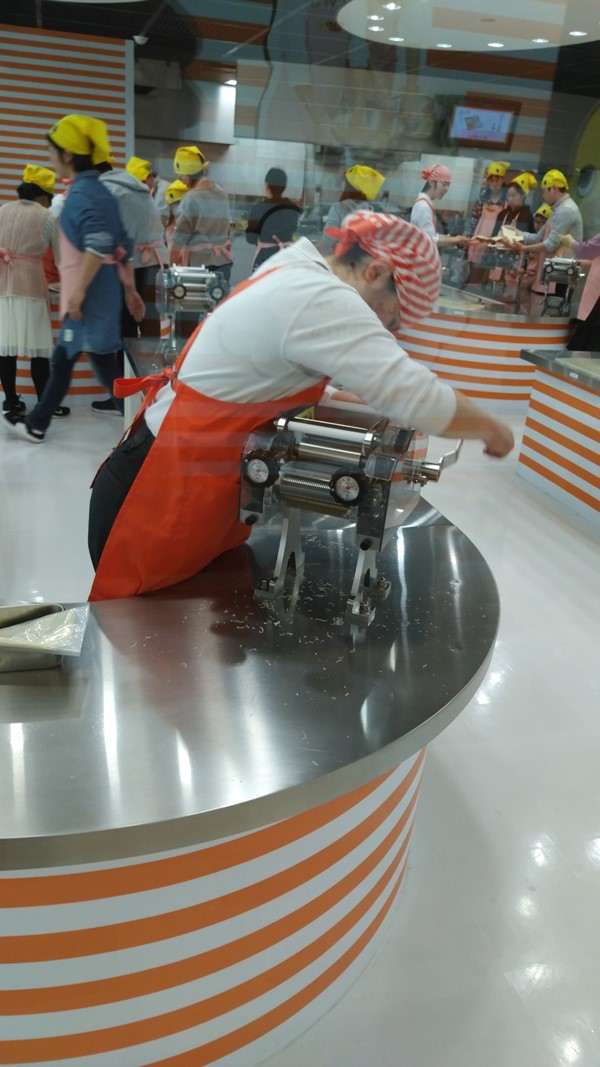 If that's too much time and too much money, you can opt for the color your own bowl, and have them create a custom package of ramen with whatever toppings you want. Be prepared for a LONG line: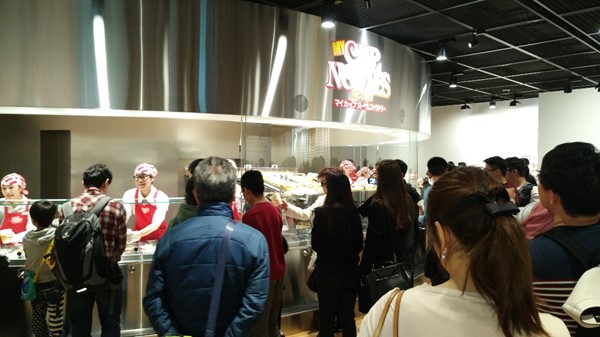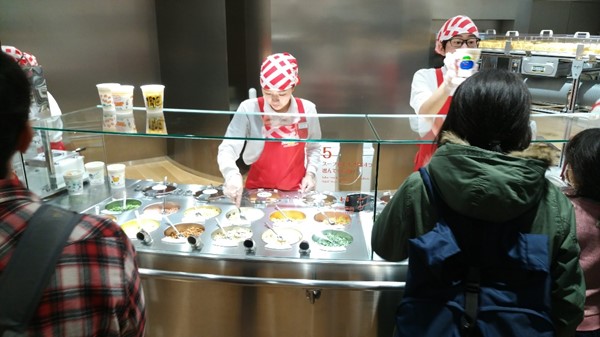 What can I say, I like weird tourist places – but it did make us hungry for noodles, just not from a cup, but a bowl. It took us a while to find a sit-down restaurant in the massive Osaka Train Station and my hip/leg was still bothering me, but the wait and the walk was worth it: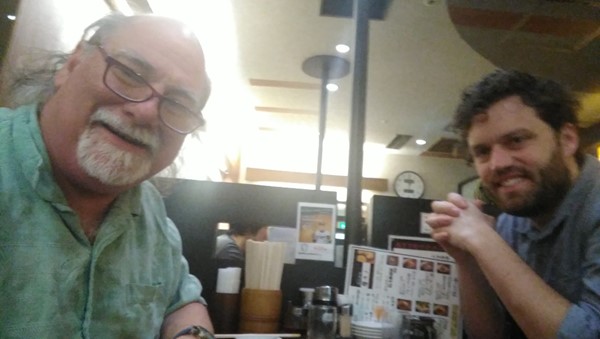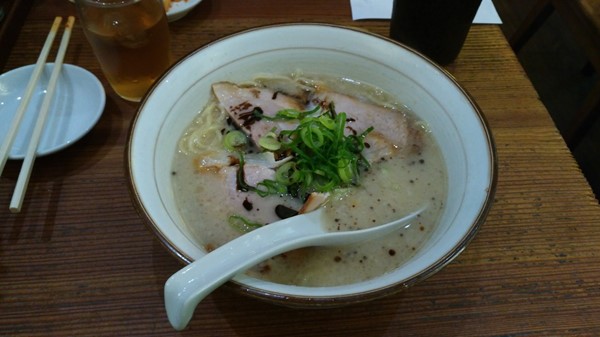 Next stop – Kyoto!
[?? ?]
For more blog posts, CLICK HERE.