Normally I make mileage runs on Alaska to keep my MVP Gold 75K status, but this spring United (where I'm Premier Gold for life) has been offering me some amazing deals for bonus miles. I got almost 50K out of my Maui trip a couple of weeks ago, then they made me another offer of an additional 50K miles if I spent just a little more – so New Orleans, here I come.
Sadly, the flight boarded at 4:30am – so no lounge access, but unlike Alaska First Class, with United First Class, you get a cocktail on the ground: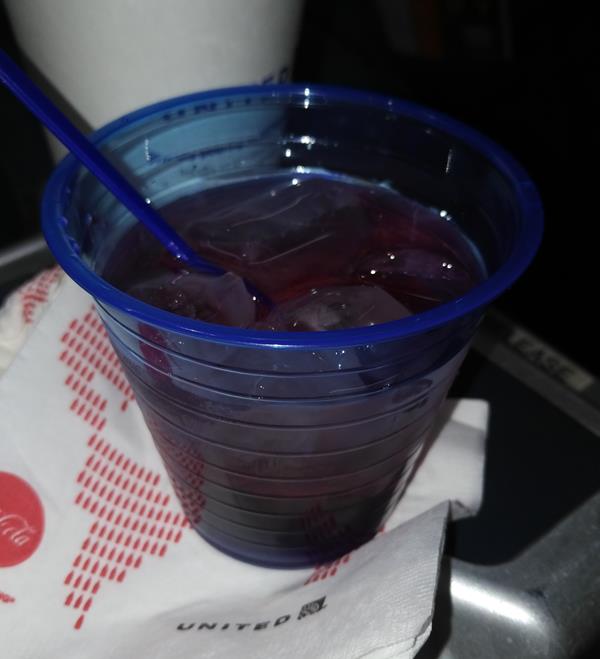 Once you are in the air, it's time for breakfast – the first of two because of the time of the day: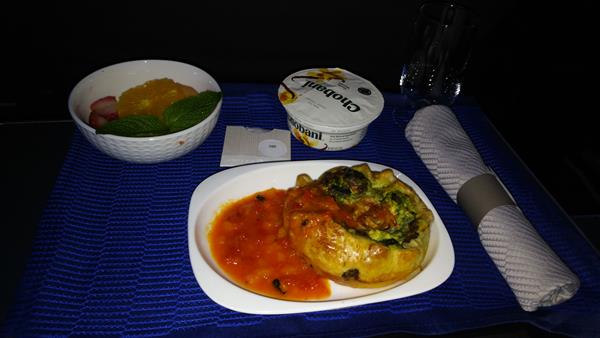 Was on the ground in Denver for a little less and an hour, before the routine repeated itself: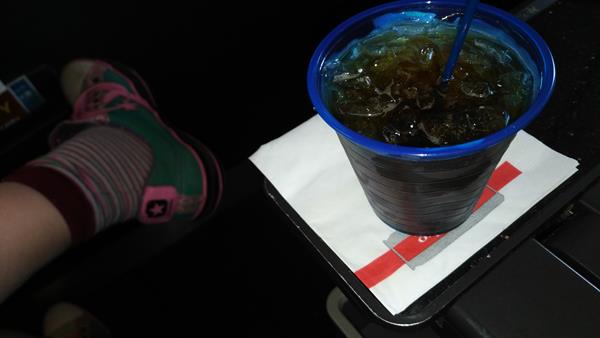 Same meal, different caterer and presentation.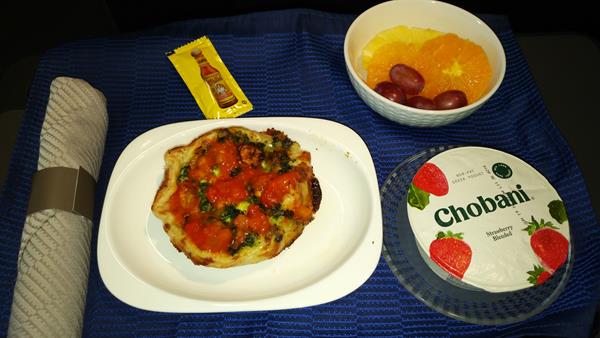 Was in New Orleans by early afternoon – plenty of time before check-in, so grabbed the $2.00 city bus into the city. Once I hit the city, hopped off at the closest stop to the condo – which also meant I could swing by the Southern Food & Beverage Museum to check out there discount cookbook shelves. Sadly, nothing. Still got to the condo before check-in, but I got a room early – and promptly make a mess of it: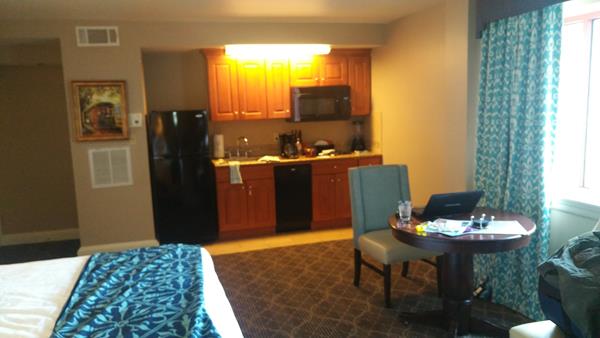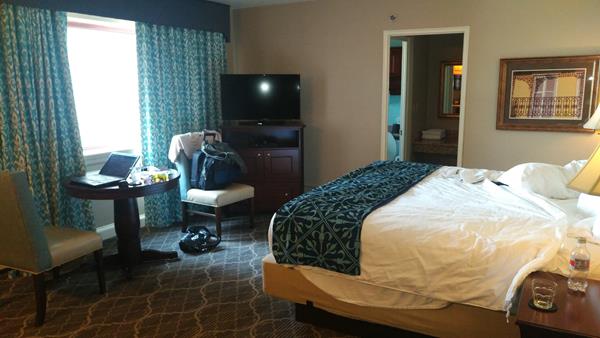 Got everything set up and headed out to happy hour at Poseidon, across the street: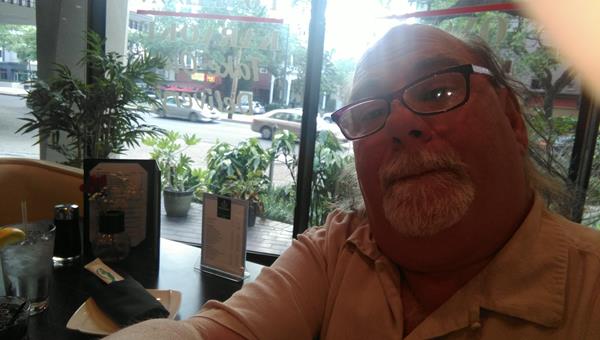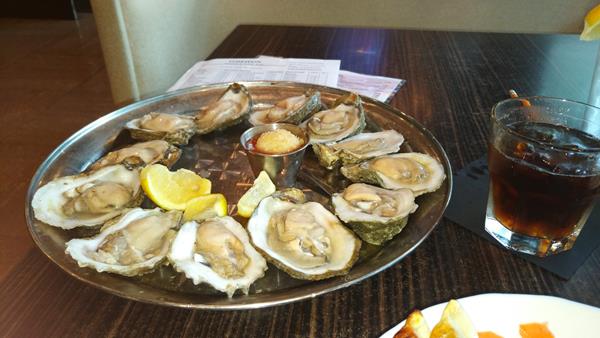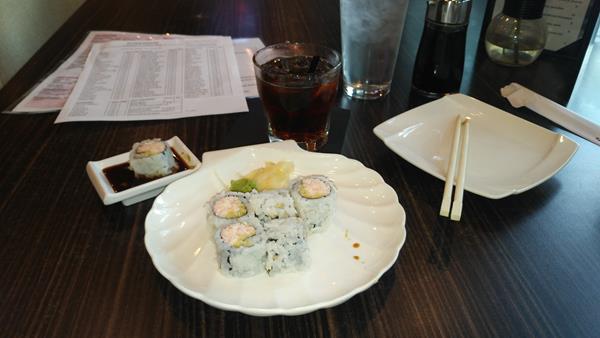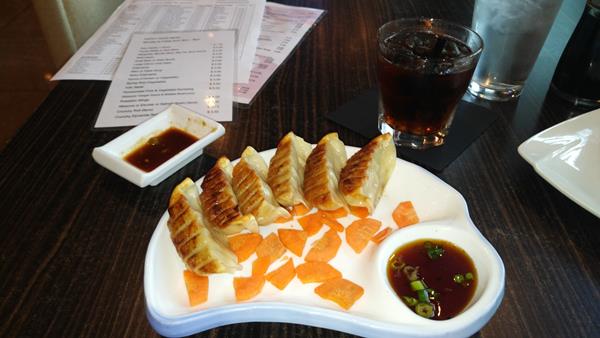 There are cheaper happy hour oysters, but I'm lazy, and that bar is six blocks away (in upper 90's temperatures).
Returned to the condo and checked out their roof top deck – which I'd forgotten was up there: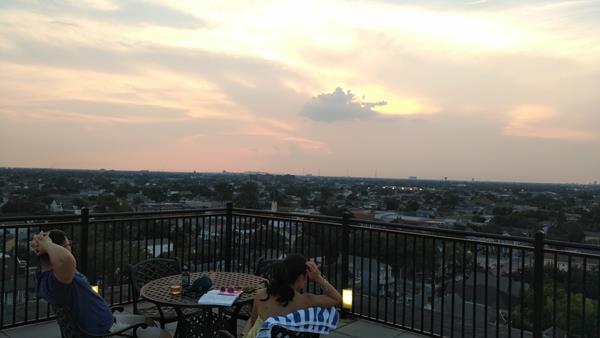 Reminds me that Rache and I need to check out The Hot Tin Roof Bar, across the street at the Hotel Pontchartain.
Got some work done while watching the news, but headed out to Igor's (basically next door) for a take-out dinner of a cheeseburger and fries: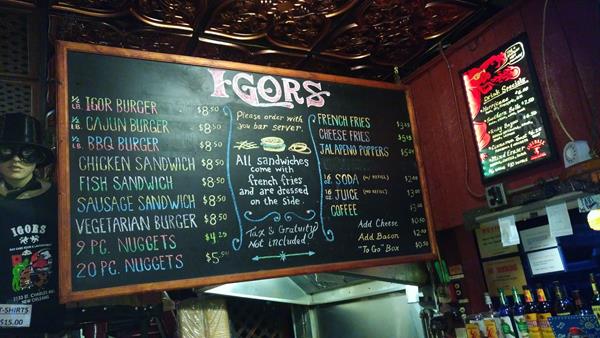 Made it an early night.
Checked out a little before noon and grabbed an Uber to the Ogden Museum of Fine Art to just my membership before it expires tomorrow. Normally I'm really jazzed by the exhibits they mount, but this visit, the main galleries were filled with Southern Impressionists, and Impressionism isn't really my thing. There was one piece in the photography section that caught my eye: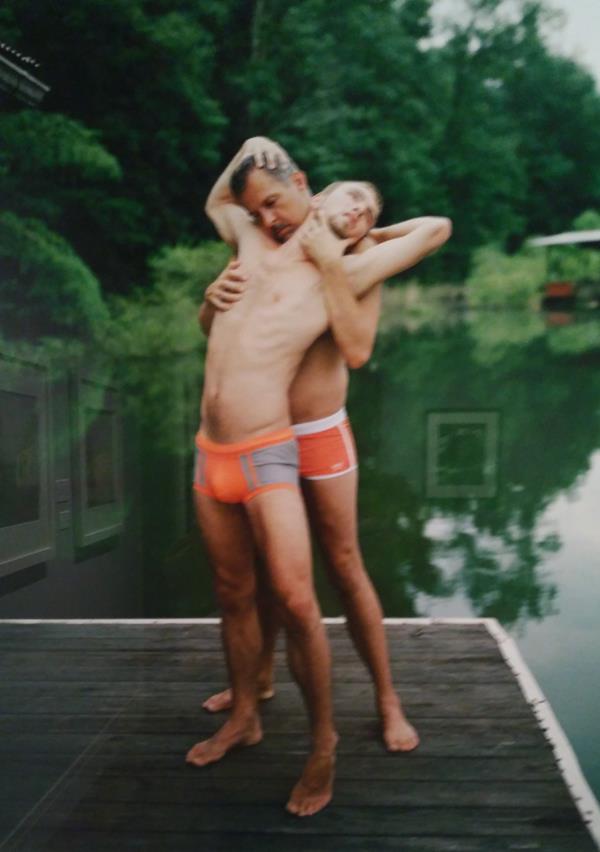 Wonder why!
I could have taken the bus back to the airport, but it was splurge time. Too hot and humid to be walking around the city — $38 well spent to get to the airport early and have a little lunch: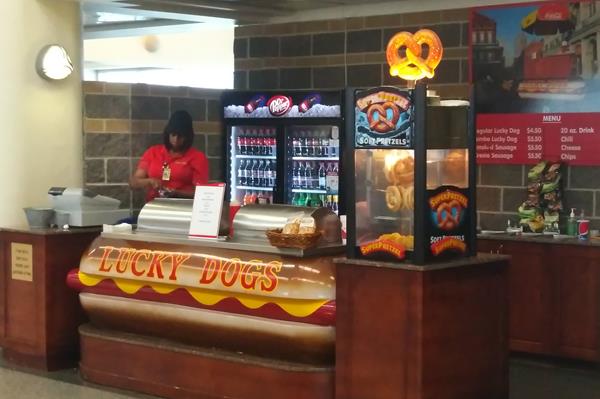 Love their Cajun Dog. Probably should have bought some Crystal Hot Sauce for Pucci while I was there – and since I was past security. Sadly, I'm travelling with a very small carryon: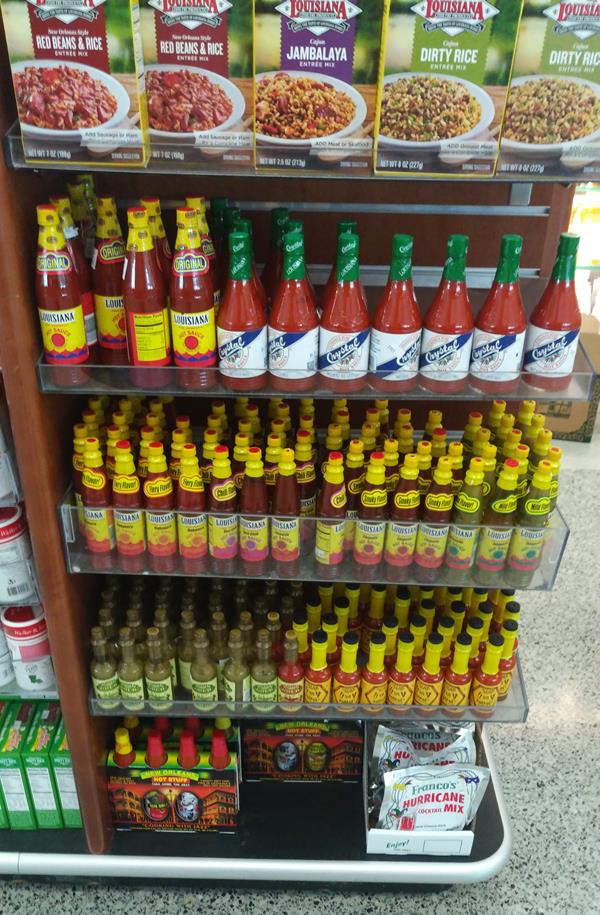 I watched two other shuttle flights take off for Houston before it was my turn – seems that they just run back and forth all day…
Across the tarmac you can see the completely new airport that will be done in a couple of years – can't wait.
Short hop to Houston, but there was seat back entertainment: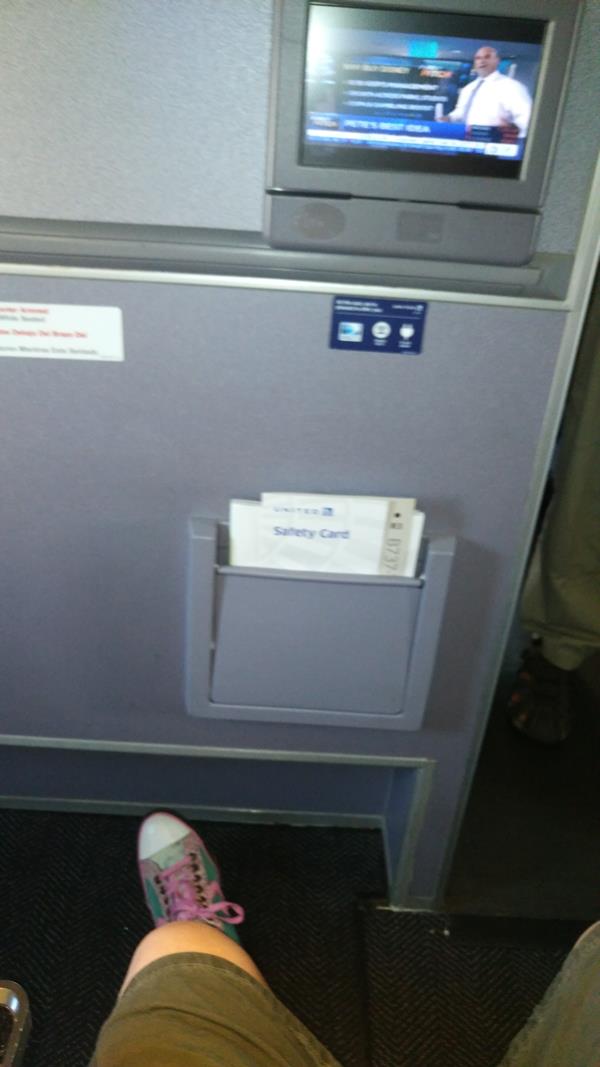 But not even a bag of pretzels to go with my cocktail – fortunately, my Houston to Seattle flight had food (but no TV):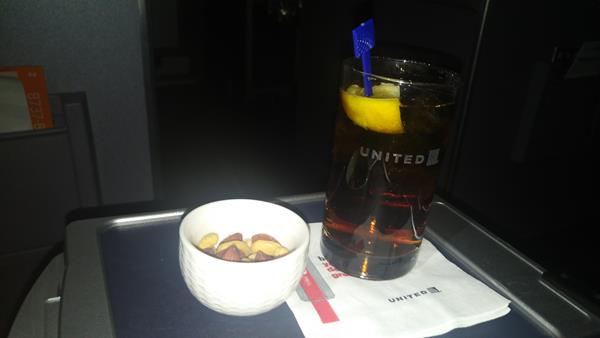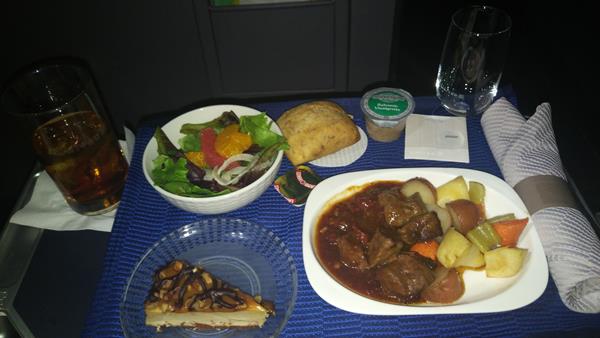 Made it back to the house around 11:30pm – plenty of time before opening the shop tomorrow at noon.
Since I mentioned this was a mileage run, here are the bonus miles I've earned in the last month on United: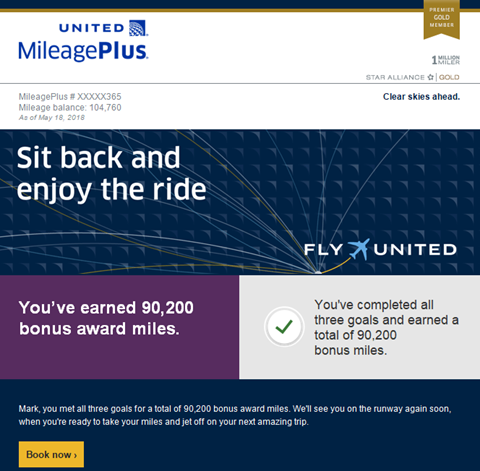 Though they have my mileage balance off – currently its 155,958 – enough for a roundtrip to Europe in Business/First (120,000), or on one of their partners (140,000), or Middle East/India (150,000), almost enough for Australia/New Zealand up front (160,000), but definitely enough for Bangkok (150,000 on United metal). I mention this because for less than three grand I got First Class to Maui and back, New Orleans and back, and enough miles for a nice long intercontinental flight up front in the big seat.
And now you know why I play "The Game".
[222.8]
For more blog posts, CLICK HERE.