Sounds like gobblely gook when you type it out like that.
Got notice about five days before my flight that I was upgraded from Seattle to JFK in NYC. But, it's a red eye, so I'd better fill up in the Lounge before the flight: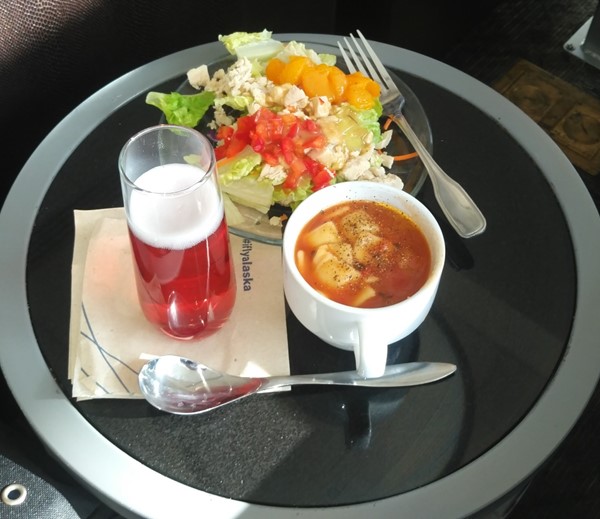 Alaska's Lounge has lots of healthy options, and some unhealthy ones like cookies, which I pocketed a couple of them for emergency reserves.
Beautiful night to fly…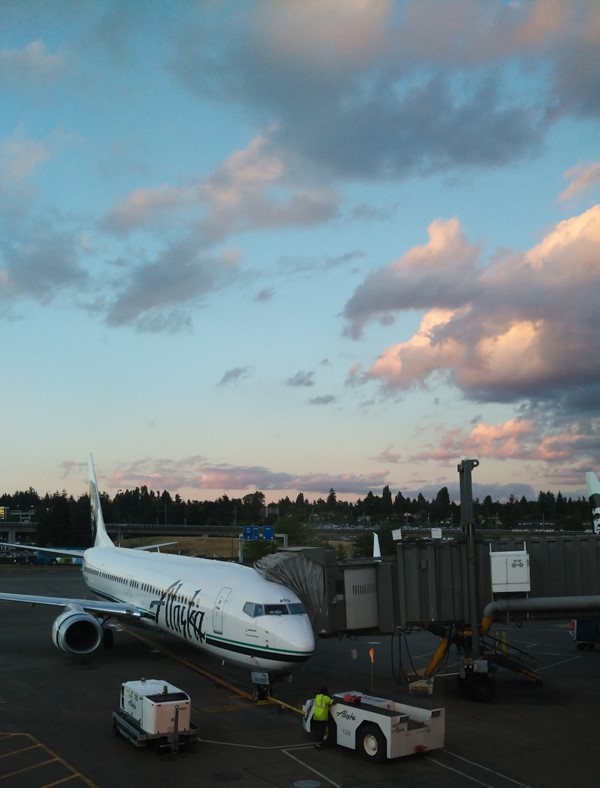 Looking forward to the new First-Class cabins coming to Alaska this fall, but for now, same old, same old.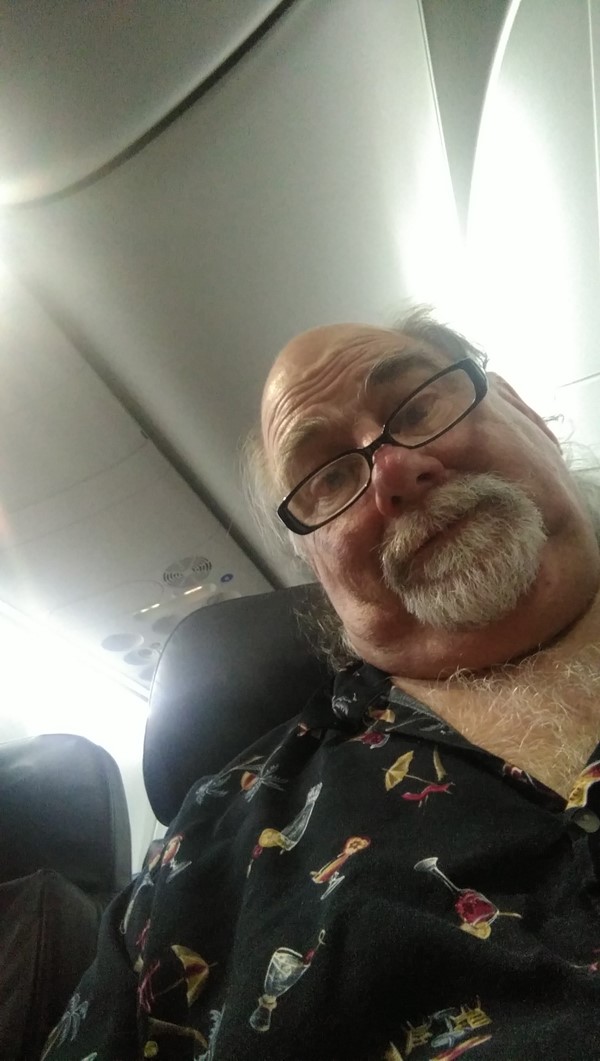 But I do like the bulkhead, so I can put my feet up: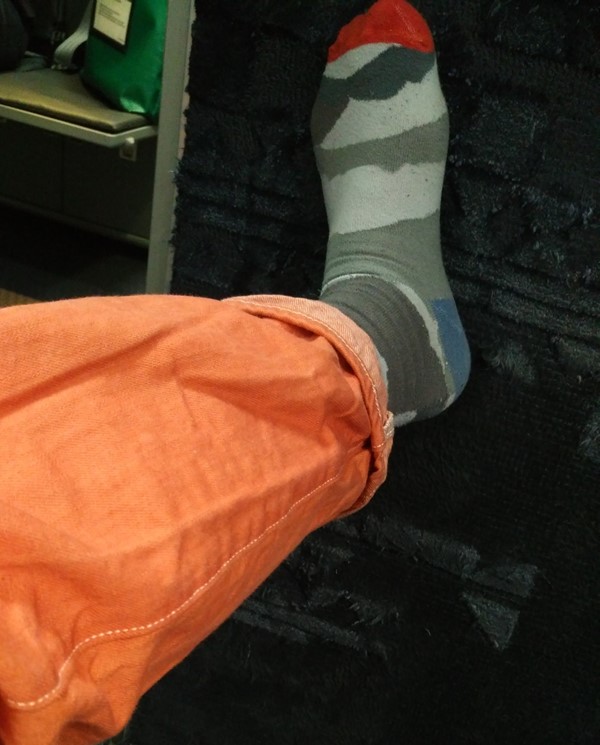 And, as I mentioned, it's slim pickings for food on redeye flights, but they have upgraded the DigiPlayer tablets to slightly larger, but much better resolution.: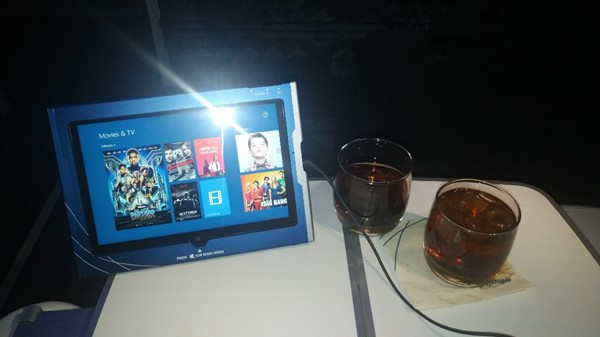 Hummus, vegetables and some pita.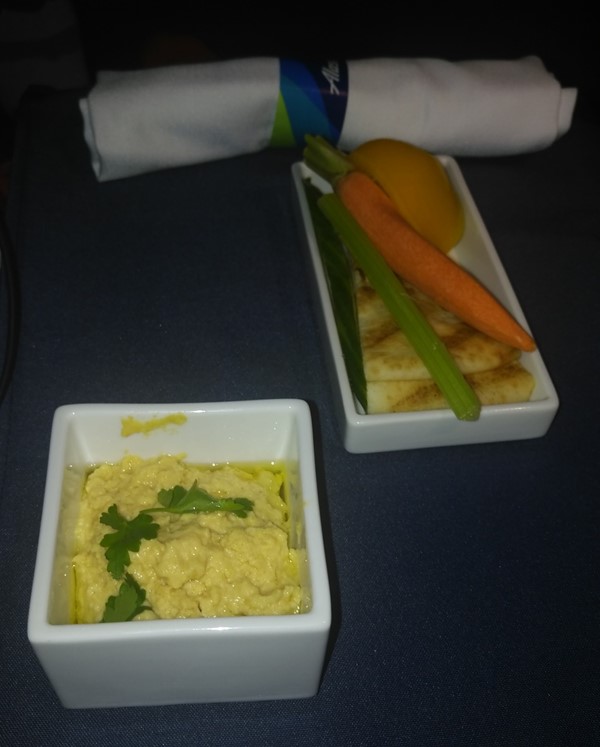 Got to JFK around 7am and headed to the new lounge, which they just opened a couple of months ago. Cool entrance….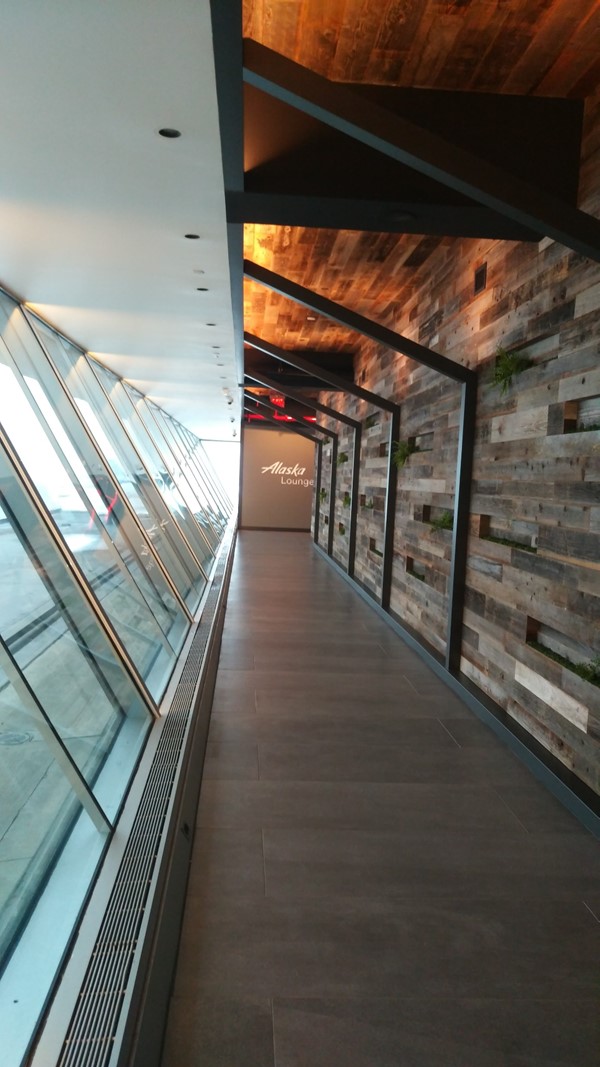 Nice views: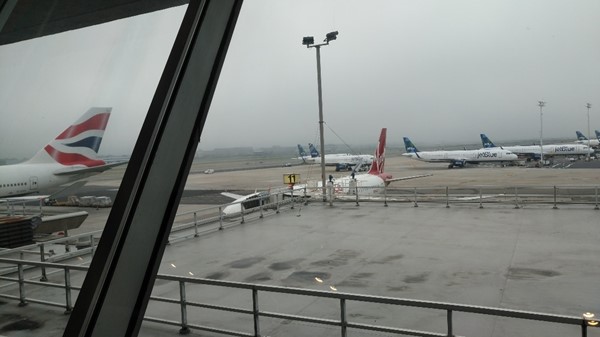 Including of the old TWA Terminal, now surrounded by other airport buildings – but being turned into a hotel/conference center (hotel in two attached towers). More information HERE on that project, that when it opens, I'll be checking it out.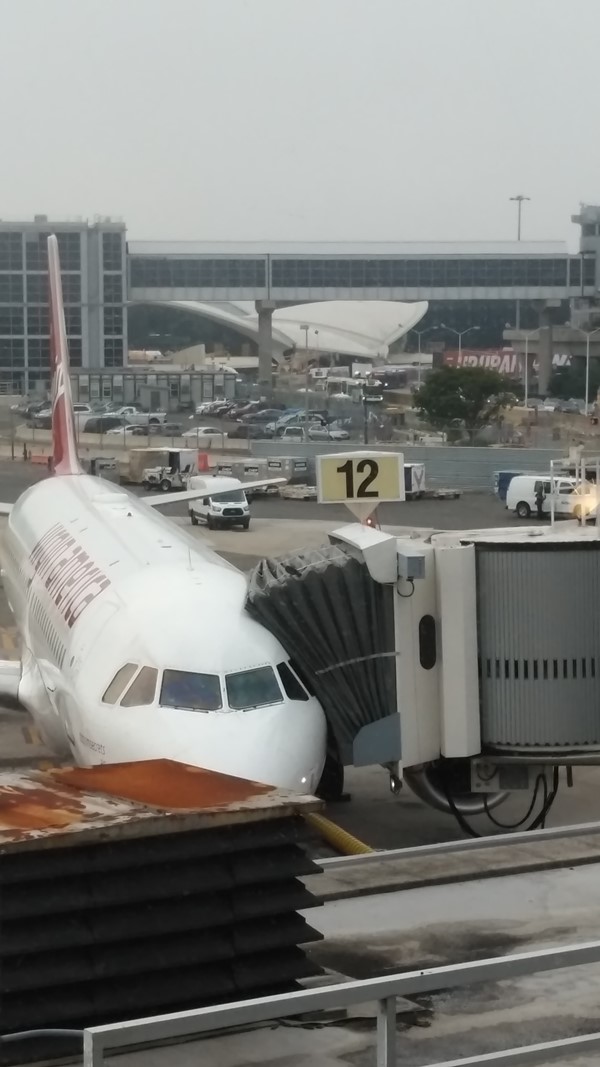 Decent amount of open space…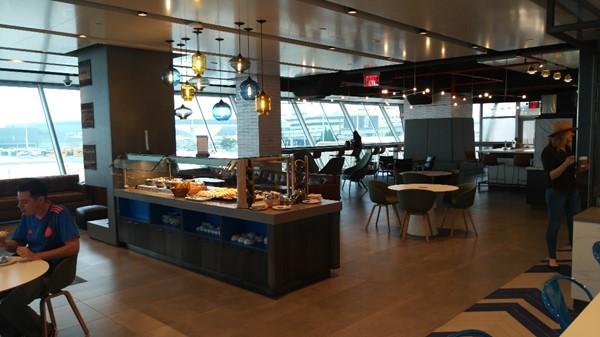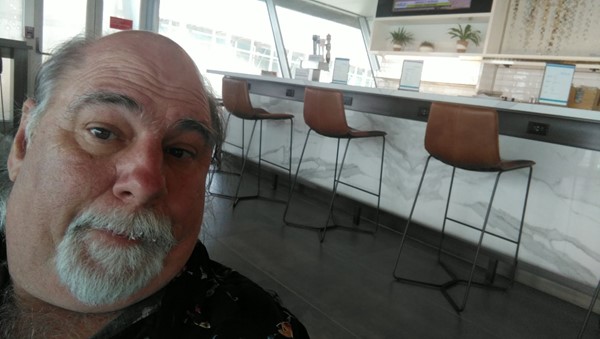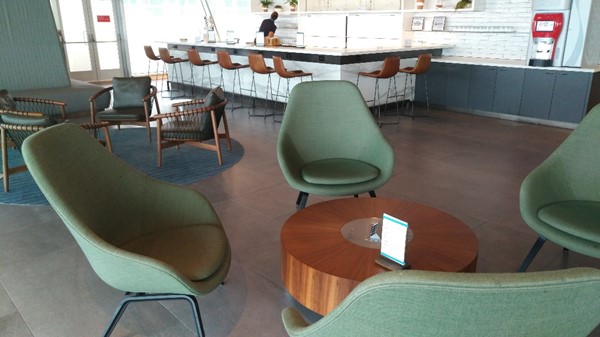 But, the bagels they served with the breakfast buffet are an embarrassment to New York City: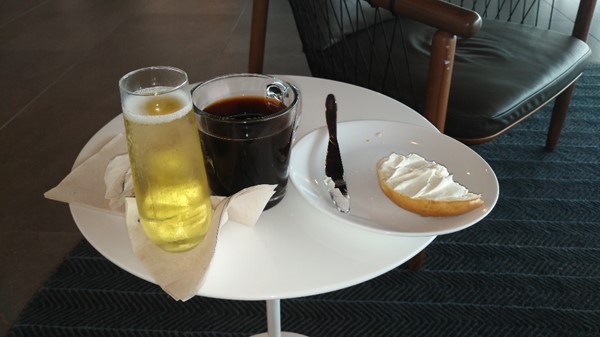 Hung out for a couple of hours (got an hour nap), before taking the SkyTrain (thanks, Rache, for the pass), connecting to the LIRR (Long Island Rail Road) whose onboard credit card machine wasn't working, so I got a free ride, ending up at Penn Station in NYC 90-degree heat and humidity. By the time I'd gotten to the Amtrak Acela Lounge, I was a hot, sticky, mess. Stopped at Kmart (yes, there is one in the station) for a six pack of 16-ounce Diet Coke as mixer, and then to Penn Station Liquor (also in the station, with a decent wine selection, but more expensive than I remember from my previous visit) for a fifth of whiskey for the trip – I should have brought my own hooch at the prices they were charging, but then I would have had to check a bag AND not gotten to check out the lounge for fear of losing my bag.
Read a couple of newspapers (WSJ and NYT) while I cooled down, before asking the reception desk for a recommendation of a "sit-down" restaurant in the station. The choices were TGI Fridays (no), or The Kaboozs Bar and Grill, which I settled on. Decent drinks, an OK Rueben (grilled bread so it wasn't a sponge for the "butter" sauce many places grill them with), and service that I have never seen in NYC. Owner/floor manager stopping by to check in, servers other than my own checking in and bringing me things – really, really good.
I had the New York, New York, which is a Woodford Reserve-based Manhattan: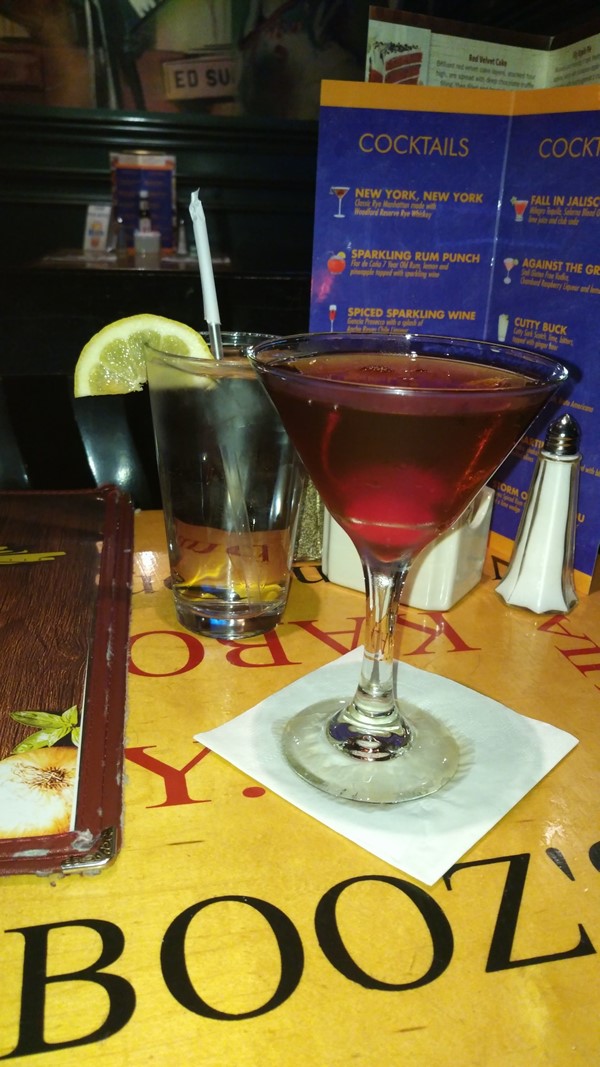 And the Rueben, with very good onion rings!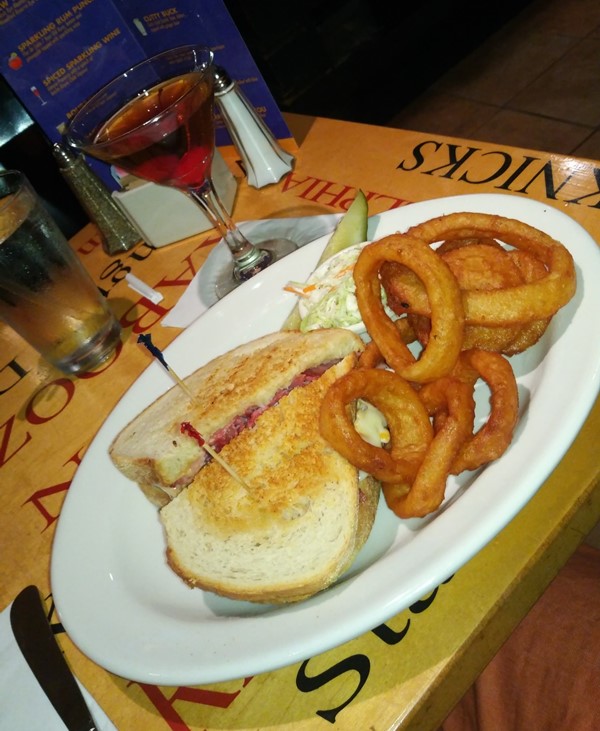 A little before two for our two thirty departure they escorted us down one floor – reversing an escalator – to the platform to board Amtrak's Silver Meteor with service from New York City to Miami, though I'm getting off in Fort Lauderdale.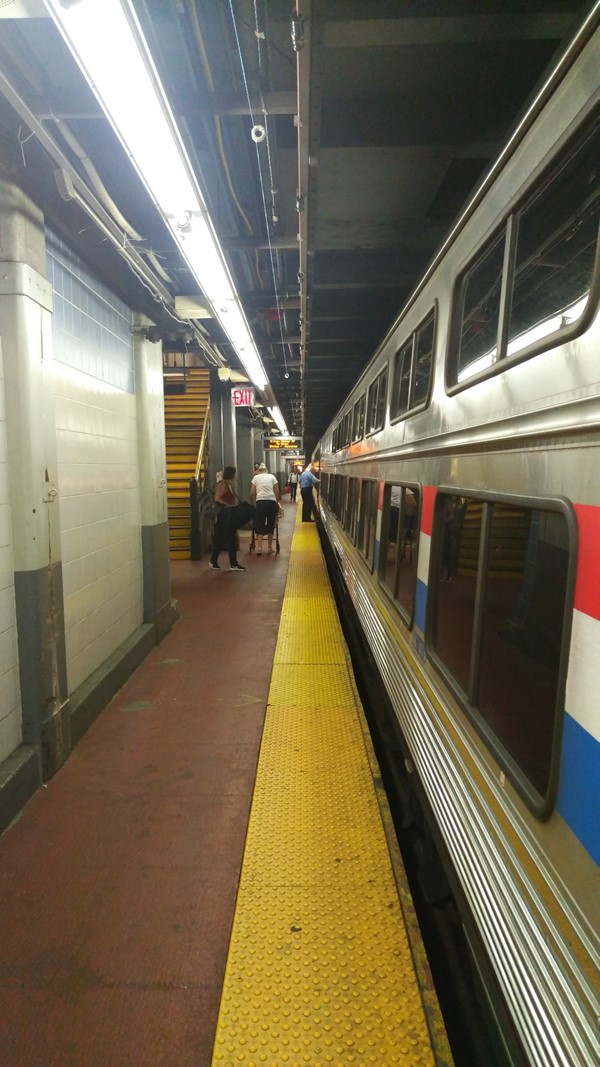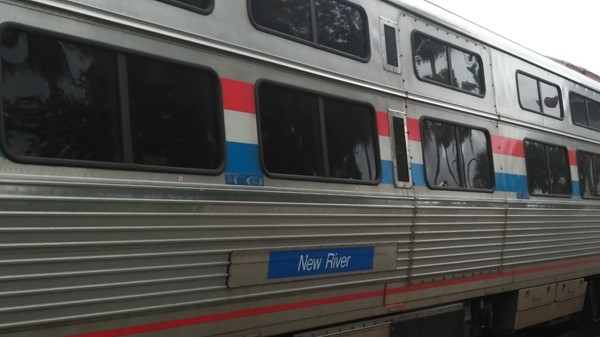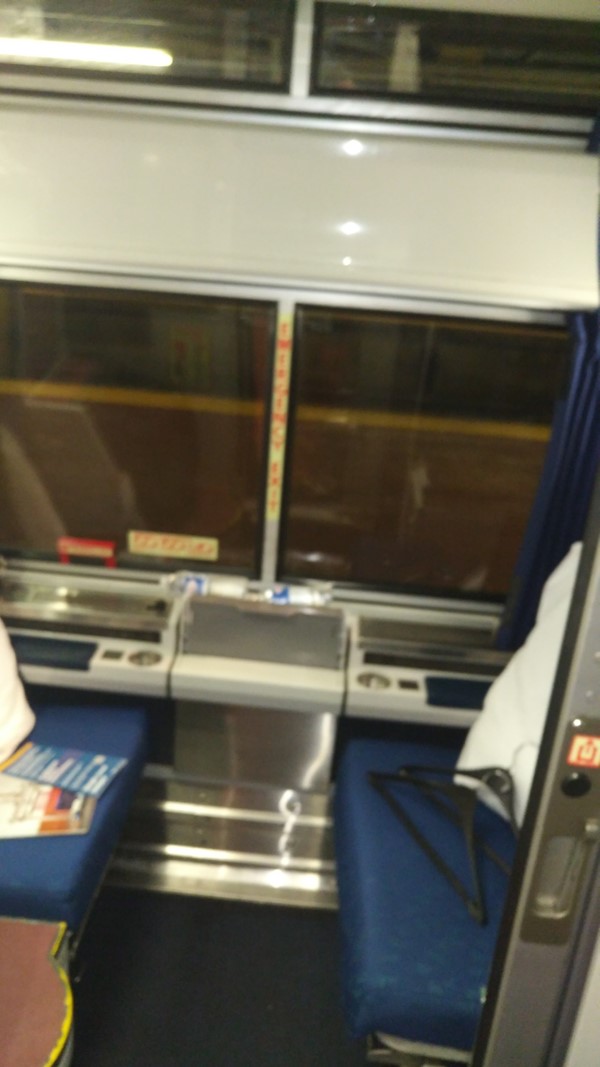 Which, when I went to the dining car for a "bucket" of ice, which turned out to be a "bag" with some ice in it, I discovered that this was one of the new combo dinging/café cars in the Amtrak fleet. More gut room at the tables, LED lighting, totally refreshed interior:
And the kitchen: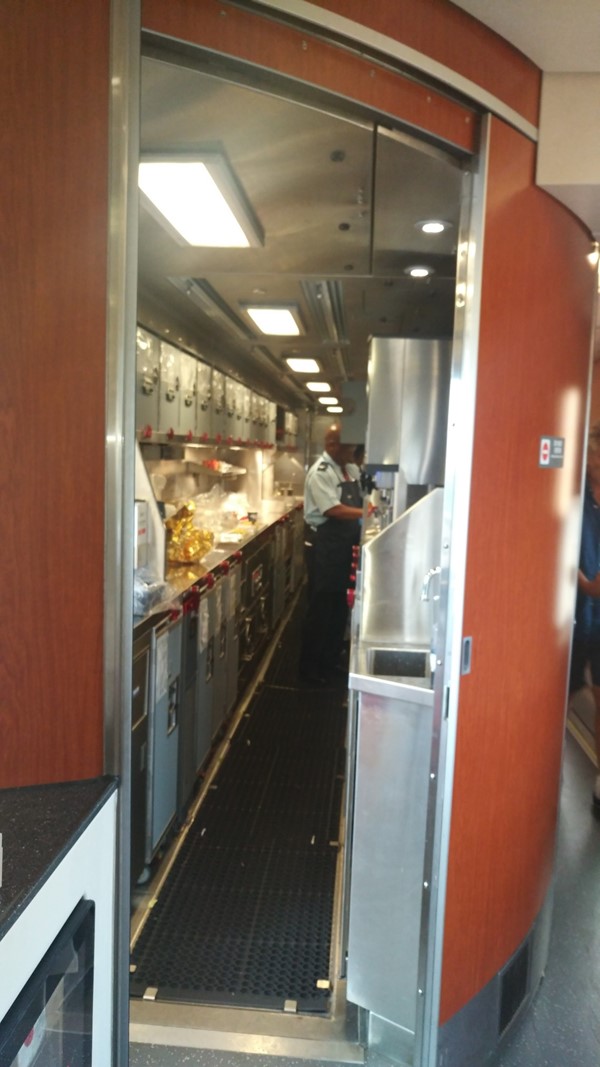 Ice in hand, I settled into my cabin…ice in the pull-down sink: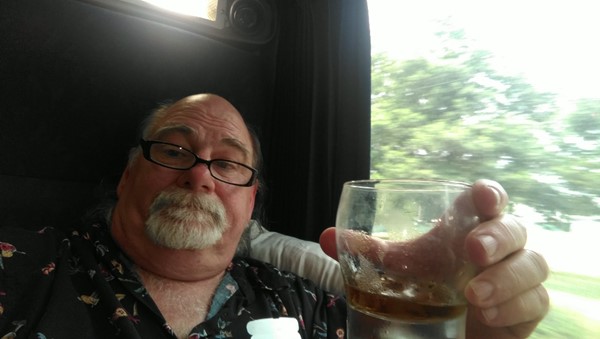 And plenty of leg room…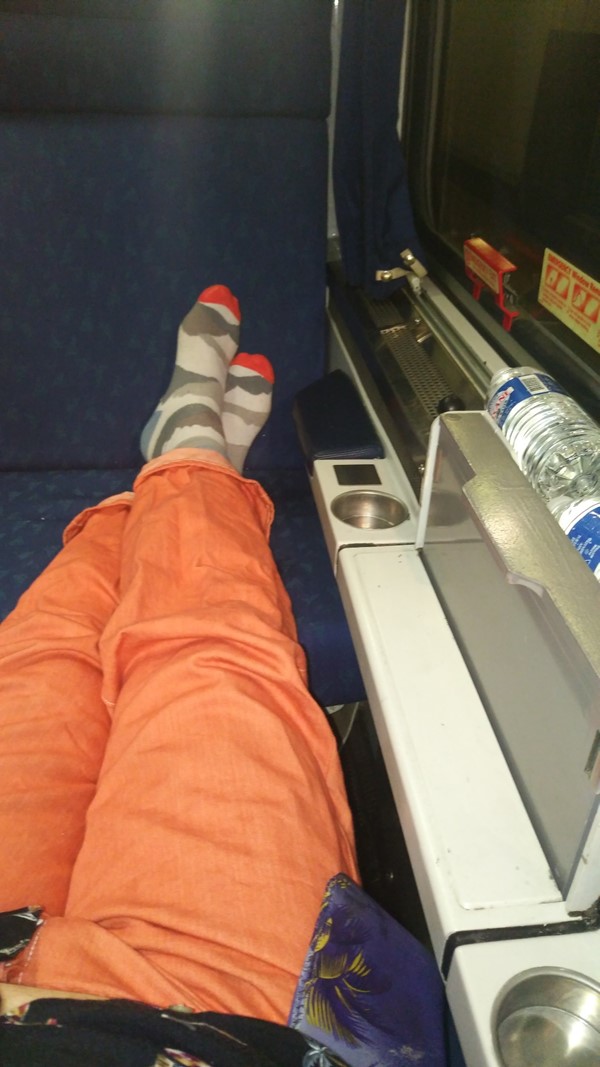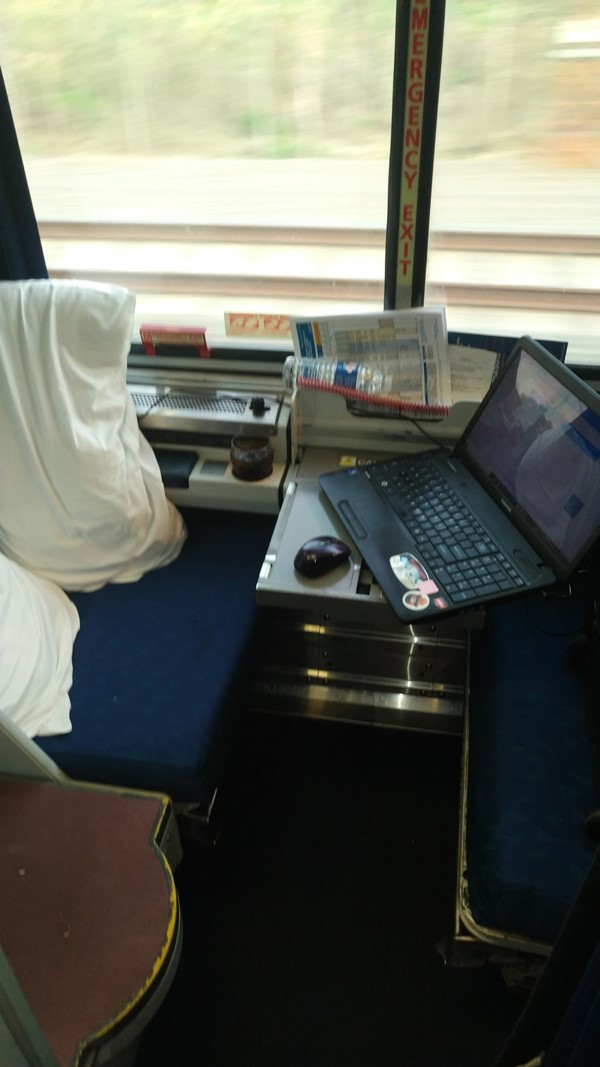 It was a cloudy, rainy, humid day leaving NYC: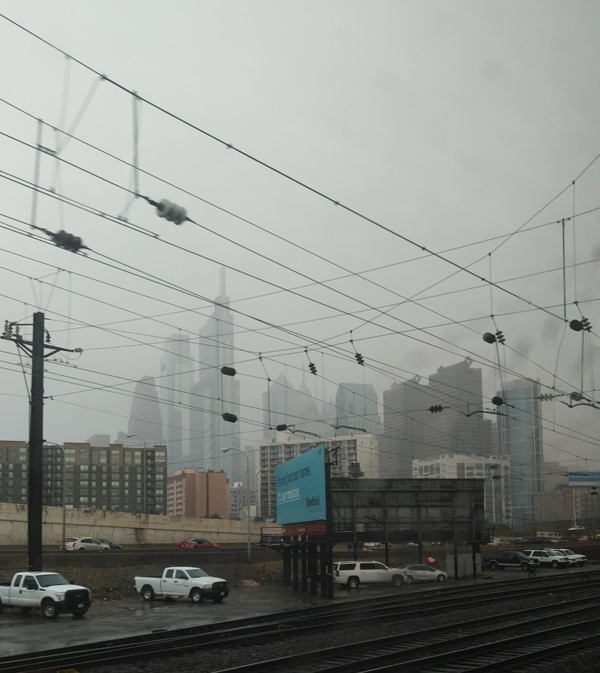 First meal of the day on the train was dinner – where they were out of the Amtrak Signature Steak, and also no seafood cakes for the surf and turf. The least offensive offer off the menu was the chicken breast in something. Boneless chicken breasts always come out dry and flavorless – no skin, no bones, etc. Here is the before: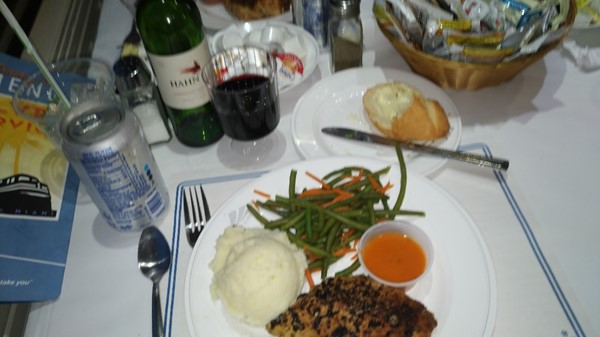 Here is the after: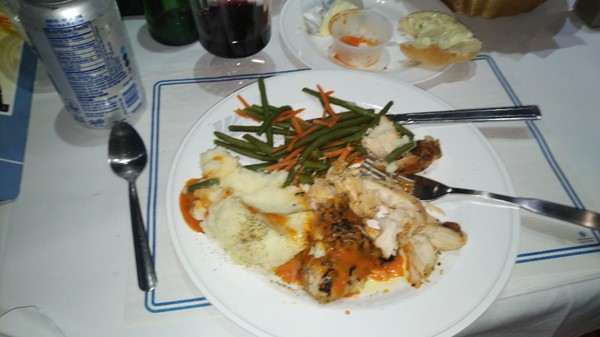 Breakfast – yes, I got up at 7am because it was a free meal. This was their breakfast quesadilla breakfast with eggs and salsa verdé, side of sausage. Got a table by myself, which is a rarity on Amtrak with their "shared seating":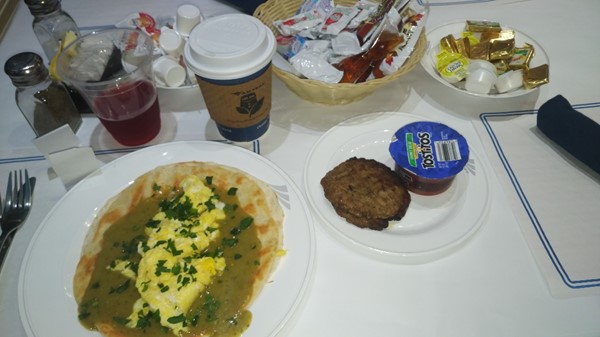 And there was lunch…after my three-hour nap after breakfast. The Bacon Angus Burger with cheese: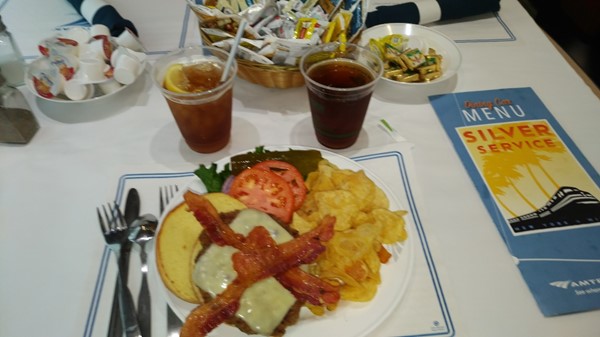 I always get my dessert to go…eating it in the roomette later.
Massive rain in Orlando….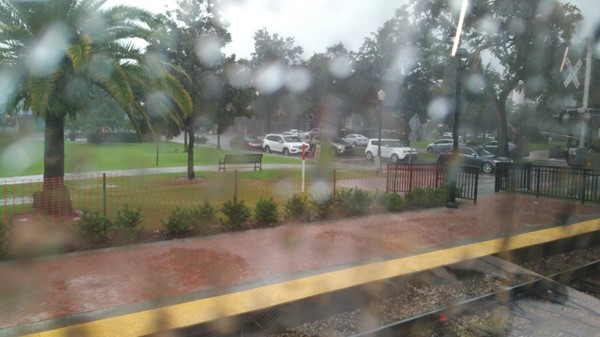 And then a $5 cab ride (including tip) to the hotel (Days Inn Cruise Port Fort Lauderdale Airport):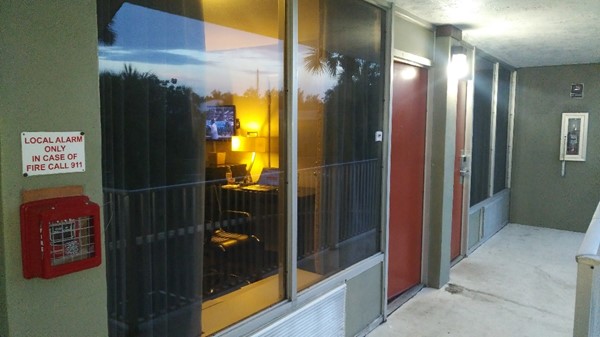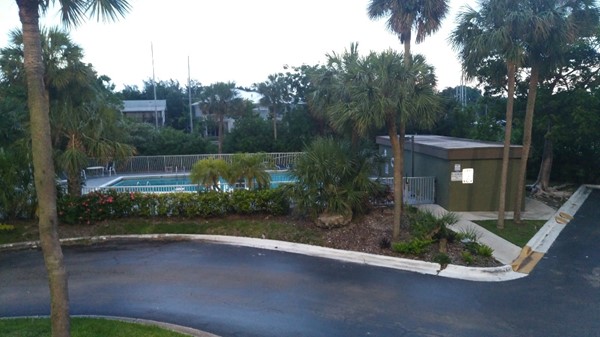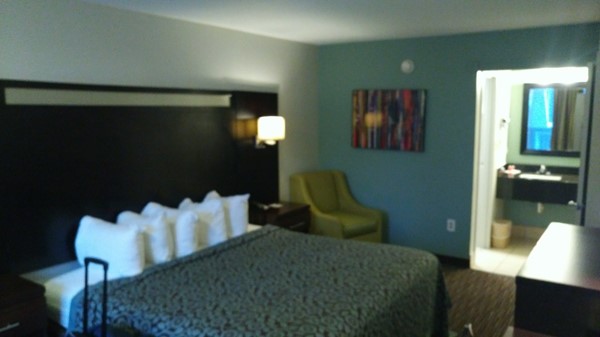 Which was in the middle of nothing.in the way of restaurants, so it was order in. Found an online place and ordered from Sarpinos – which is apparently a small chain regional chain. Love their interface.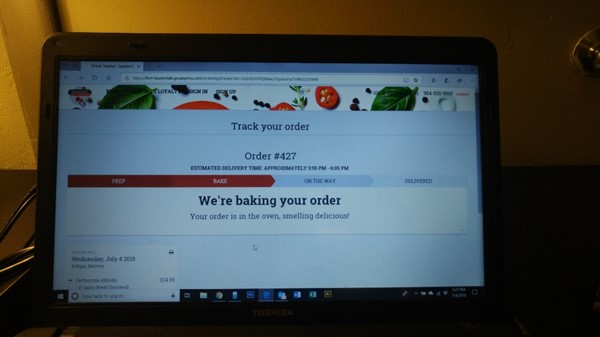 Order and you can track, including delivery: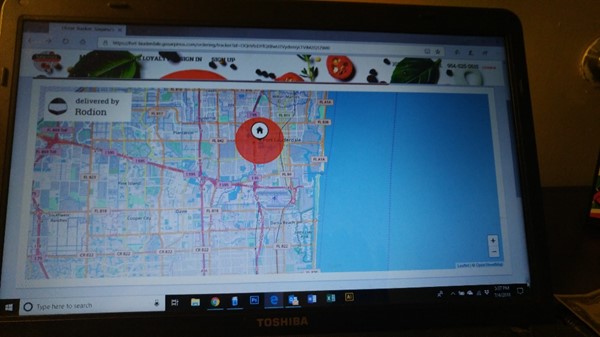 And the end result. I didn't need the bread "sticks" with marinara, but it came with the order (and I left them in the room):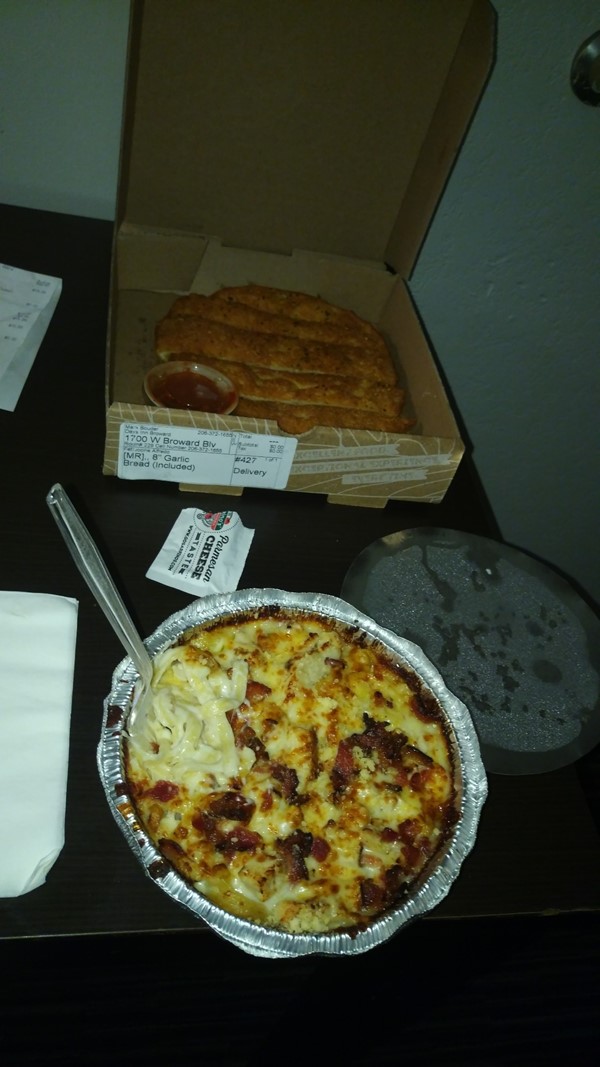 Check out time was 11am, so that's when I scheduled the complimentary airport shuttle. But first, grabbed their free, boring continental breakfast…
Plenty of time at the airport to have a little lunch, since my Delta First Class flight (used a TON of miles) doesn't leave until 3. Delta doesn't give First Class passengers access to their Lounge – which is good, since it's being rebuilt, so there is a "lounge kiosk" for members to pick up snacks and papers, but no cocktails.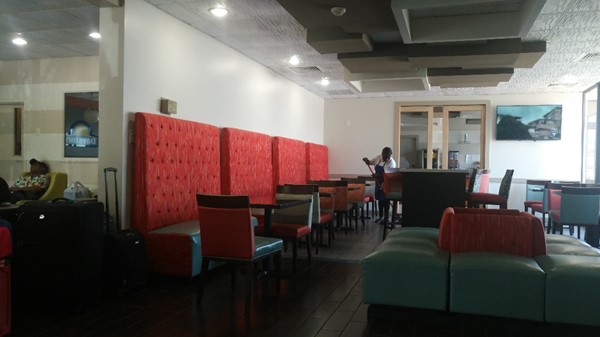 After looking at menus, settled on Torn Basil, not for the pizza, but for the Ensalata Caprese and cocktails.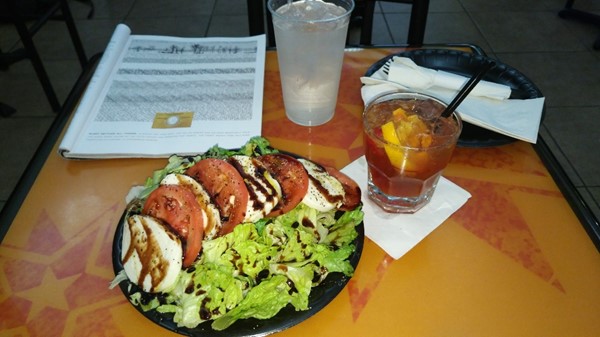 Got some reading and work done, and the plane was at the gate: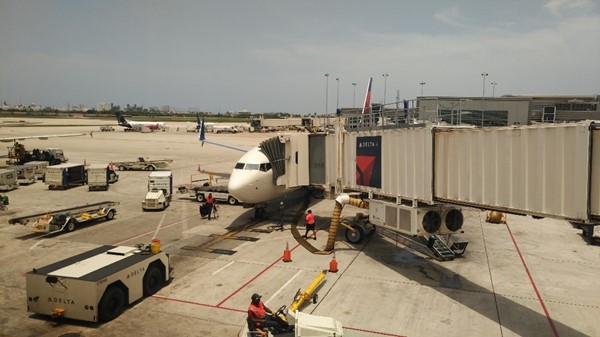 And soon, I was settled in: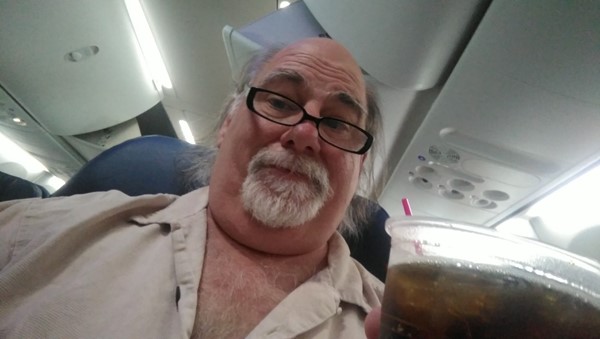 And once we were in the air, oddly, even though I was in the first row, I didn't get my choice of meals. There was a chicken breast salad or the burger. I was left with the burger, which I probably would have gotten anyway since I'd had a salad in the airport: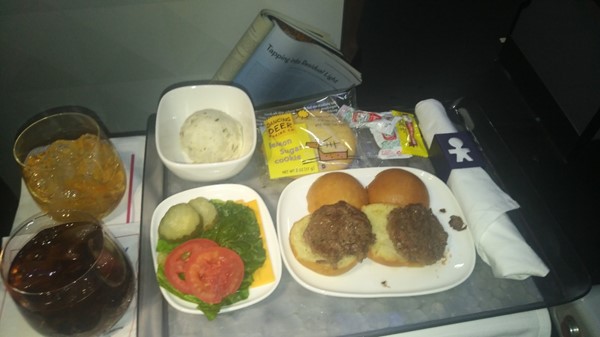 A little over three hours to MSP (Minneapolis), then a wait for another plane: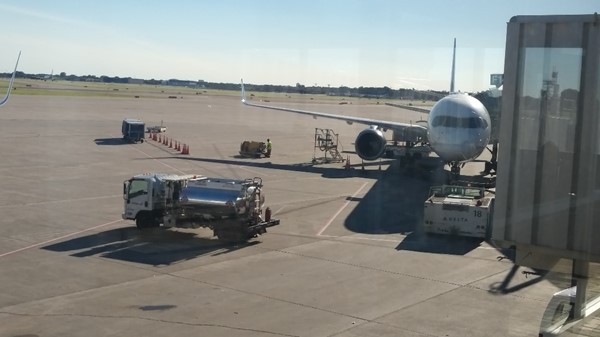 And another meal (dinner), which I did get my first choice, the chicken breast with vegetables: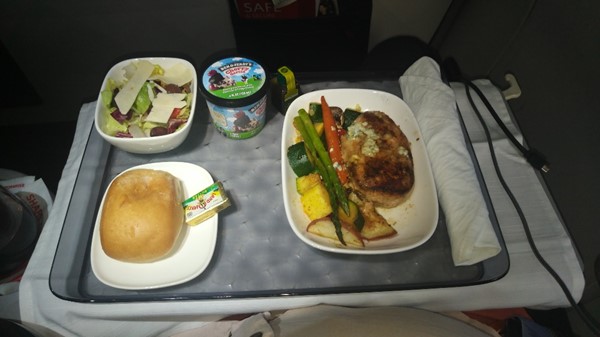 Great views on the landing in Seattle.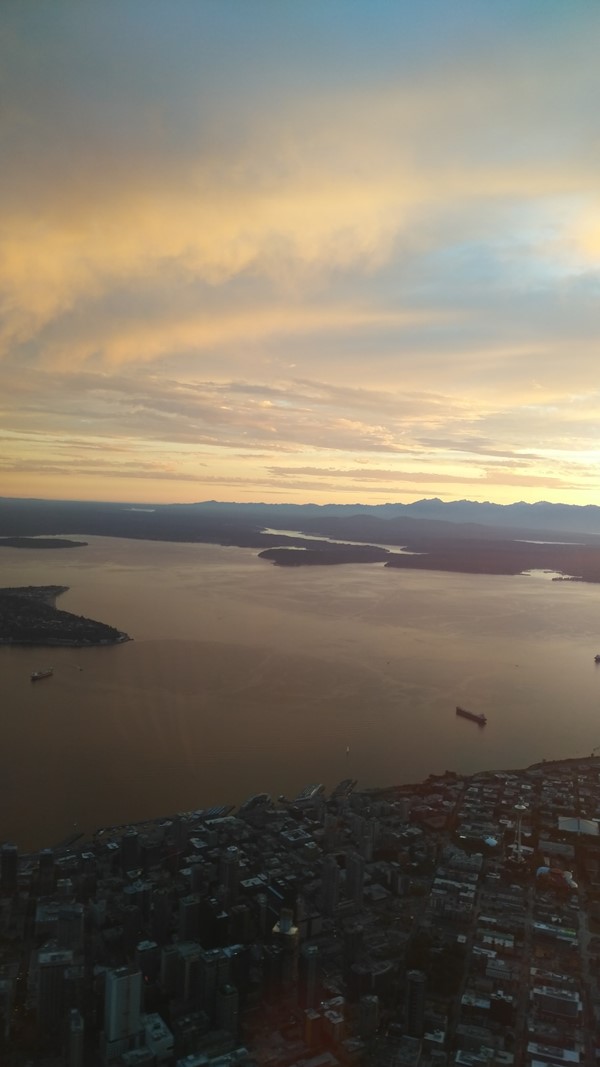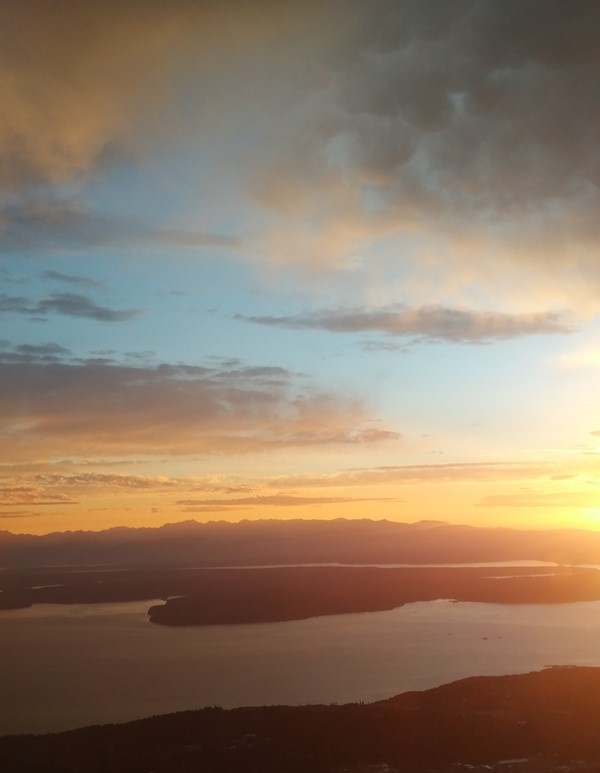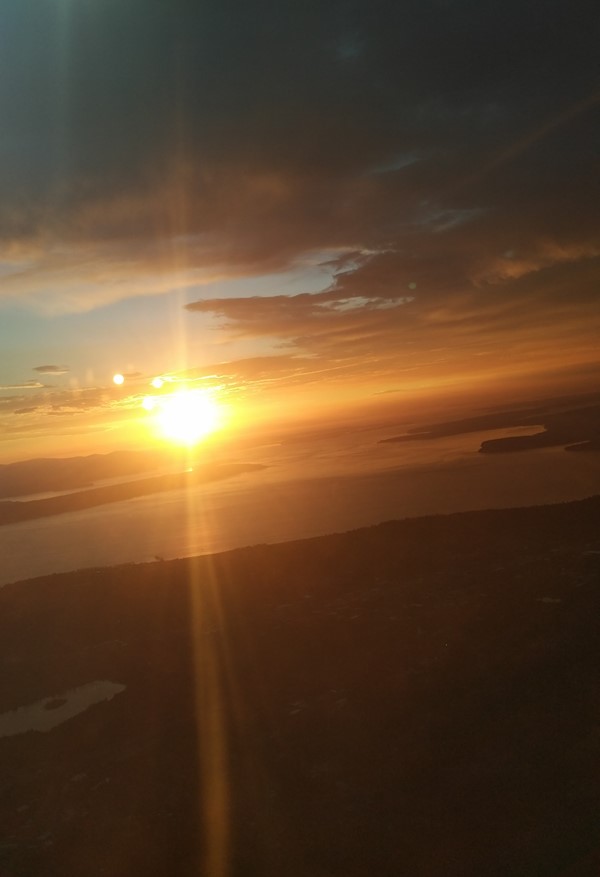 Nice way to end a trip.
[? ? ?]
For more blog posts, CLICK HERE.