Back to Santiago we go…via a different bus company: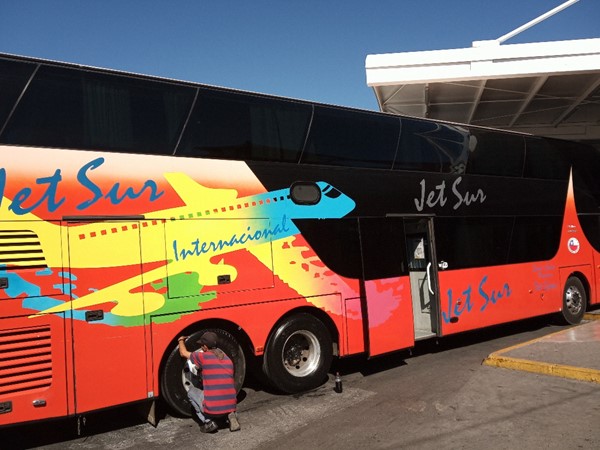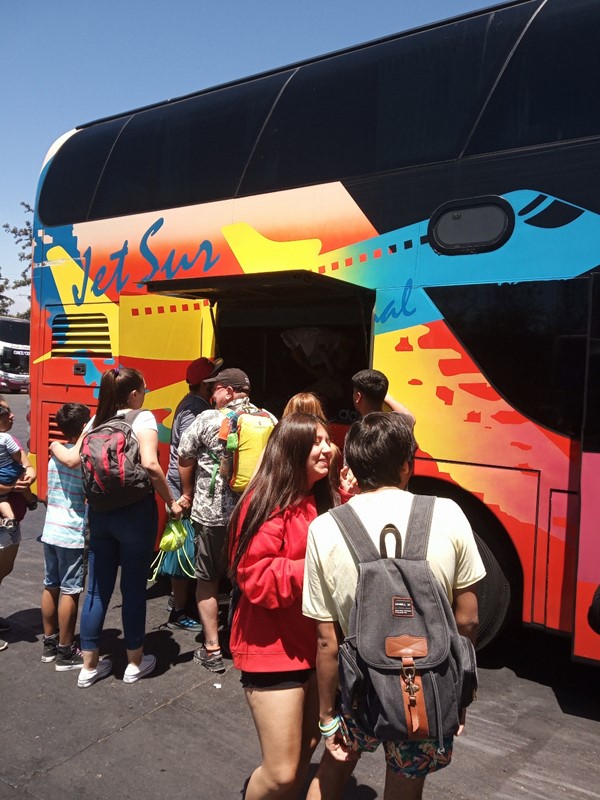 Seats were slightly more comfortable, and the same price, 5,000 Pesos…but had to use the bathroom, which had no water, but at least it had a hole to pee in.
Back to the Ibis Esation Centrale, though to a different floor – where we were soon visited by Thomas. Rache taught him is first year of teaching, which I won't say how long ago that was.
Thomas had already gotten his subway pass, so we headed one stop over to the central train station to check out the restaurants at that stop – and we found several, and settled on El Hoya.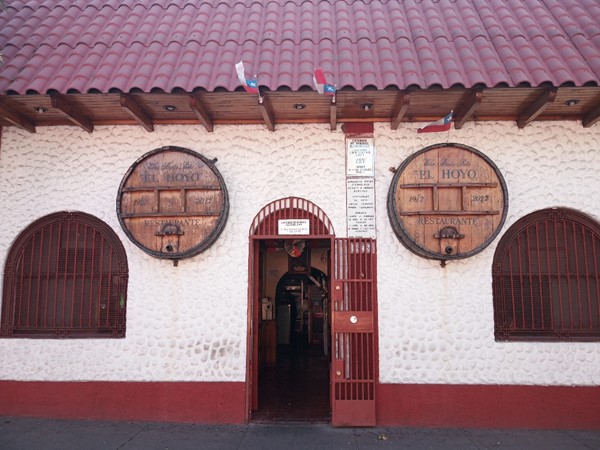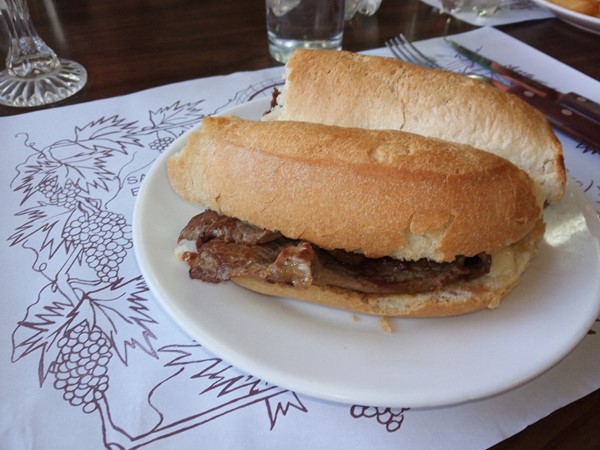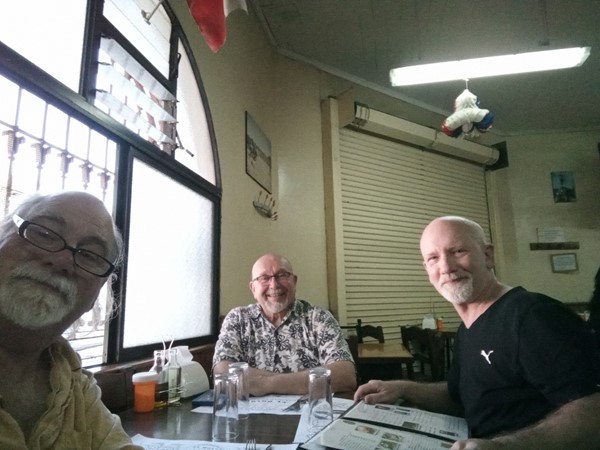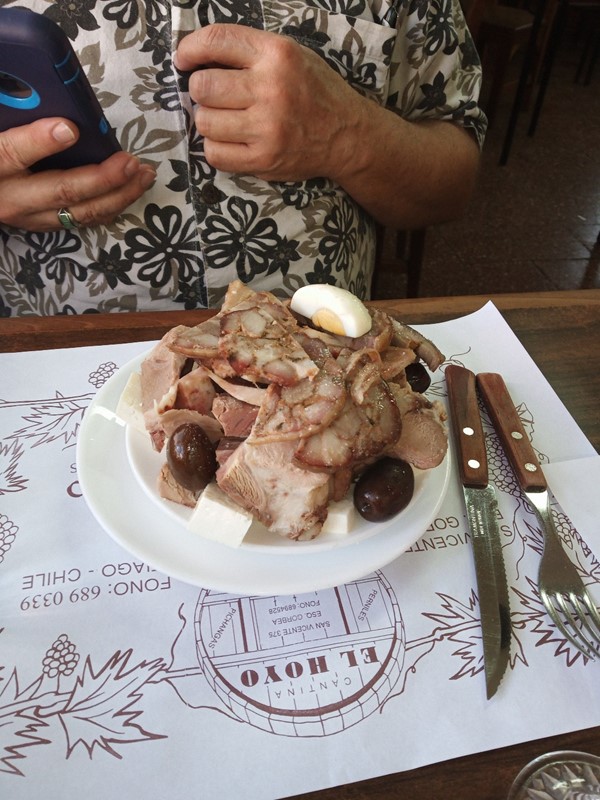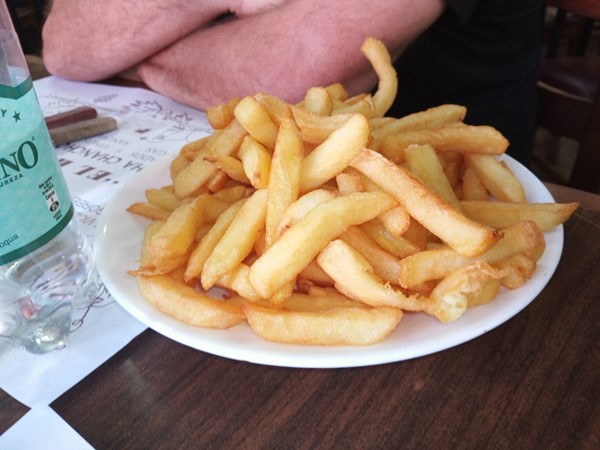 I didn't realize we were in a place that Anthony Bourdain visited!
We didn't notice it at the time, but there is a shrine to him mourning his death. You can read more about his visit here:
http://culto.latercera.com/2018/06/09/anthony-bourdain-las-huellas-unica-visita-a-chile/
This is particularly amusing to me because Rache took me to a place he visited in Montevideo when we were there – and we just stumbled across this place!
We stopped for supplies at the grocery in the train station (think we should have stayed in THIS neighborhood) – which I'll make a comment about, of all things, Diet Ginger Ale. I like it. It's hard to find Diet Ginger even in the US, so I was amazed to find a couple of different ones in Chile. Shocking.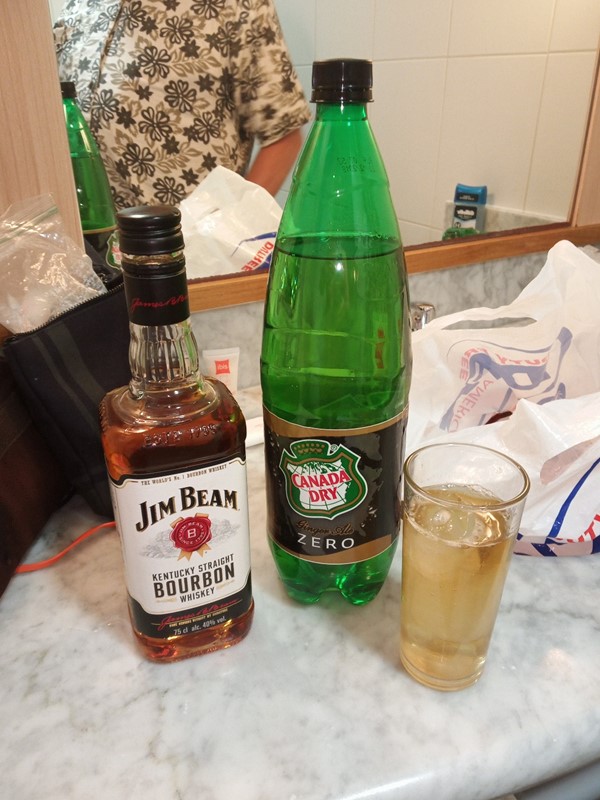 And speaking of other "odd" things, the street next to the bus station where the hotel is turns into a string of food stalls starting at 10PM or so – for all the incoming buses!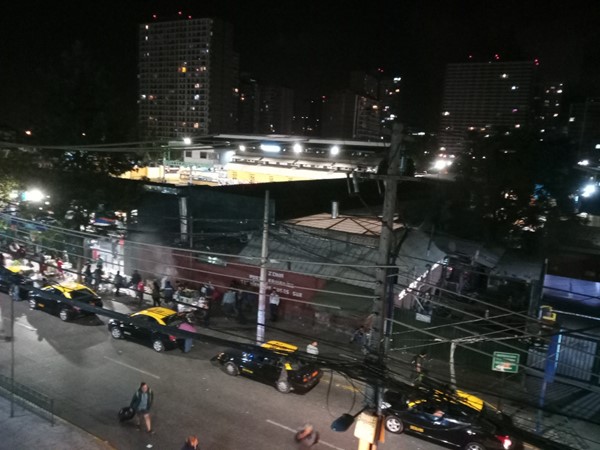 Took this at midnight – needless to say, I was the last one awake of our crew.
Rache and Thomas were up and out early for their walking tour, which at 3 hours, was a bit much for me. I opted to sleep in and go across the street for an Italian Dog for brunch. Couldn't figure out why it was an Italian dog when it had guacamole on it, until Rache pointed out that it was the colors of the Italian flag: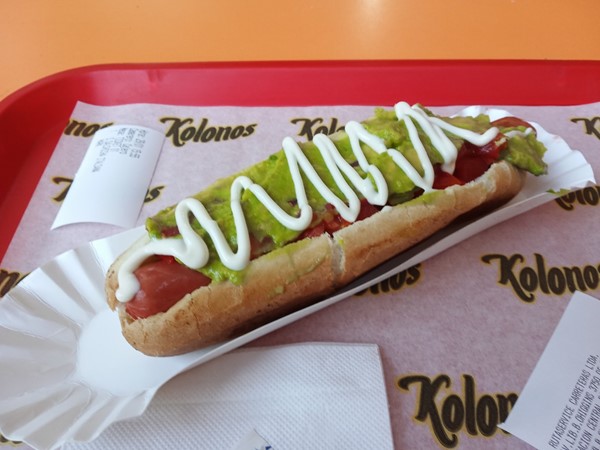 Once I saw the pictures from the "3-hour tour", I was a bit envious as it included a HUGE cemetery. Led by a "Where's Waldo" guide: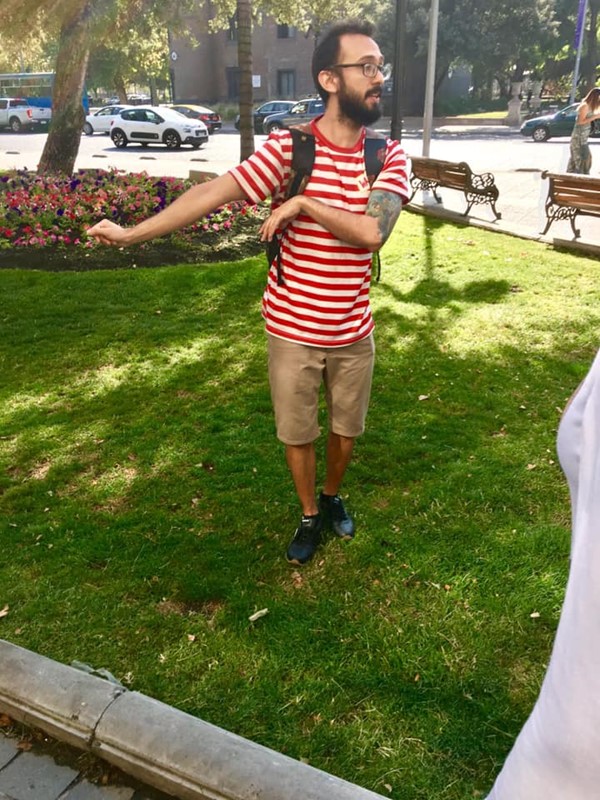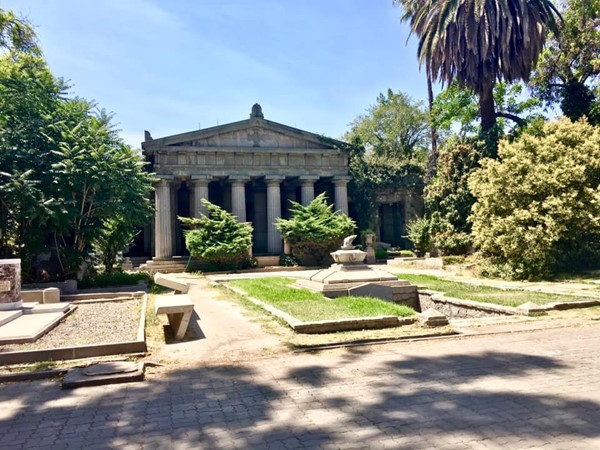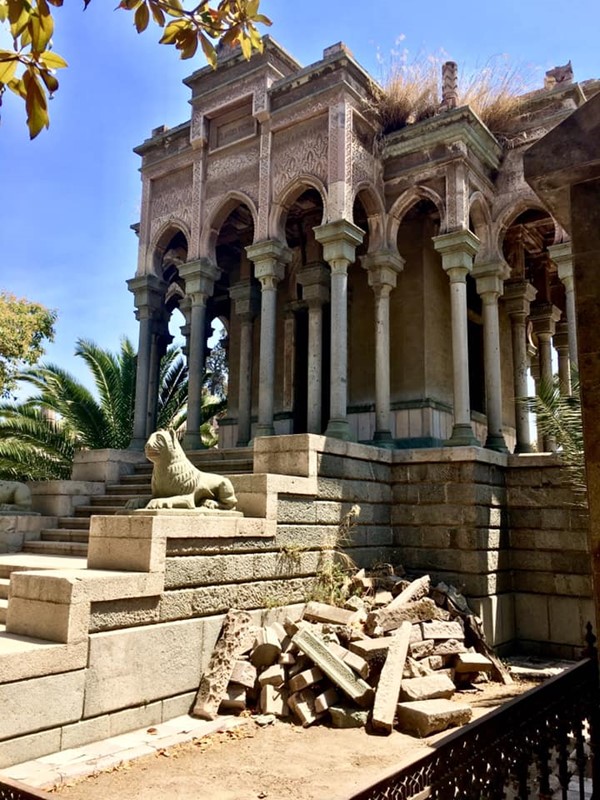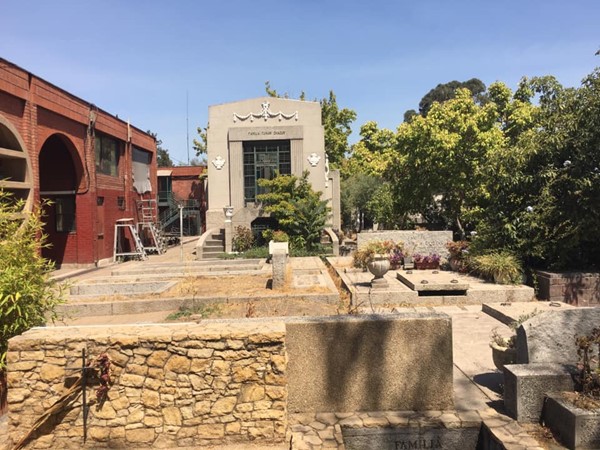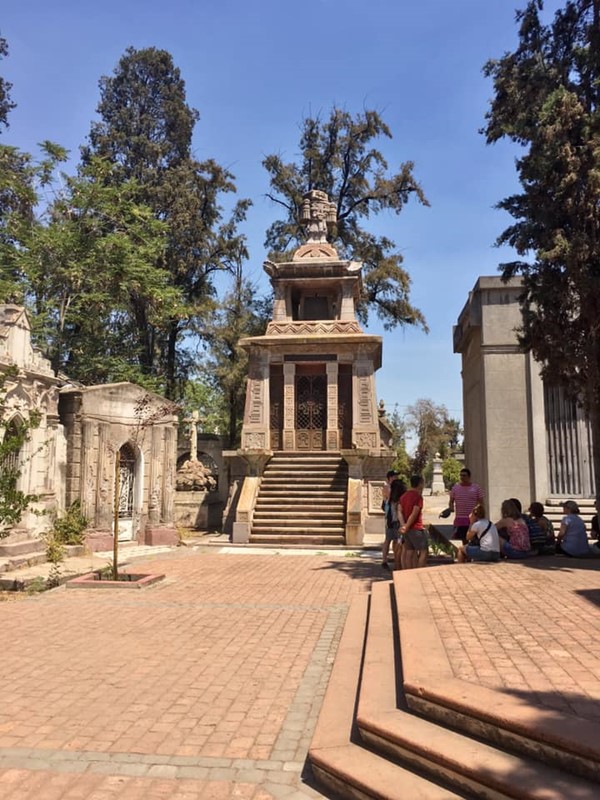 Late day flight out (10:45pm departure) so that will be another post – but I'd like to share observations about my time in Chile:
Not noted above, Rache had his wallet picked from his FRONT pocket on the morning, very crowded, subway to get to his tour. Multiple people stopped us to say that we should be wearing our packs on our fronts rather than backs. A woman stopped me to show me how I should hold my cell phone to keep it from getting taken. Most of these incidents happened close to our hotel, which was by the very crowded bus station, and in Rache's case, on a very crowded subway – and then there is the photo Rache accidentally took of the "perp walk". That said, out of the city we didn't even think about these things.
Santiago reminds me of Rome, without the charm. A hub city best left behind to move into the country.
I'm glad I went, I'm eternally grateful for all the work Rache put into the planning of this trip.

Of our mutual trips to South America, I'd rate it this way, in order of most/best to least/worse:

Cityscapes: Montevideo, Lima, Santa Cruz, Santiago
Food: Lima, Montevideo, Santa Cruz, Santiago
Lodging: Lima, Montevideo, Santa Cruz, Santiago
Safety: Santa Cruz, Montevideo, Lima, Santiago
Transportation: Santiago, Montevideo, Santa Cruz, Lima
Disparity of incomes (homeless, etc.): Santiago, Lima, Santa Cruz, Montevideo

Maybe don't come in February, the height of their summer
Still glad I came, starting to run out of South America countries to visit that have easy flights using miles. Columbia, Venezuela, Bolivia, Equator, Paraguay are left, and the first two of those are having "political" issues.
Next up, the return home.
[227.0]
For more blog posts, click here.