It feels "odd" to call them "My In-laws", but there is no blood connection with them, just very strong bonds. Jen is my dead brother Karl's widow. Kennan is her husband. Jameson and Julian, who you've read about in this blog are Kennan's nephews. In many ways, when they married, we became a three-family unit.
Jen and Kennan got to Hawaii a few days before me to check out the North Shore in a VRBO (Vacation Rental By Owner). Sounds like they had a great time, but you'll have to ask them about that.
Do you think I packed enough for four nights at the beach?
It's the wine that adds a bit to the packing. Sadly, it being a box and a bag style that usually has tools – it was unloaded with the other boxes. You think I pack a lot? This is just about half of the crates from my flight: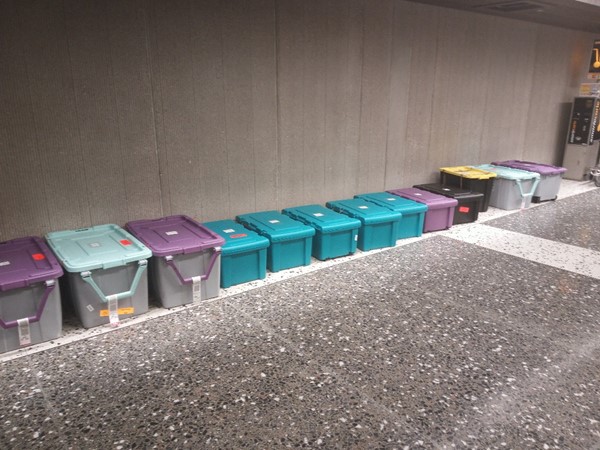 The place wasn't ready as I arrived at noon for a 4pm check-in –this particular Wyndham has a bad reputation for slow room turnover, even with a mandatory 10am check-out. I headed next door to Giovanni's with a 10% off coupon from the activities desk: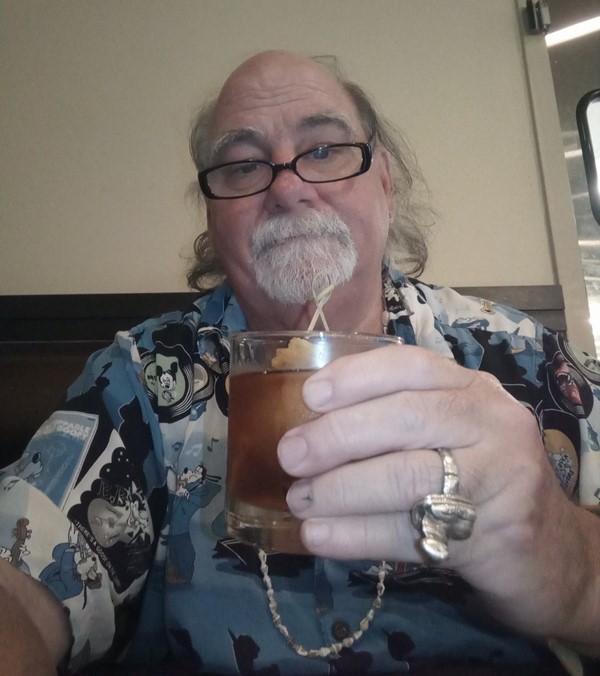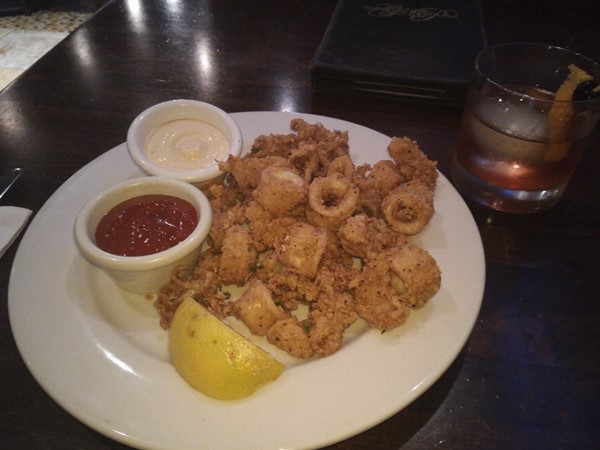 Nice place, though it feels like it's the end of its lifespan (as in, it's ready for a refresh):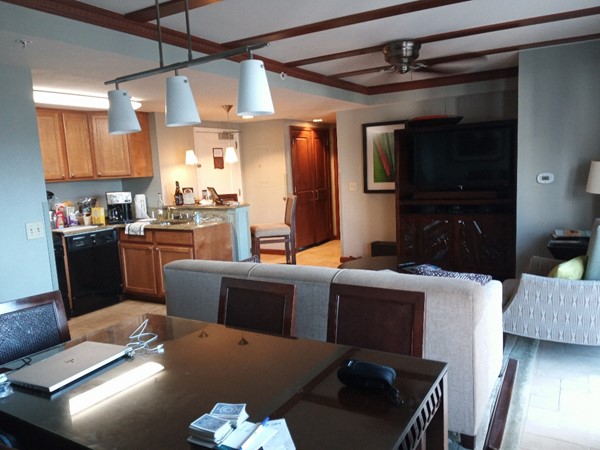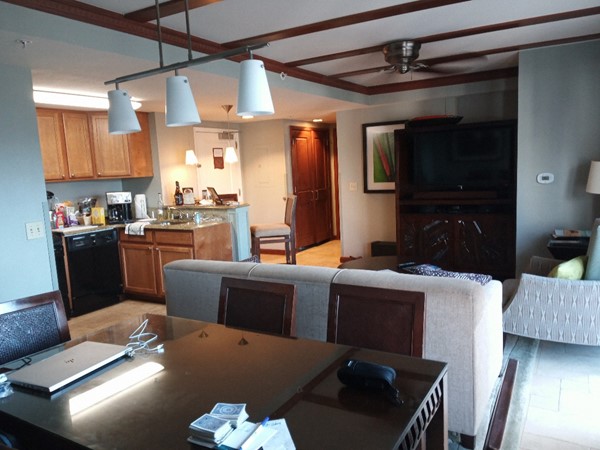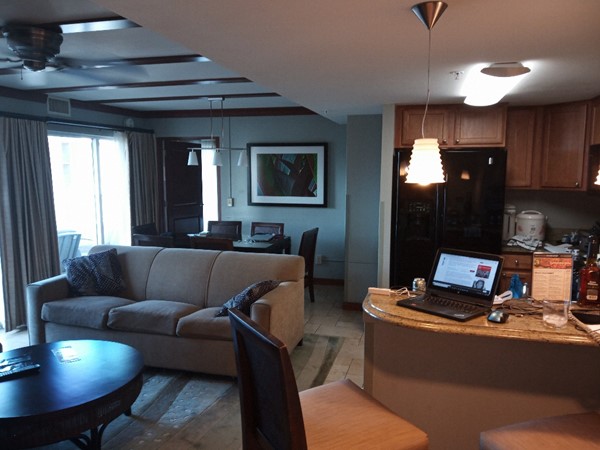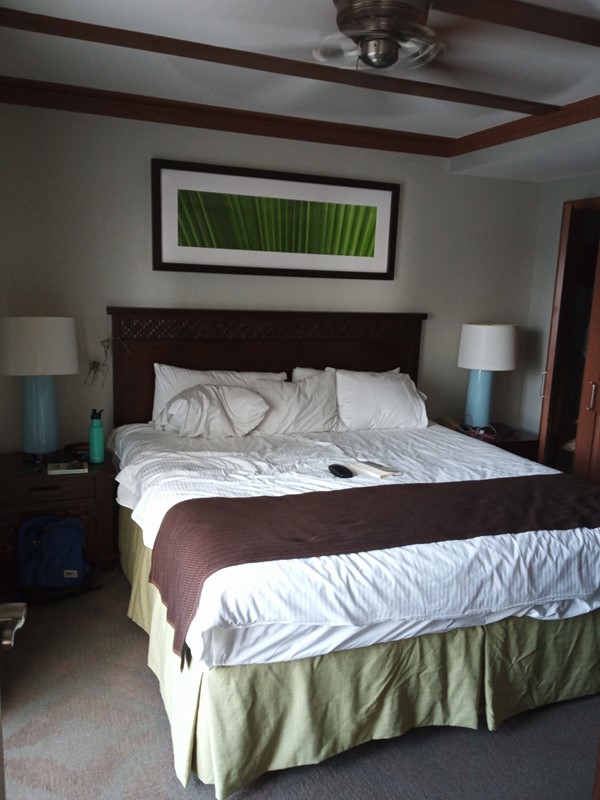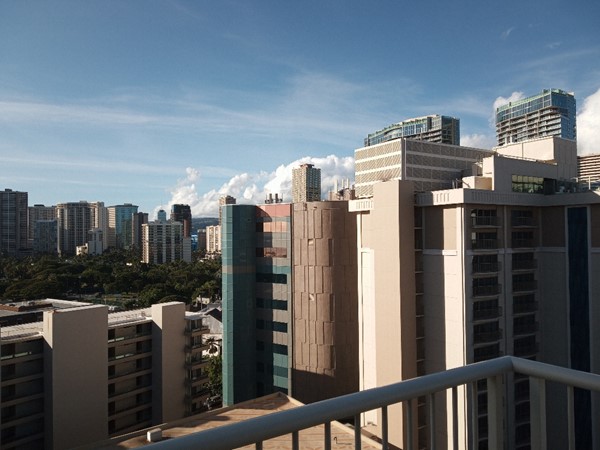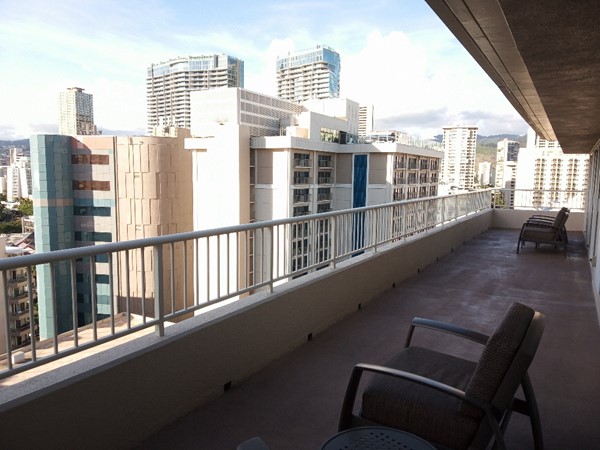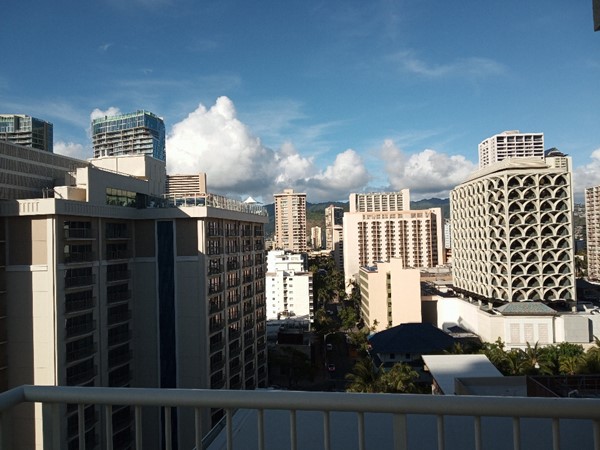 Here is a panoramic video from our massive deck:
Tuesday as our big day:
Kamaka Ukulele Factory Tour
Salvation Army for Aloha Shirts
Waikiki Farmers Market
Dinner at the condo
I'll save the Kamaka Ukulele Factory Tour since that one will have a lot of photos.
So, that takes us to the Liliha Bakery Café, where I really like the fried chicken, which seems to be battered in a fish and chips-style beer batter. We got there a little before noon, and still had to wait to even get a seat at the counter. I blame the table of 20 elderly islanders, probably on their once-a-month lunch outing.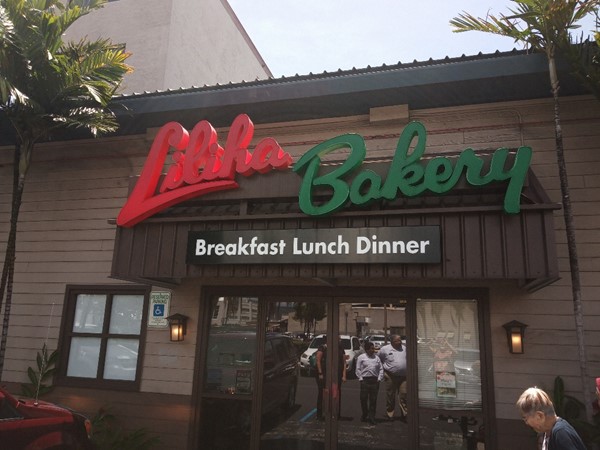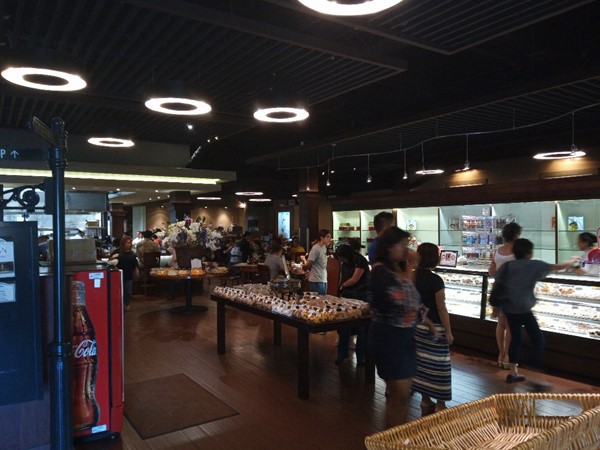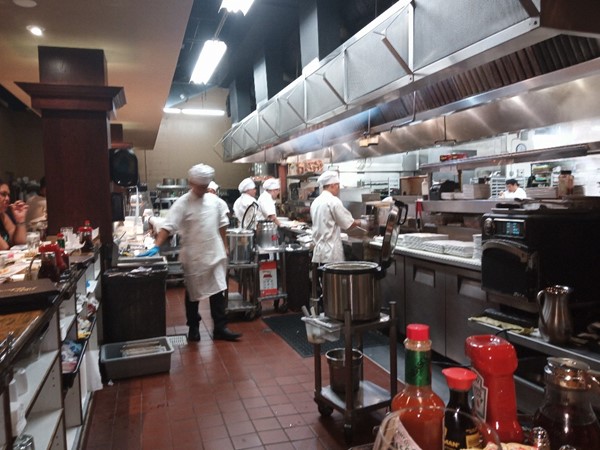 And, in a shocking twist, they now serve wine and beer – though the staff has no idea what "brand" it is. I took a chance with the "red" – which apparently, they store in the refrigerator. Because of that, it wasn't bad. I assume it was out of a box. Didn't ask what beer, that, they might have had a clue about (certainly, not on tap).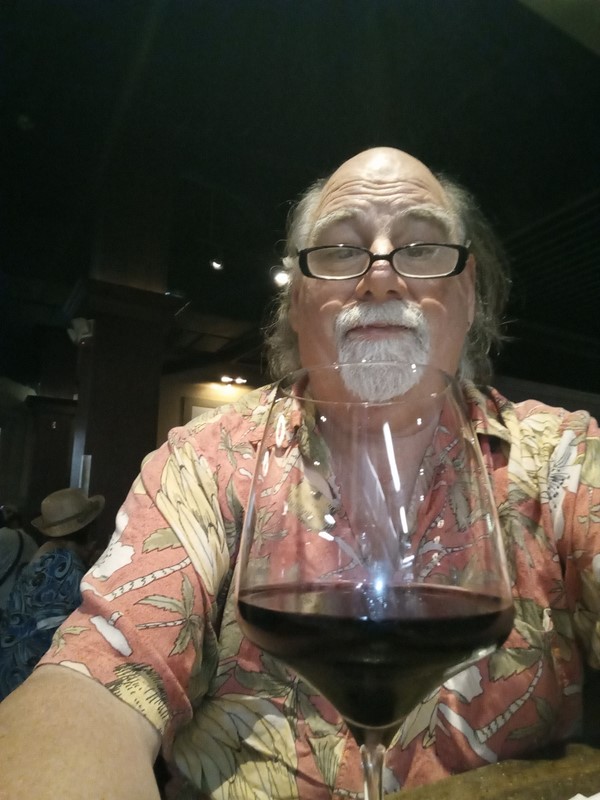 My chicken. I paid an extra $1.25 for the fried rice, but it also came with corn and a potato/mac salad: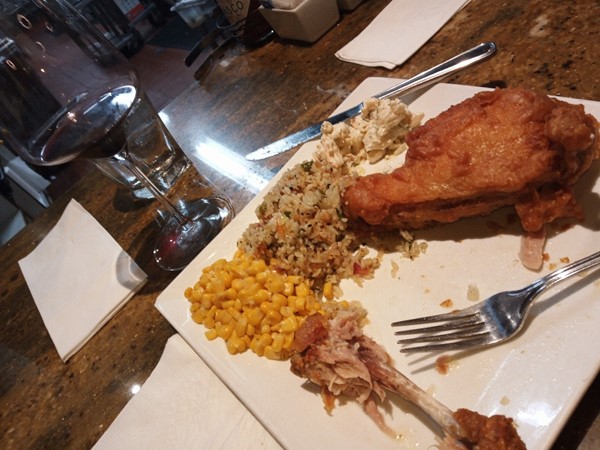 Jen and Kennan split the grilled Mahi Mahi, also with fried rice and corn, but with a green salad.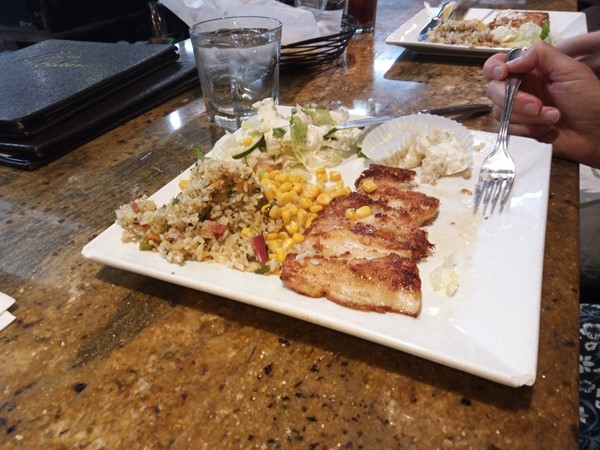 Next stop was the Salvation Army on Nimitz, which Tuesday is Senior Discount Day with a 25% discount. Trust me, we are all over 55!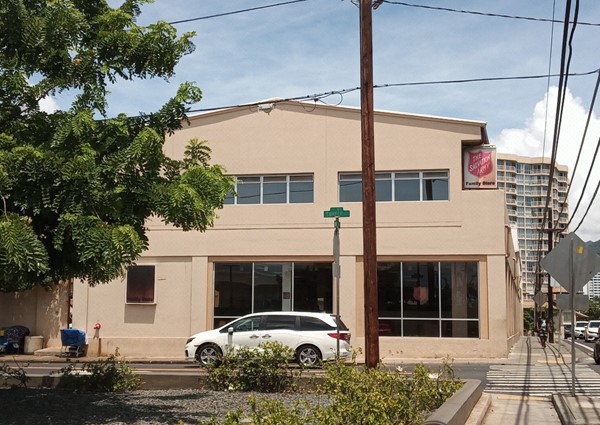 Sadly, their selection of Aloha Shirts was a third of what I've seen in the past, but at least Kennan found one.
Uber makes it really easy to get around, but all the places we've visited are on bus routes for a $5.50-day pass. With three people, it was Uber.
Next was the Waikiki Farmers Market – we came home with cut fruit, chicken curry, jerky, salad stuff – add some leftover rice and corn.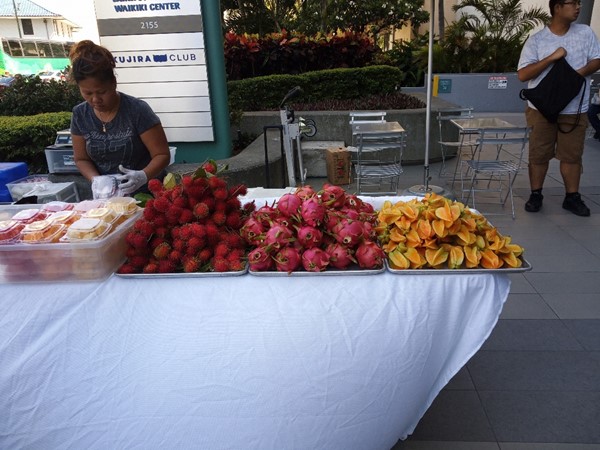 Wednesday was Pearl Harbor for Jen and Kennan – my chore was to find a real grocery store since the one that I have relied on for a decade of visiting Waikiki has been torn down for a new condo. Contrary to the Front Desk, who said there was no grocery store left in Waikiki – the Food Pantry just moved!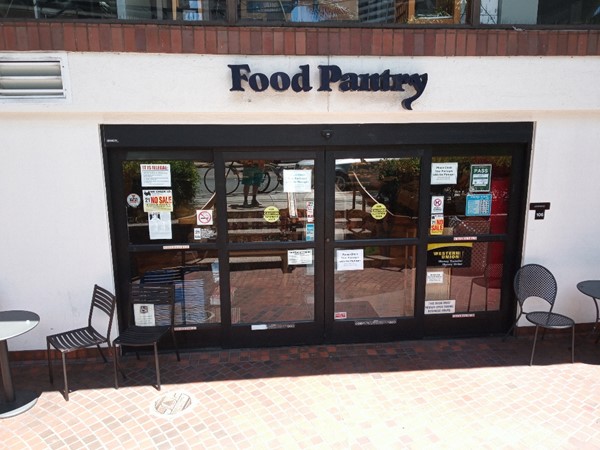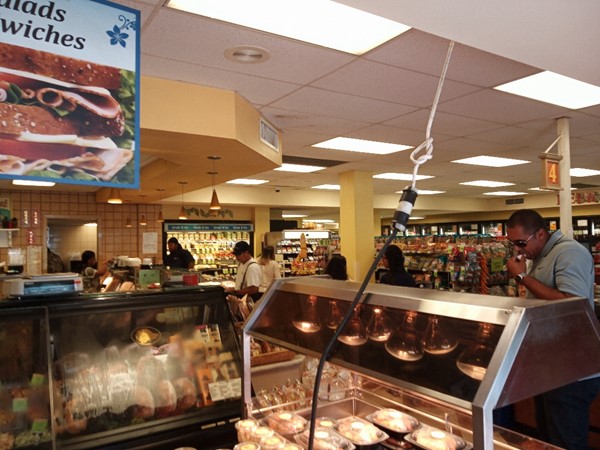 Yep – it's a decent sized grocery store that is MUCH cheaper than the ABC Store and Deli (LARGE for an ABC Store).
I had a late lunch at Tommy Bahama's Bar (above their store which is a block from the condo):
Blue cheese stuffed olives for their $10 Grey Goose Happy Hour Martini: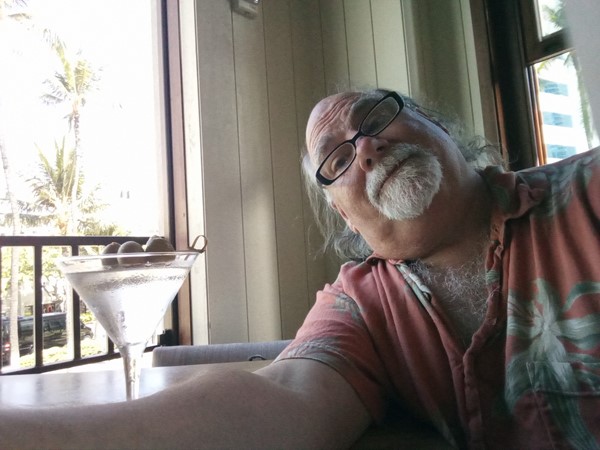 And the $10 2 for $10 Mahi Mahi Tacos…
They even brought a breadbasket with cinnamon butter!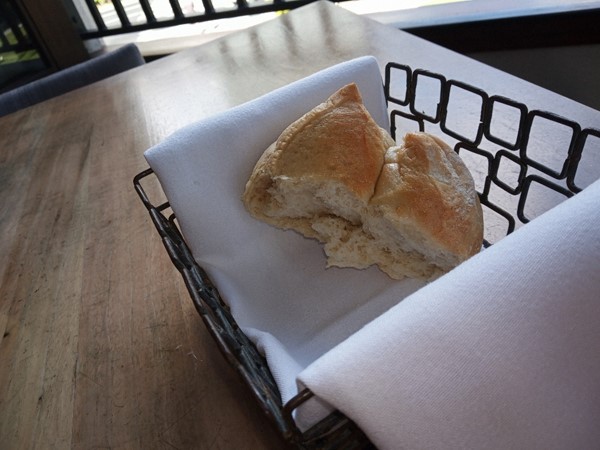 But what caught my eye was this promotion that they were running – add $5 to your tab and get a $20 gift card valid next month (when I happen to be returning). Sign me up! Great cause, feeding hungry kids.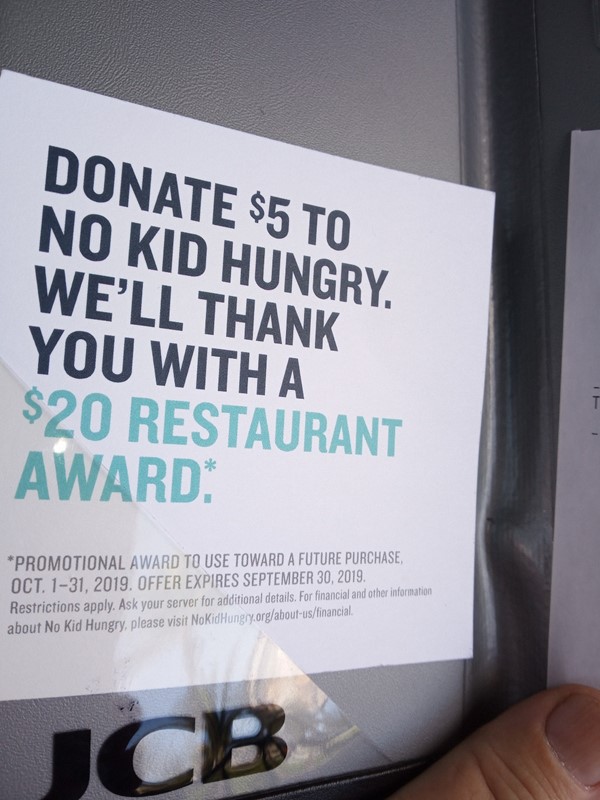 But going back to the in-condo cooking, the Food Pantry has everything from rice (for our rice cooker):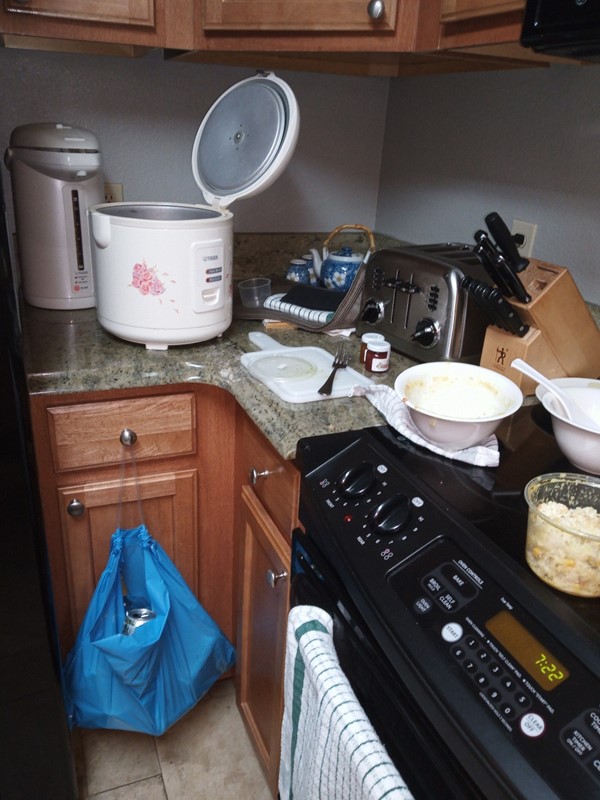 To Spam, panko flakes (for our last night's dinner), whiskey, wine, you name it.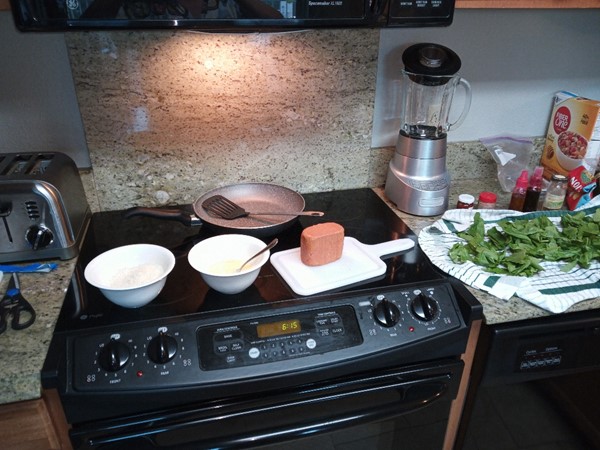 The one thing Food Pantry doesn't have is Trump Memorabilia, which the ABC Store has a huge section: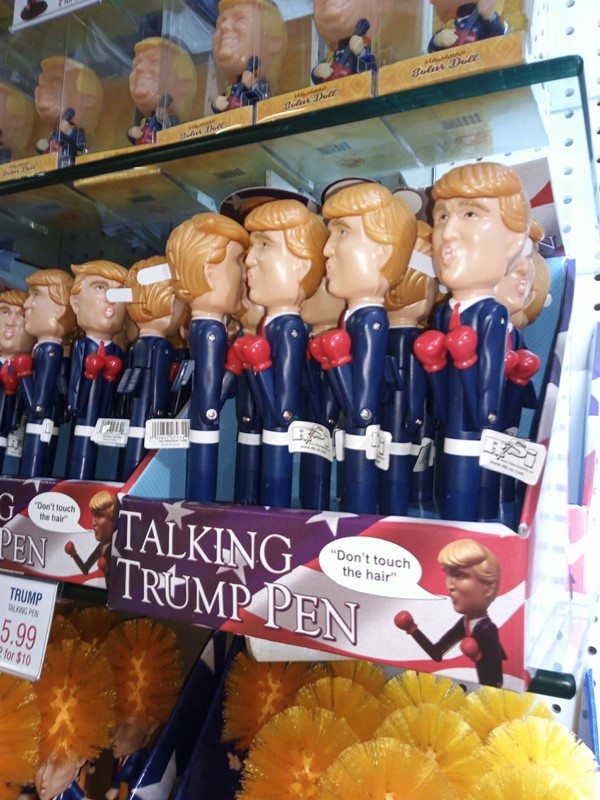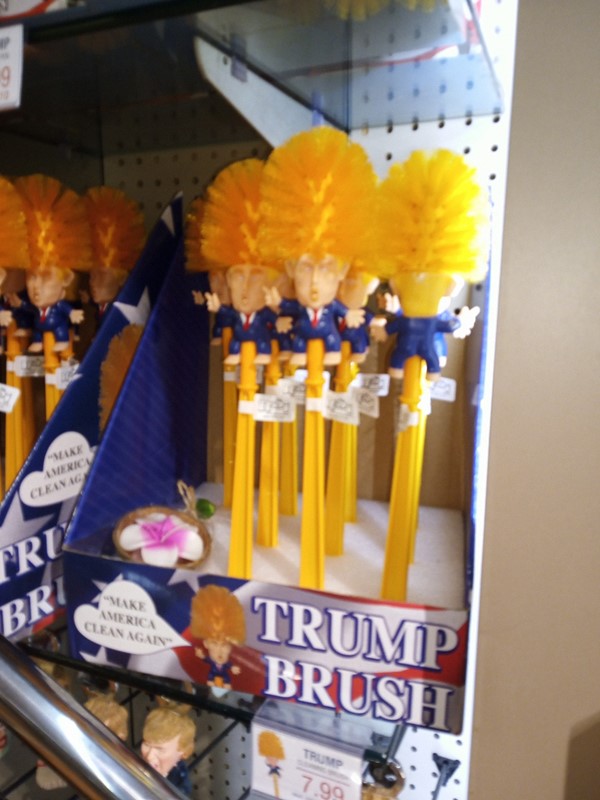 We made some great meals in the condo!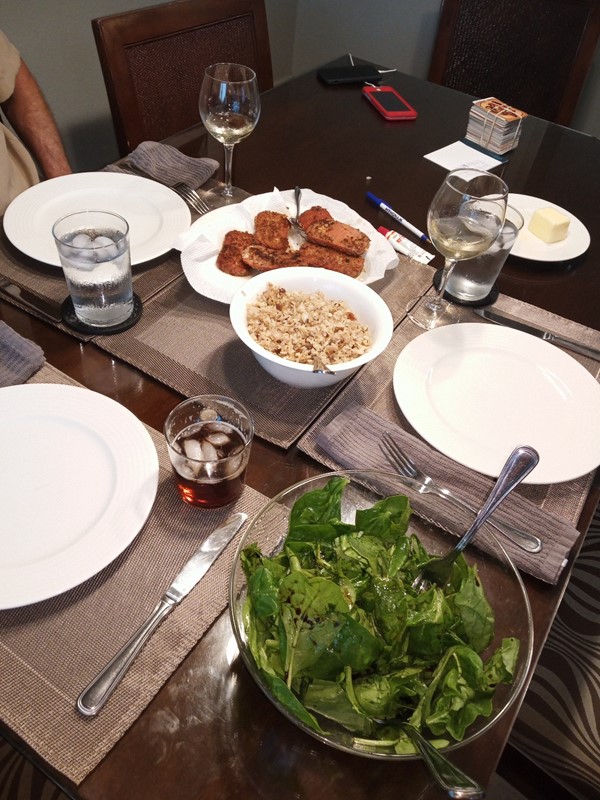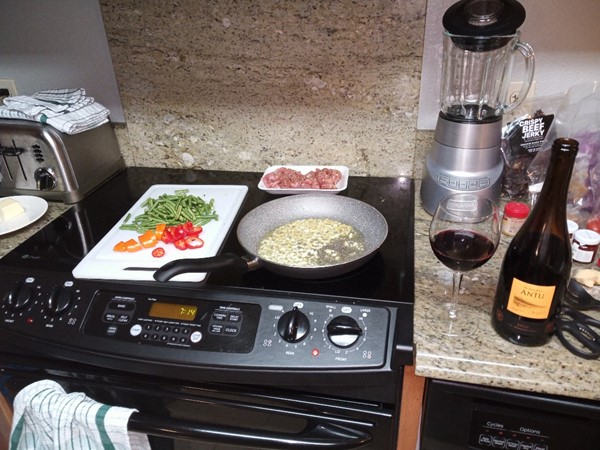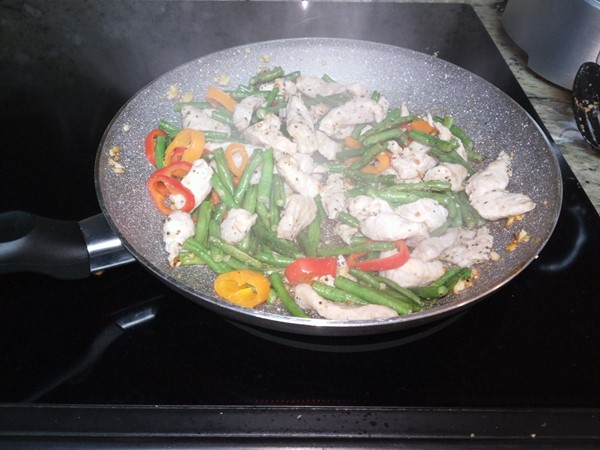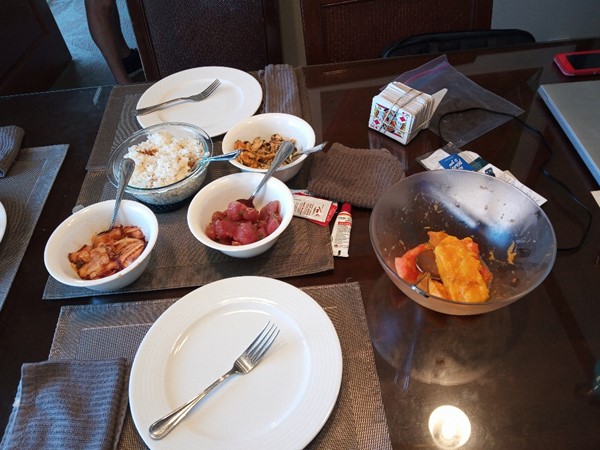 On our last day, I got Kennan and Jen to come back to Tommy Bahama with me for an afternoon Happy Hour dessert….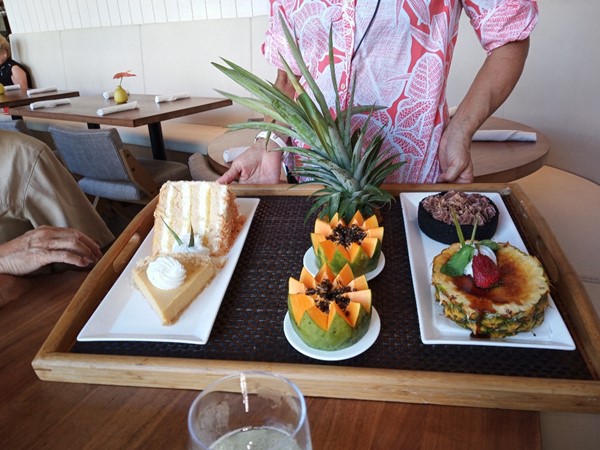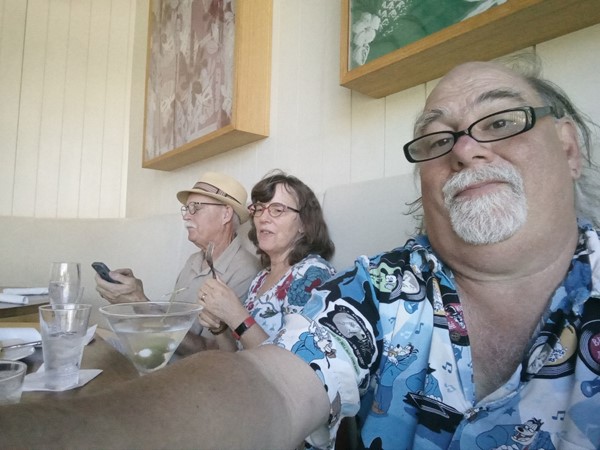 As you can tell, I drank my dessert, just like my mother!
Friday, and we were all headed home, me a little later, and with time to grab breakfast in the combination AA/JAL lounge: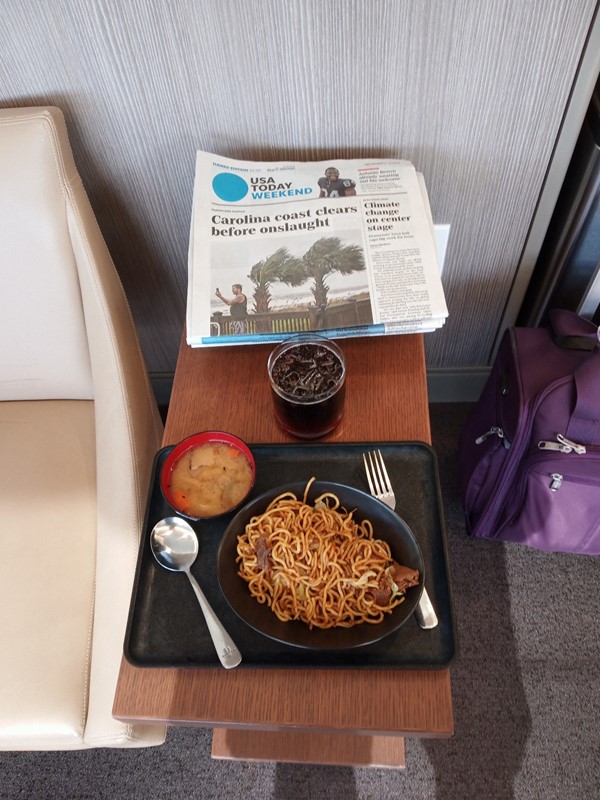 Yes, ramen and miso soup for breakfast.
I really like the Honolulu Airport because of the outdoor garden in the center of it (outside), but there are also the performances: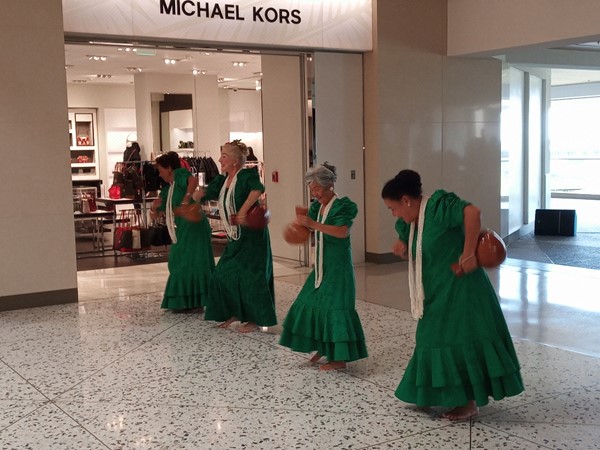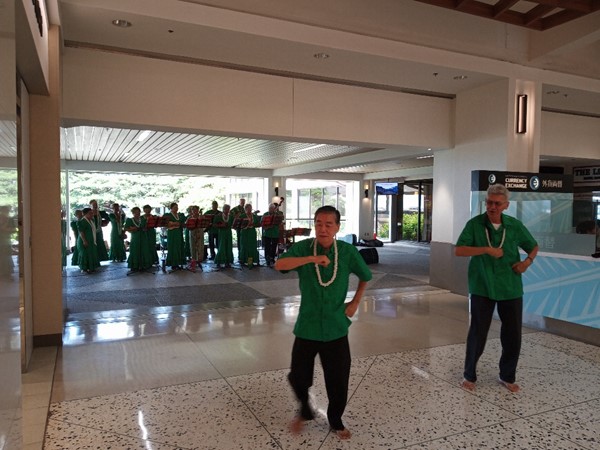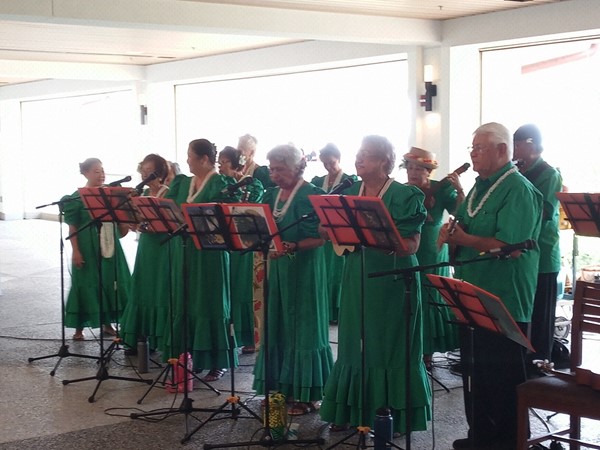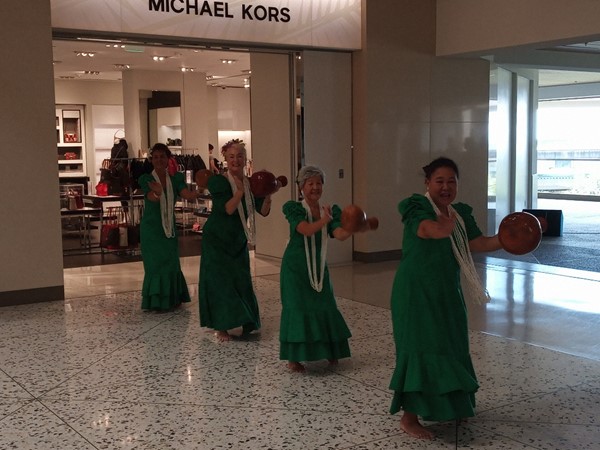 And next to the lounge, a public bathroom tucked away with bidet seats!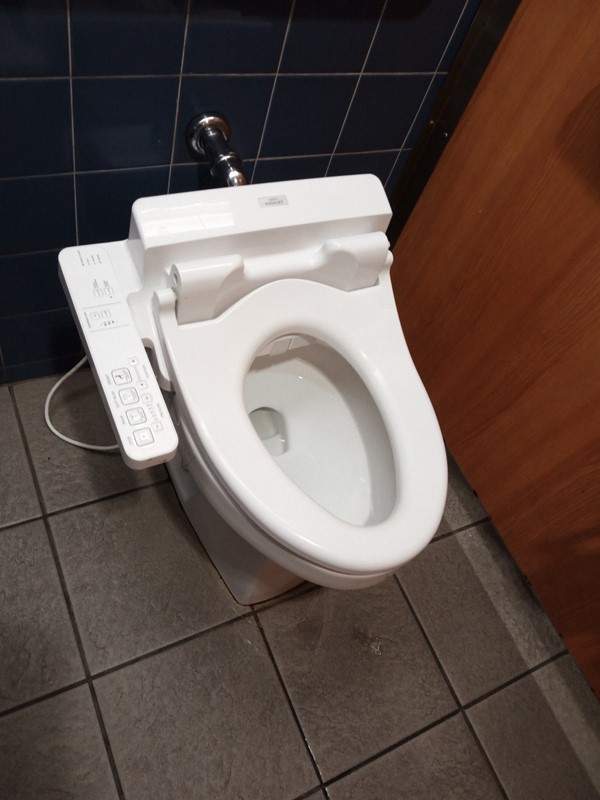 And a shot of the new ANA A380 that is dedicated to the Tokyo/Honolulu route (it's a double decker):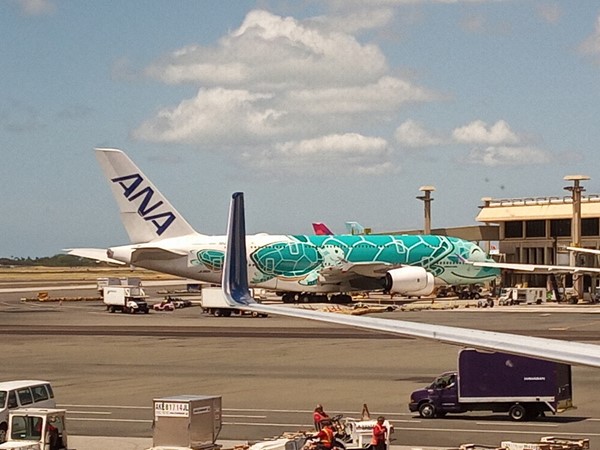 Got upgraded to First Class (though via Portland) for the way home which meant a nice dinner on the plane.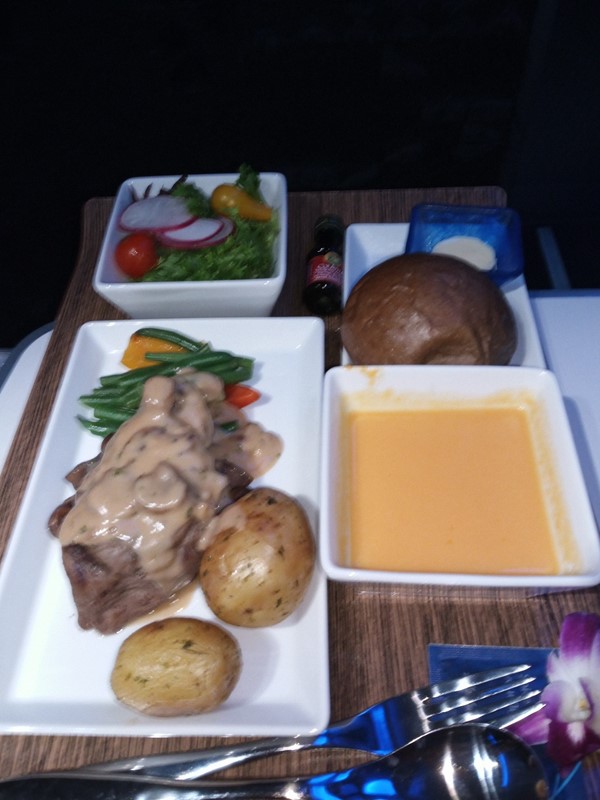 It was a great trip with great company.
[224.0]
For more blog entries, click here.