After the long trip to Vietnam and travelling with other people, it felt like a good idea to take off on a self-holiday. Time for a little pre-takeoff breakfast!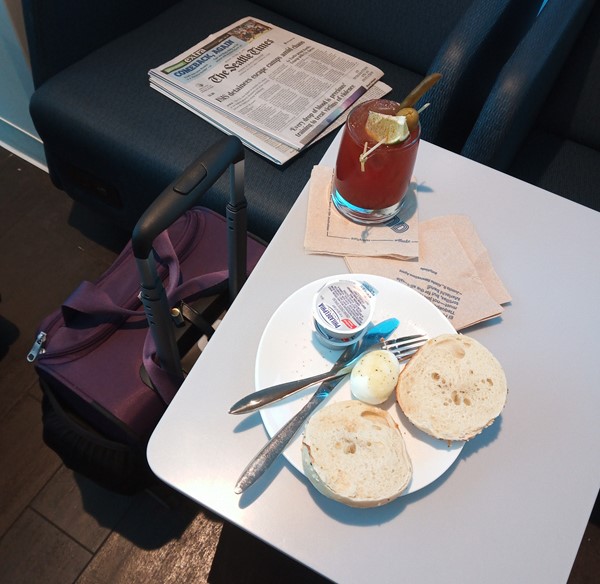 Got the upgrade after I'd already checked in so it was a window bulkhead seat rather than my preferred aisle, but an upgrade is an upgrade!
And it being a Hawaii flight – a POG Mimosa while we were still on the ground!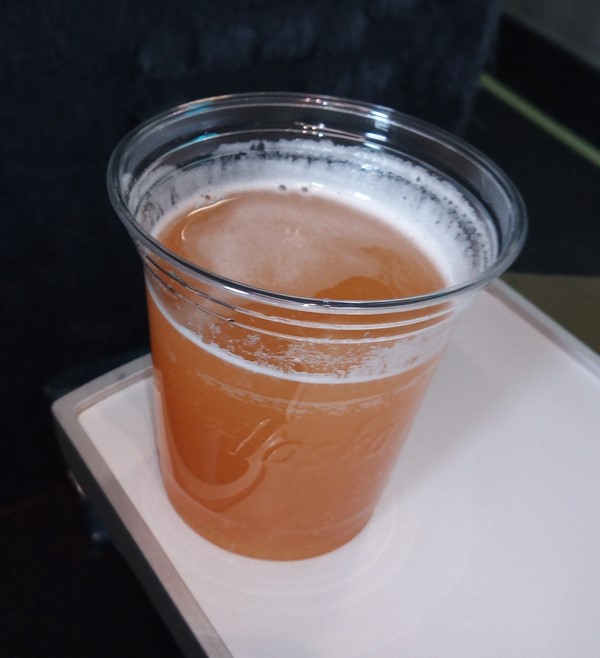 Once in the air, the food really started to flow…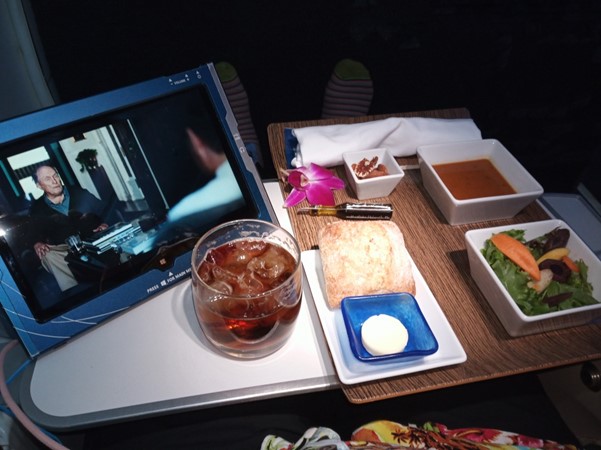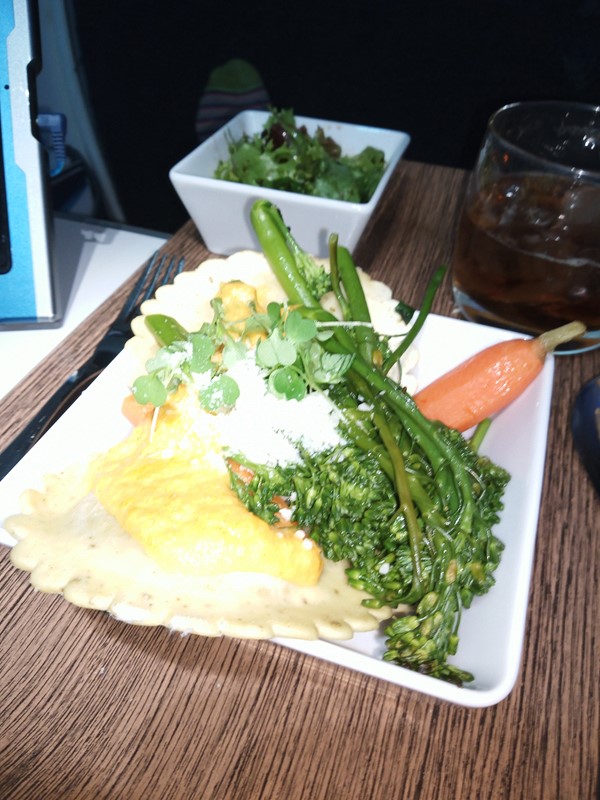 Hard to tell, but that was the mushroom stuffed ravioli.
Might as well take advantage of the window seat!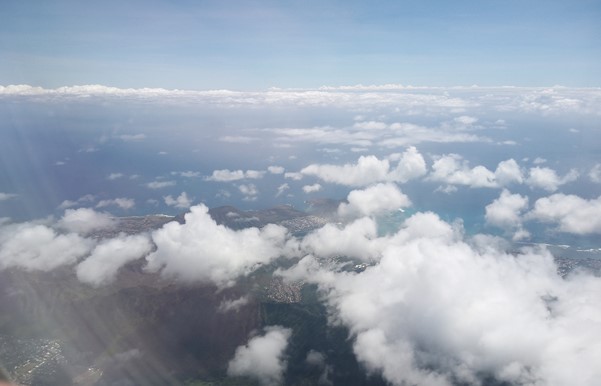 Once landed, grabbed the city bus ($2.75) to Waikiki and walked the couple of blocks to the condo: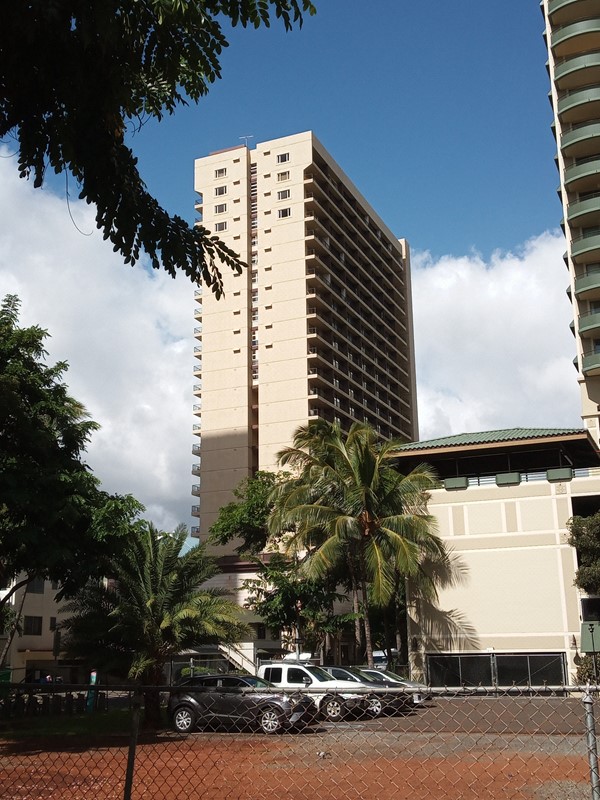 Here are daytime and nighttime videos of the condo:
If you don't want to watch the video, here is a still photo from my balcony: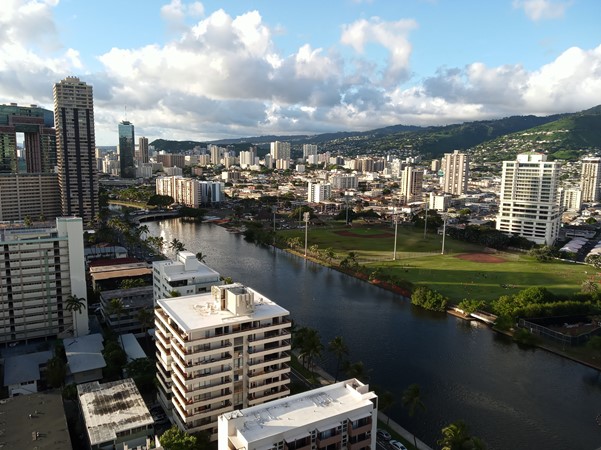 Even with the snack basket an hour out of Honolulu – I was in need of something more substantial in my stomach so walked over the Cheeseburger Prime (formerly Cheeseburger in Paradise).
Got the sliders which came with fries and a cocktail (West Side Smash) at happy hour prices.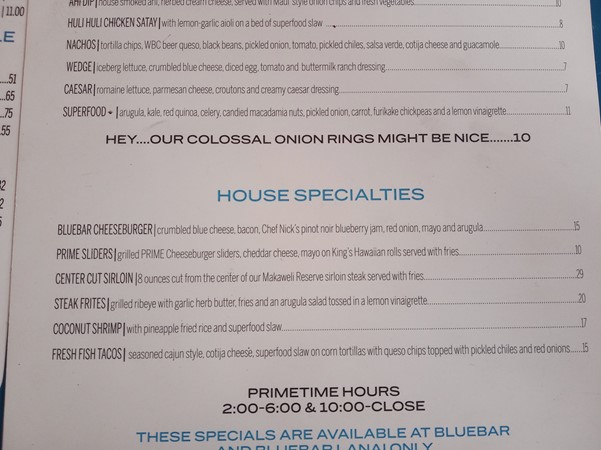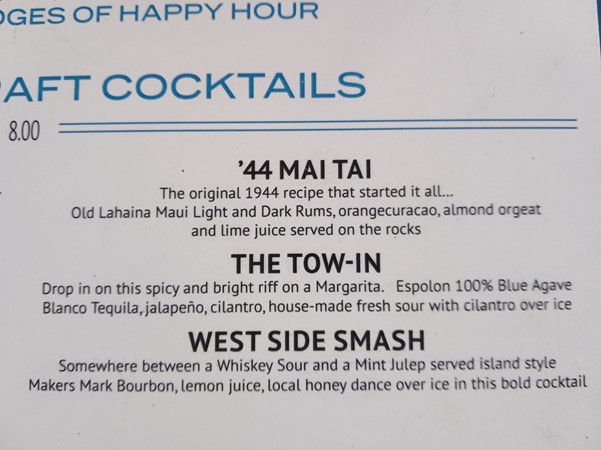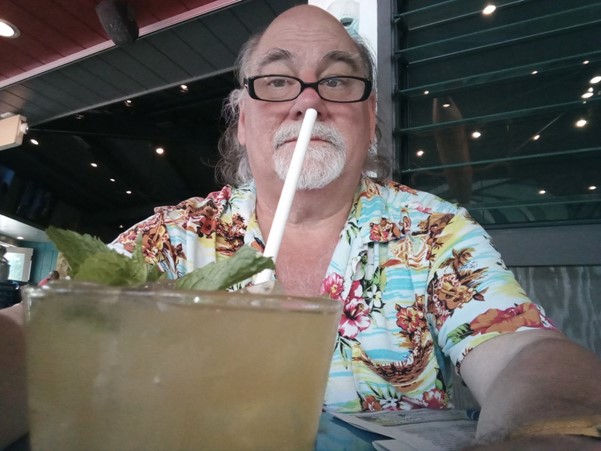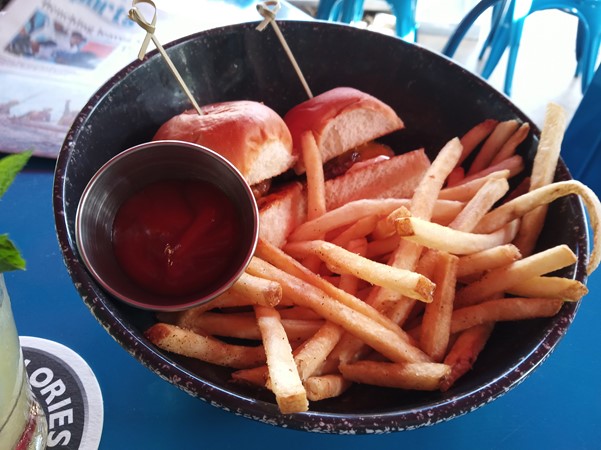 I've liked their food in the past, but this time the fries obviously weren't cooked to order.
Tuesday morning, I took a bride of 20,000 points (should have held out for 30,000) to attend an "update". There goes an hour and a half – but it replaces most of the points I gave to Conan for the father/daughter trip to London and Paris. I covered their first two nights in London with a place in Hyde Park.
Next up was my usual Tuesday in Waikiki – lunch at Liliha Bakery, which was, as often happens, out of the fried chicken, so it was the grilled ahi sandwich: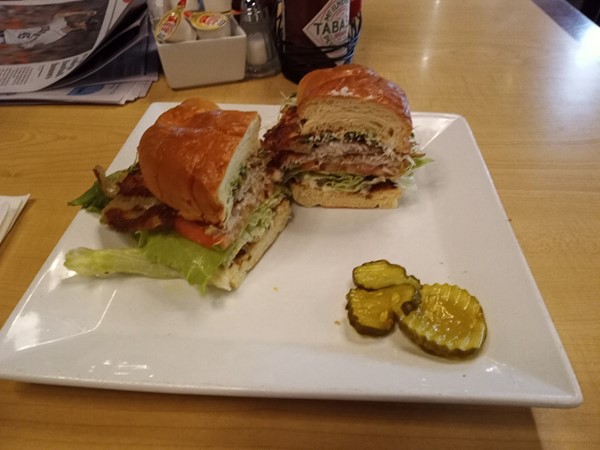 My other Tuesday stops were strikeouts –Salvation Army for Aloha shirts, along with Ross which is across the street.
In my evening stroll, noticed that Dean and DeLuca now has an outpost – mostly a café: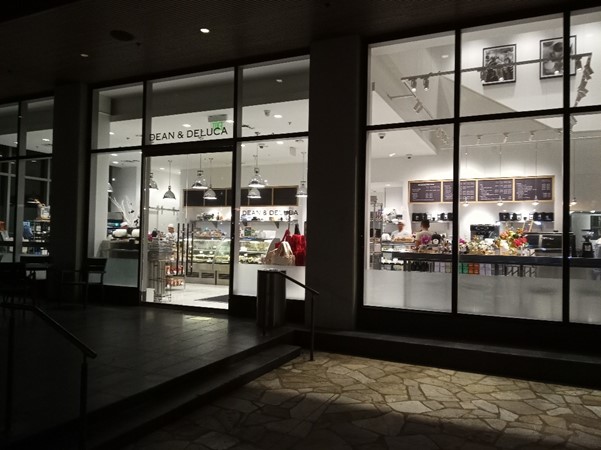 And that a new Tiki Bar has opened up down the street – The Lava Tube, better email Joe from Indianapolis!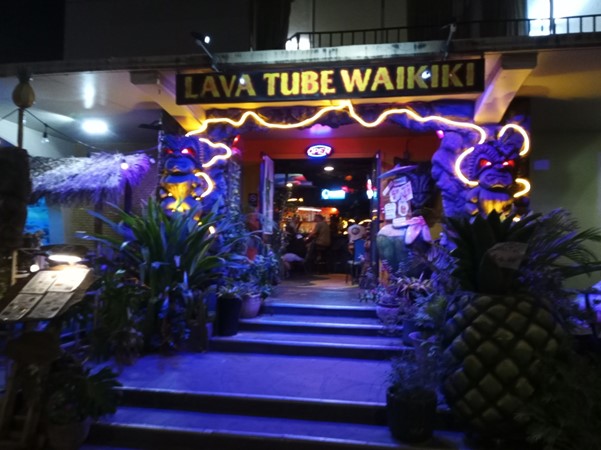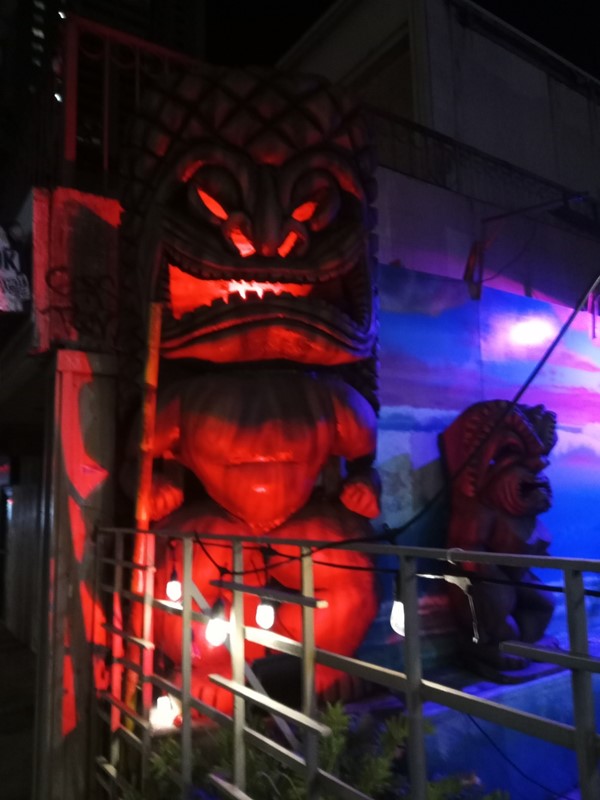 Wednesday started off with one of my Waikiki traditions – the 55+ IHOP breakfast…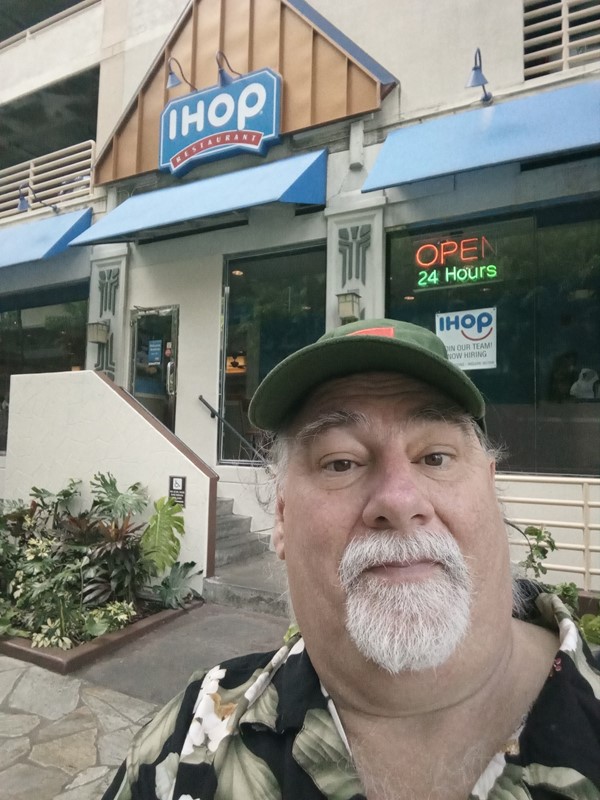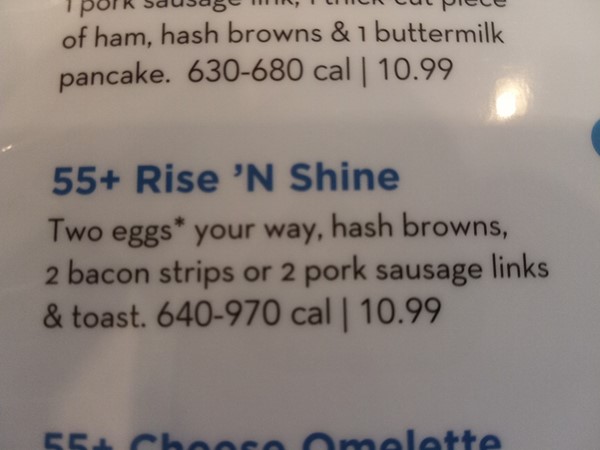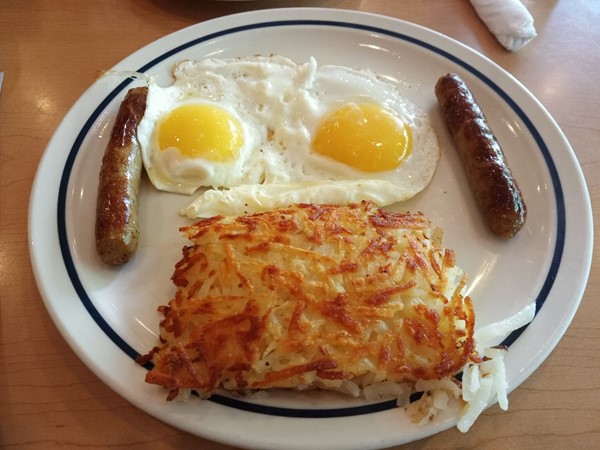 But it's time to check out some new stuff to do in Waikiki…like fabric from Fabric Mart: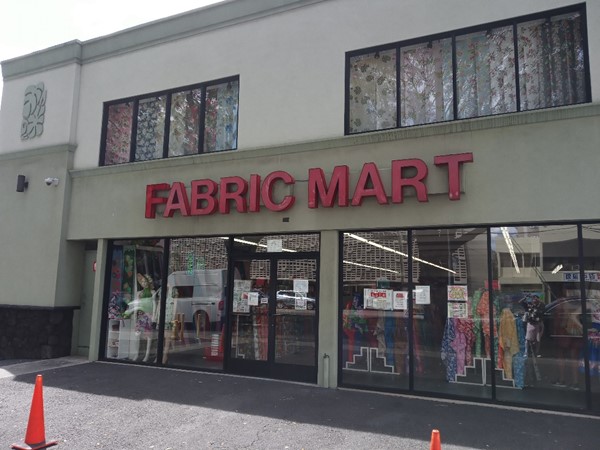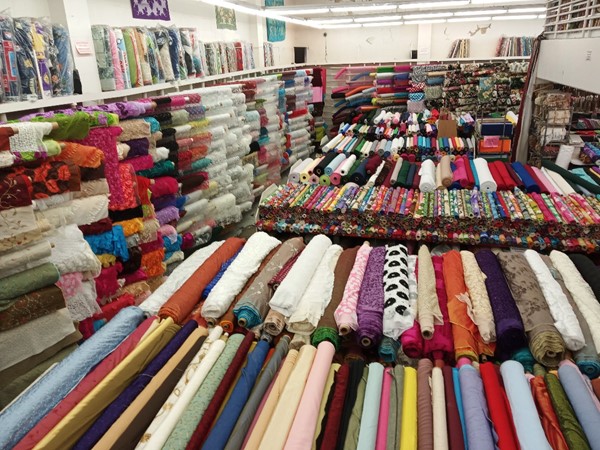 And these are the goodies I picked up with the exception of the napkins, which came from the quilting store on the Beachwalk: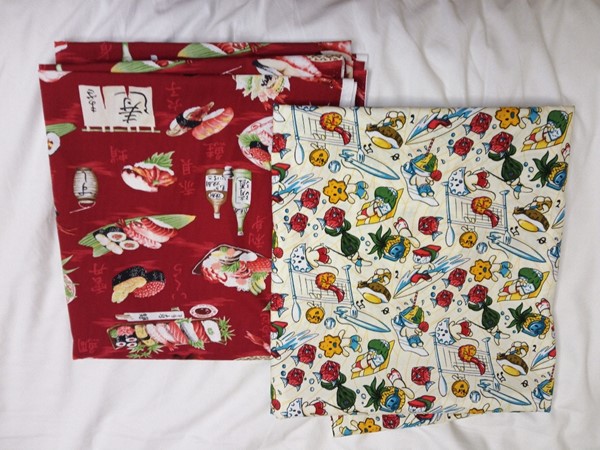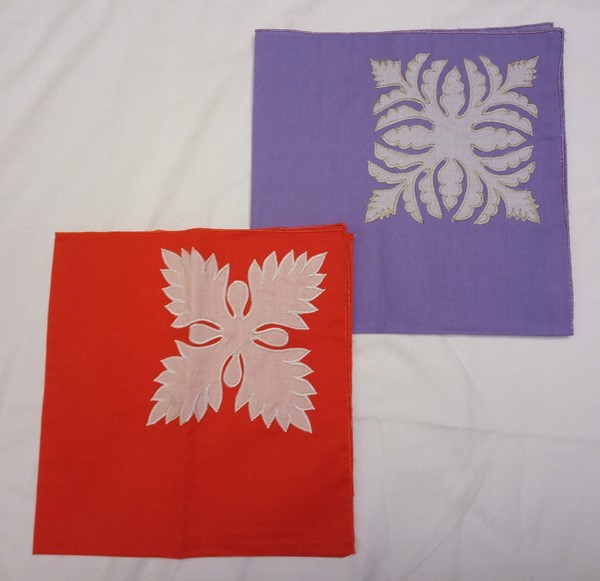 And in this new neighborhood (well, to me), I found both a major Korean Grocery Store (Palama):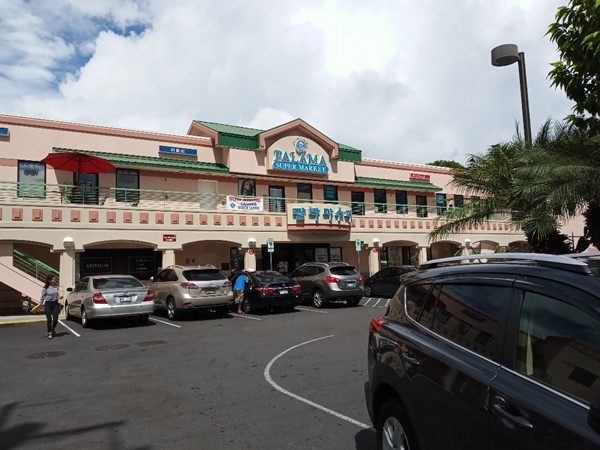 And a big Japanese Grocery Store (Don Quijote) complete with outside food court: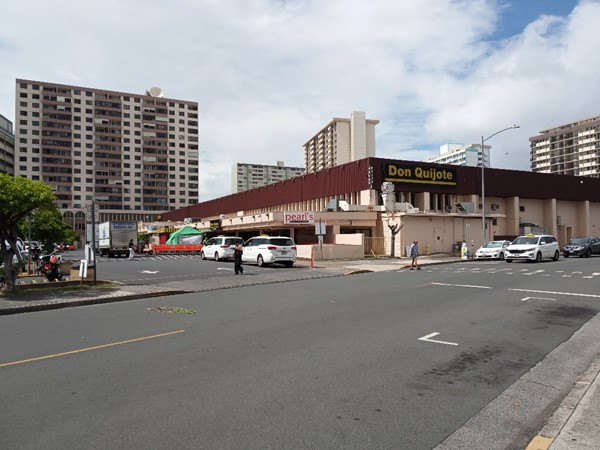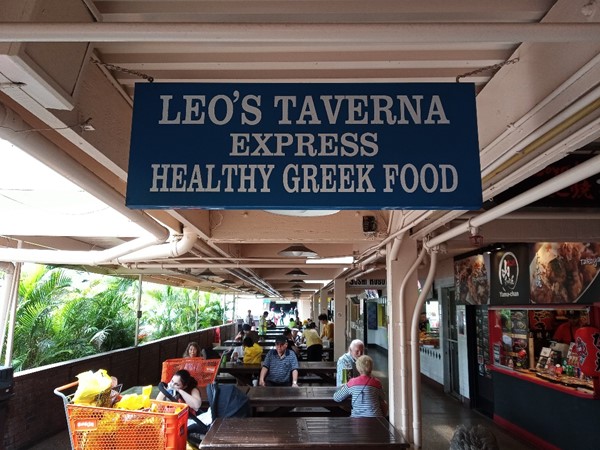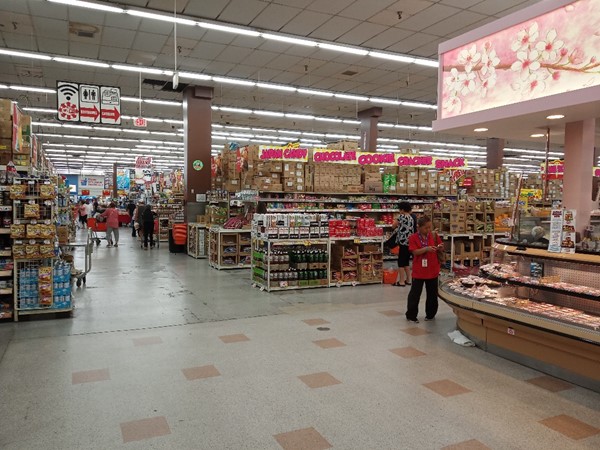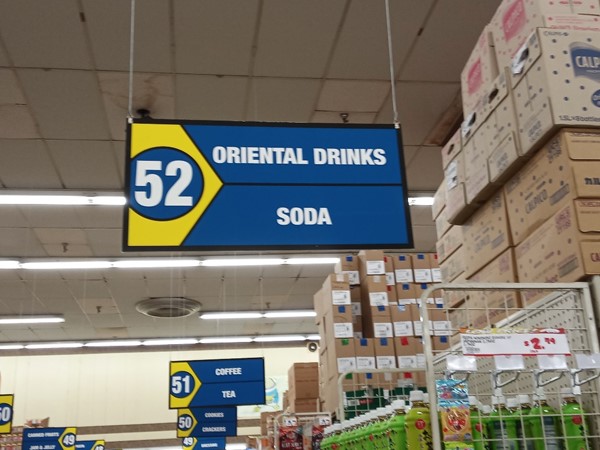 Thought "Oriental" wasn't and acceptable phrase anymore…well, it is here.
Afternoon snack time found me at the restaurant at Tommy Bahama: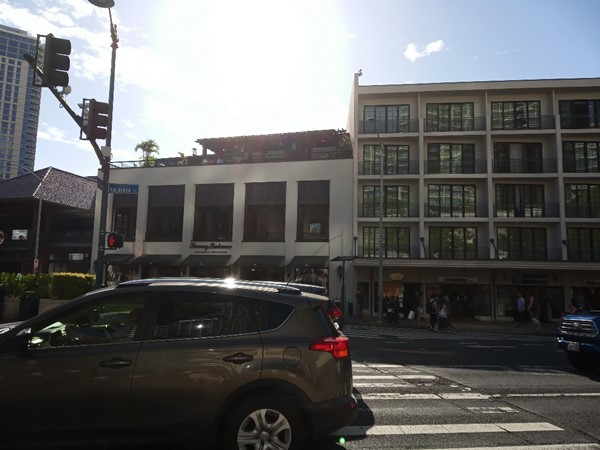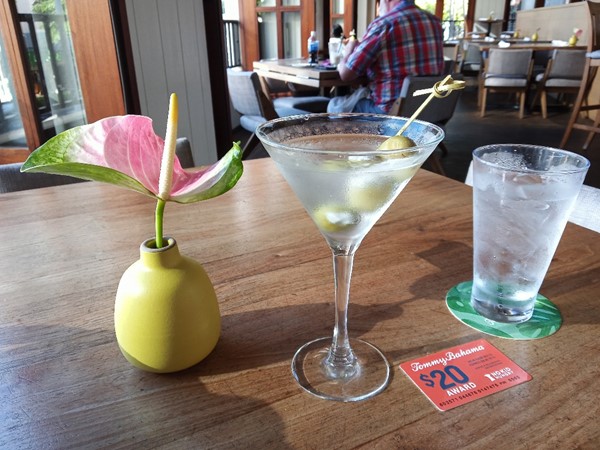 In the photo above, you can see one of the two $20 off regular items cards I scored on my last trip for just making a $5 donation called Kids Don't Go Hungry. It makes the blue crab lump salad below just $2.00 (and the drink was happy hour priced at $10.00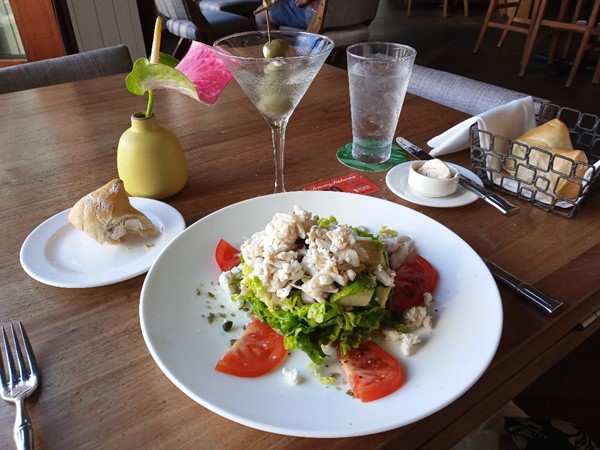 Score!
Afterwards, I made my final ABC store run – and had enough receipts to get another Hello Kitty shopping bag for free: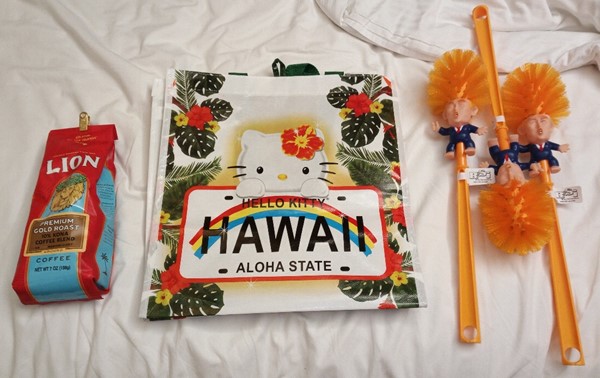 Dinner was eating up all the leftovers in the fridge – a common practice.
Following day found me poolside for a bit…but sitting in the shade reading: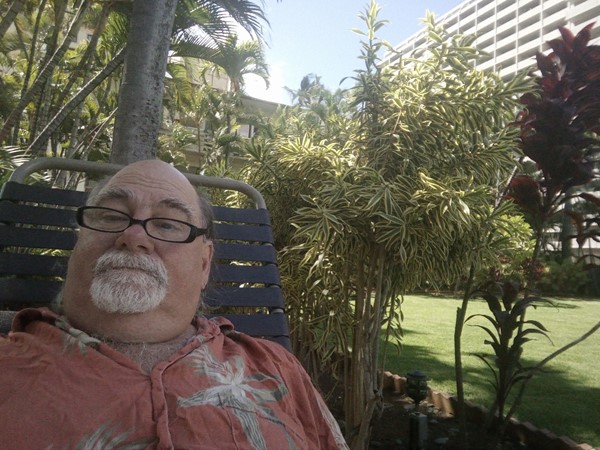 Didn't even bother to put on my suit and jump in, even with the hunky long-haired young dad in the pool. And speaking of hunky guys – look what I'm missing this weekend in Honolulu!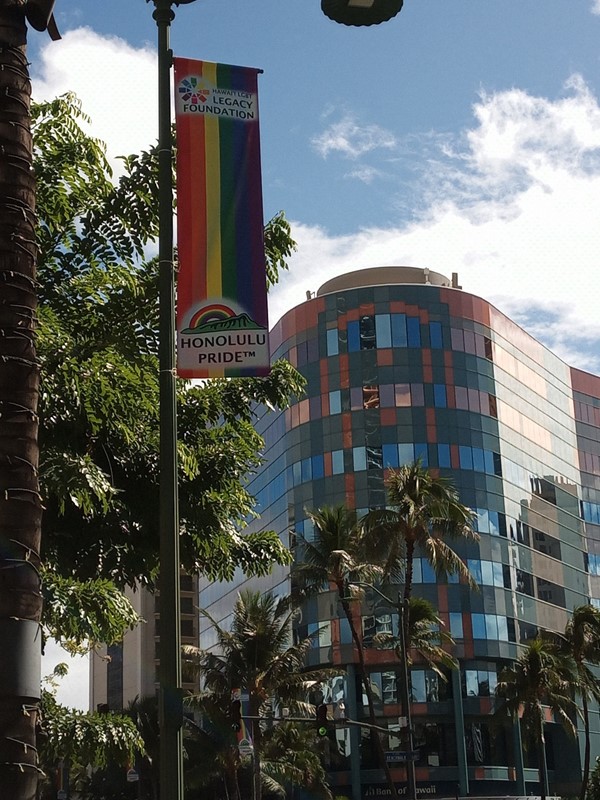 Afternoon found me back at Tommy Bahama to use my second $20 Off card. Today it was different cocktail (only $8 – a Classic Margarita) and the Panko Breaded Fish and Chips ($4 after my $20 off):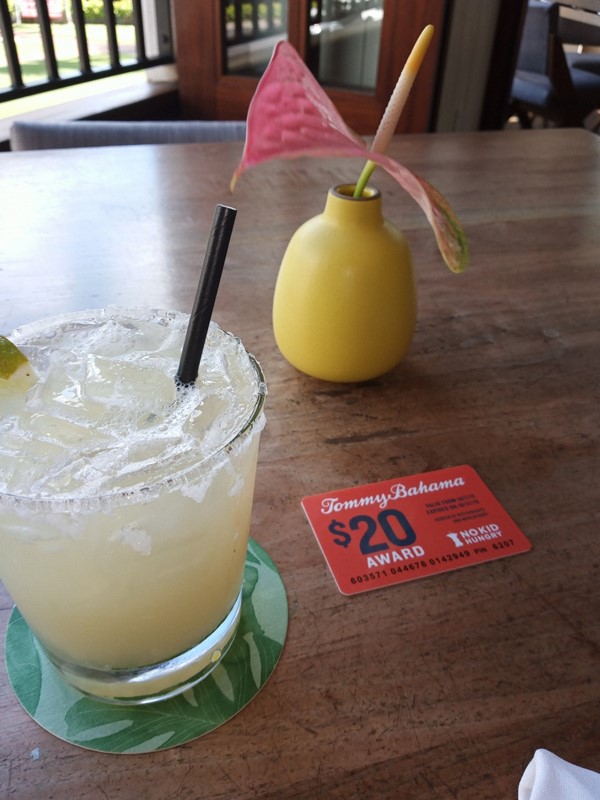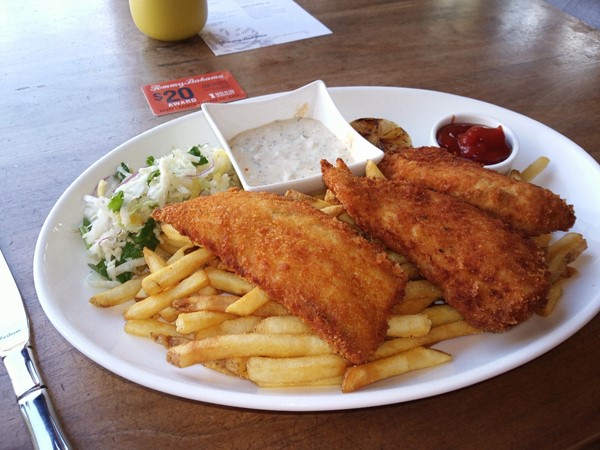 Forget what the local fish was, denser (and more filling) than Halibut – I would have been just as happy with two pieces.
Feeling bloated from a mid-afternoon lunch is no mood to hit the Waikiki Farmers Market which happens every Monday, Tuesday, Thursday in front of the Wells Fargo Bank. Jen, Kennan and I hit it when we were here a month ago. Thought about getting some food for later, but they didn't open for half an hour, and I needed a nap. It will be cheese and crackers for dinner tonight!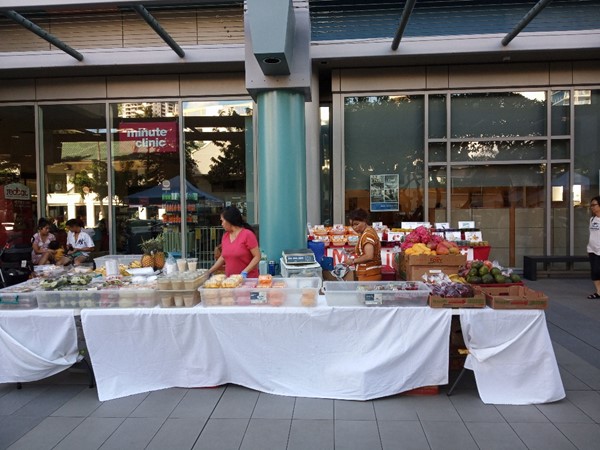 Walking home I discovered that another of my favorite restaurants has closed. Probably didn't help that they didn't have a full liquor license. Last time I was here was with DancingBear and Rick Rodrigues – our mutual friend that dropped dead about a year ago (and was about five years younger than me). Farewell Rick and Agu Ramen.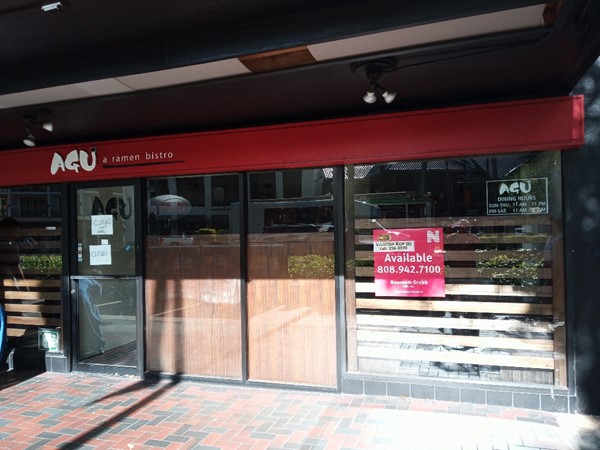 Final morning in Waikiki I was greeting to this view from my bed.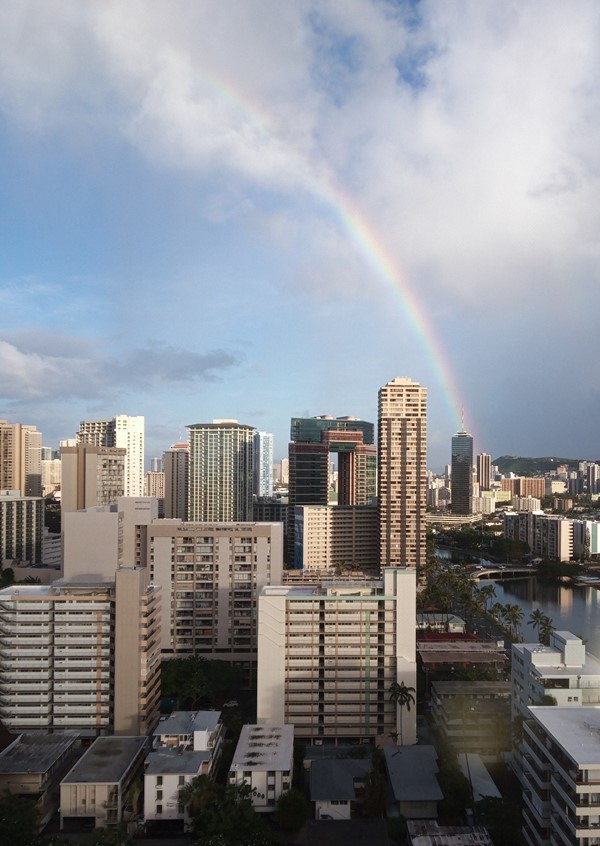 How magical is that!
Took the bus back to the airport – another whopping $2.75, which beats the $30 Uber. From city bus, through security, and into the lounge in a little over an hour. Not bad.
My return flight takes me through Portland because I wanted a freebie upgrade to First Class from Premium, comes with plenty of food and drink: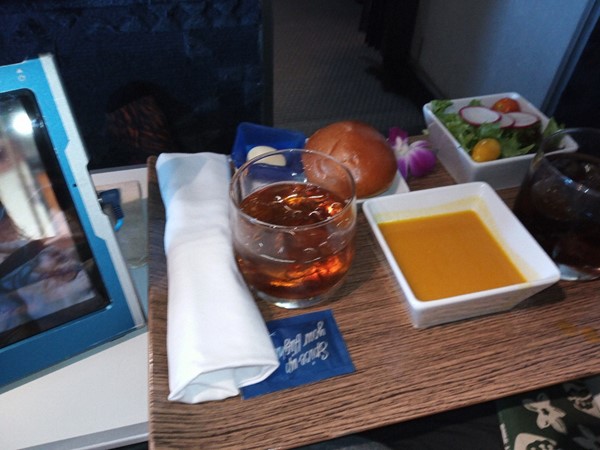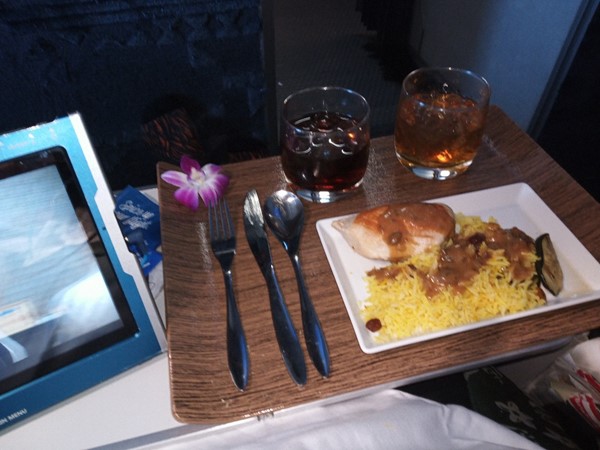 Had to get to the other end of the Portland terminal for the last flight of the day…which was supposedly on time except we were on the ground for 40 minutes waiting for last minute passengers. Wish they'd served a cocktail on the ground to first, because we got nothing in the air because of turbulence. The downside of going through Portland.
Some people join gyms, I get my steps being a tourist: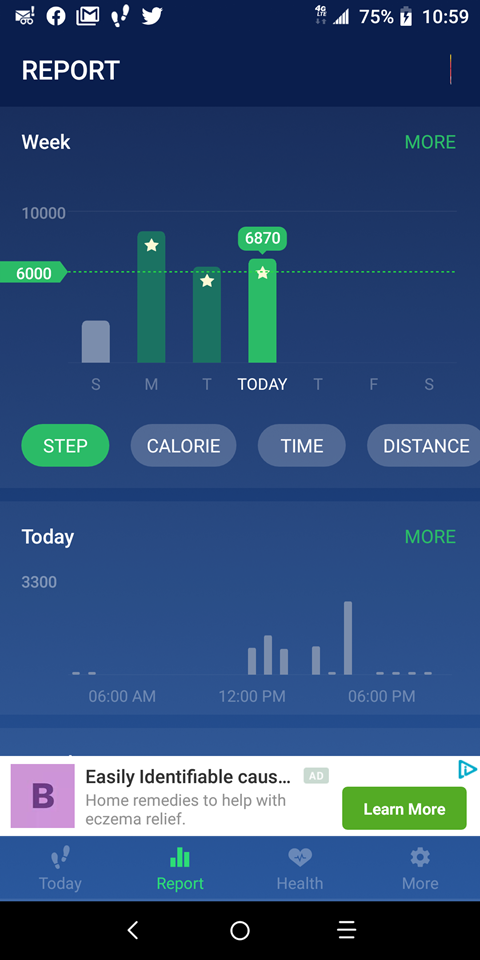 For comparison, Sunday I was at work. Means I walk at least twice as much travelling. And speaking of travelling, with my return back to Seattle I hit Alaska MVP Gold 75K status. Milestone benefits are 4 more Gold Upgrade Certificates, and 50,000 bonus miles. Takes 75,000 miles of flying on Alaska, or 90,000 miles of flying on Alaska and their Partners – that's PER YEAR.
Back in time to work the weekend. Whew.
[215.2]
For more blog posts, click here.