I spent the Fourth mostly by myself… with an hour or two with Swanda desperately trying to get more HDTV channels to come in… a failure. As the all the big 4th of July celebrations, my dislike of crowds, and crappy weather (65 degrees and drizzle) are keeping in inside.
So, the recipe for tonight. Lamb stuffed Portobello mushrooms.
1# ground lamb
1 egg
Black pepper, red pepper, salt, garlic, dried onion, dried parmesan to taste
Chopped fresh basil (optional)
4 Portobello mushroom caps, stem and gills removed
Preheat oven to 350 (325 for convection ovens)
Mix all the ingredients except the mushroom in a bowl. Refrigerate for half an hour to bind.
Brush or spray olive oil on cleaned mushroom caps (both sides).
Stuff caps to desired height depending on number of caps.
Place on oiled baking dish and cook for 20-30 minutes (15-20 for convection ovens)
Variation: broil on low for 5 minutes after adding fresh or dried parmesan to top of lamb.
It came out OK – need to work on the recipe, but it's basically a non-tomato meatloaf stuffed into a portabello.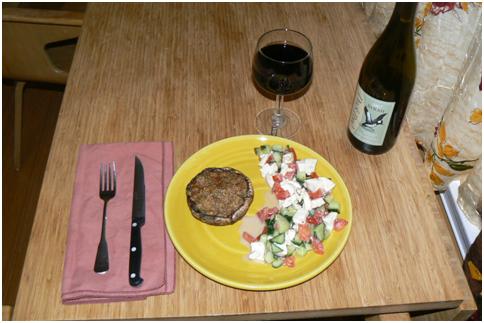 As usual, rockets red glare here in South Park – being the "sliver by the river" that is county owned, VERY different rules about fireworks.
Walking around the neighborhood after dinner – if you didn't know it was the 4th of July, or have PTSD or dogs, it's like Iraq/Iran in the middle of a firefight. At least in South Park people are dragging wheeled coolers around with them filled with a semi-flammable substance known as alcohol. For a blue-collar neighborhood, I think they blew their fun money on this.
The photo bar:
A small sample. It's hard to walk, drink, and shoot at the same time.
Oh – Swanda – Macy's music sucked. Seattle better.
[225.9]