Well, some things moved forward, and some things moved out another day.
Forward? The scissor lift got delivered.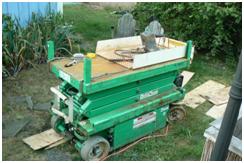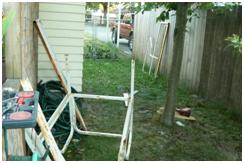 The plan is for a 4'x8′ dining/view platform for behind the deck. By taking off a hundred plus pounds of metal railing, I can keep or increase the load rating (and safety margin). It was truly a bear to get the thing in the back yard – think planks and barrel jacks to get it over the roots of the tree.
And what will the view be?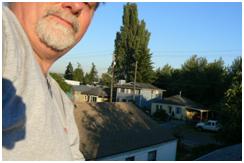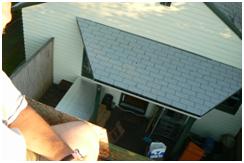 Needless to say, without railings I wasn't standing up on the platform. Imagine if I'd got the 26′ or 32′ model. Talk about dizzy. Now I just have to get MoonSong over here to pour a 3'x7′ concrete pad (for added stability and safety).
So that's what today was, tomorrow is hopefully the PuddyCat back in my garage. They have to order some guide clips for the passenger side window. I wish they'd have attacked both problems simultaneously – I'm going to be really annoyed if I can't have my car this weekend. The fridge is starting to look really bare.
[226.3]