So I caught this lovely version of the 737 I'd like to have for my personal transport:

Wow – a 737 with SideWinder Heat Seeking missiles on it – that's for me! Actually it's for the Indian (sub-continent) Navy. Personally, I'd go for the winglets which give you a 20% improvement on MPG.
So, the problem with the Miata? A gas cap that there was a manufacturers bulletin for. My old mechanic and now the owner of the Quillayute River Resort wasn't impressed with that the boys at BMW couldn't figure that out and had to waste a day sending it to University Mazda. If I had a regular 9-5 job I'd be much more upset, than what I am, which is amused.
Most of today fixing little things around the house like crawling on the roof, again, to align the antenna. Started to get closer to the laundry/bar room shelves… at 33.5 wide I need to figure out how 32″ wide will work so I can get three shelves out of a 4×8 sheet of cabinet grade plywood.
Oh, and I booked another trip – Santa Fe for Christmas. Flying to ABQ on the 20th ($5), staying at the Hampton Suites for a "Southwest Special" rate of 50% off for a one night stay ($70), then catching the Rail Runner to Santa Fe mid-day the next ($?), returning home on Amtrak in a roomette ($535) on the 26th. Time with the family, time with myself.
Dinner tonight was an amusing use of leftovers… the grilled rockfish from a couple of nights ago, flake it, add and egg, ad a handful of the Ritz crackers Fluffernutter brought as an appetizer, mix together, toss in the fridge for a bit to bind, form into patties and lightly fry, use the same pan to wilt some spinach and there you have it. I should have plated it on the yellow dinner plates, would have looked nicer.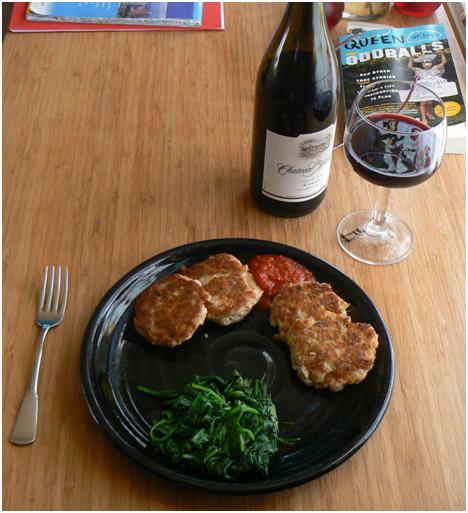 Dentist tomorrow. Big fun. Nitrous.
[226.0]