Moonsong showed up at 9am to continue work on the 3×7′ concrete slab to park the scissor-lift, and I was out of the house at 10am to pick up Jill. By noon (and the heat coming in), here is where the pad is at: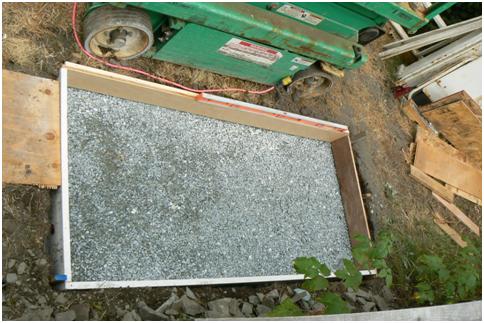 Forms are in and a gravel bed is tamped down. For the "re-bar" we are using scrap steel out of the recycle bin in the garage.
As for Jill, well, that didn't go quite as well, but in the end it worked out. Timing was off, but there was one pretty boy that I saw twice and drooled at both times – and a whole lot of old dying people. I'm not much of a fan of hospitals.
Afternoon errands with cocktails with Swanda – and a package, yet another Safeway Ranchers Reserve cooking bib… this one in black. Now I've got both red and black for my different moods.
Dinner and futzing at home.
Bed early.
[229.1]