I'm thinking I like this hotel better – a full hot breakfast included with the price of a $50 room. And then it was back to bed for a little more sleep – seems I haven't been getting the full eight for the last couple of nights.
With the flight at 2:45pm (how civilized) I was on the noon shuttle to the airport – a shuttle whose air-conditioning was in need of a charge – a great way to start a trip day, sweating like swine.
Security was a breeze, found a spot to eat the leftovers from last night's meal of beef and rice before doing the duty-free shopping and heading to the Admiral's Club (the American Airlines version of Alaska's Board Room) for a drink (one complimentary, unlike unlimited at the Board Room) and a newspaper fix. I'm a little amazed at the business model for the Admiral's Club – you can get a wide assortment of food, but, again, it's not complimentary – and no complimentary drinks – this after paying $450 a year (plus a first year "initiation" fee of $50).
Hung around reading before heading to the gate – even found free DFW postcards for those on the card list, and then discovered I didn't have the stamps and labels baggie with me… guess those DFW cards are getting mailed from Frankfurt!
Uneventful flight – I went with the lamb for my main course (over the crusted beef, curried shrimp and scallops, or lasagna). Between the food, the booze and the movies, I didn't get much sleep even though the business class seats were pretty damn comfortable and reclined to a tilted 180 degrees, as in almost flat.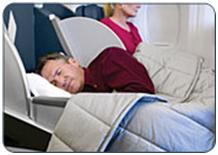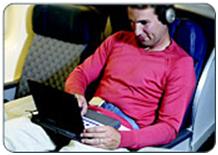 No, that is not me.
[? ? ?]