Breakfast and out of the house by 10 this morning – destination – The Epic, Norwegian Cruise Lines latest chip featuring the Blue Man Group and Comedy from Second City.
So, what this means for the blog is very sporadic postings until October 2nd when we dock back in Miami and I can post all the posts that will be stacking up on the computer.
This would be my "birthday cruise" for this year.
UPDATE: 2pm
Still not in the rooms yet. but Dan is sharing his 3G Android connection to my laptop and Lisa's phone. So, while I have the chance, I'll upload this small camera phone picture…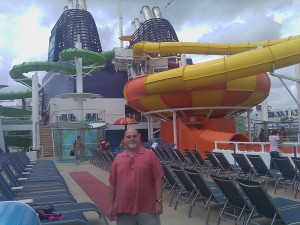 Taken in front of the three waterslides.
Here is what we've booked so far:
Dinner tonight at the Manhattan Blub
The 10pm Blue Man Group Show tonight
Monday night is Second City Comedy troupe
Birthday night (Tuesday the 28th) is Cirque Dreams ($20 each upcharge)
So far it's been a busy day — must be time for a nap, expecially after the buffet.
[? ? ?]