Due to who we (not the usual Royal We, but Dan and myself) can get on the sloooow interent connection here at sea, most posts will end up being half yesterday, half today.
YESTERDAY LATE:
Lovely dinner in the Manhattan Club – which is the regular dining room that you must wear pants (as opposed to shorts) – same menu as the other regular dining room, Manhattan is just a little more upscale.
Some things have changed – you used to be able to get free espresso/cappuccinos' after dinner – not anymore. Too bad – means they missed out on serving me a $10 shot of Cointreau – not going to pay for that on top of a double espresso. Regular coffee for me tonight – unusual, but at 8pm we have the Friends of Dorothy (LGBTwhatever get together) in the Blues Club. Bad location… loud blues starts after an hour, and for the half hour before, other folks are scouting the best seats, and a bad time – 8pm. In the middle of dinner/shows/etc. Rumor has it that on Monday the time will go back to 5:30 in a different bar (like the previous cruise). Whatever happens, it still means ordering at least one cocktail added to the bill.
Will probably miss tomorrow, but pick it up again on Monday…
Speaking of cocktails, here is the list of what we managed to evade confiscation on:
1.5 liter Evan Williams
.75 liter McClennan Single Malt Scotch
3oz. each Vodka, Rum,
6 oz. Sweet Vermouth
3 minis — scotch/rum/tequila (Dan)
Flask of Scotch (Dan)
2 bottles of red wine
Plus the 2 bottles of wine that Barbara from Pegasus Travel had delivered to our room.
That will help keep our liquor bill down!
After FOD, it was a quick cocktail back in the room before the 10pm show by the Blue Man Group. Loud, noisy, fun – but it falls into the category of "that was interesting, glad I didn't pay retail for it, no need to do it again.
Midnight snack and internet session – Dan and I are splitting $100 of slow connection, but doing it through his laptop which shares the signal so that we both (and Lisa if she wants to check mail) – so you could say that we are getting twice our money's worth, but considering the connection speed… we need it.
To bed late late late in my love pod. See pictures when I get them posted after the trip.
MORNING, SEA DAY TWO:
Continental breakfast delivered to the room at 9:15 this morning (requested 9:30, but oh well). Croissants, fresh fruit, coffee, three juices – mostly for mixing into cocktails later this afternoon, but the tomato juice made a nice bloody mary with the addition of the lemon they provided, and the hot sauce and vodka that I provided – still needs horseradish and celery seed. Life is rough here at sea.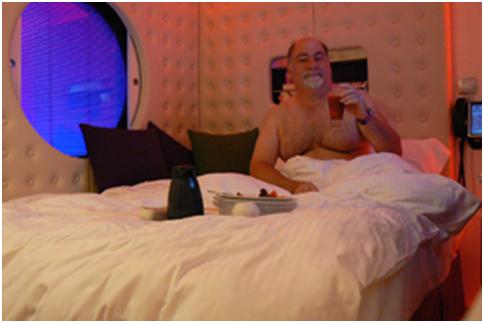 Dan and Lisa went topside for a real breakfast – I think the Continental will do me until it's lunch time, after all, I did have my midnight snack.
We are at sea today, with nothing really planned for the day/evening as of yet. Maybe we will go back and see the blues band at 9pm – they were actually pretty good (unless you actually wanted to carry on a conversation!). They even were travelling with a Hammond C-2 or 3 (couldn't tell) like I had at my church out on Lopez.
Stay tuned for more details….
[? ? ?]