Stopped in to the FOD (Friends of Dorothy) for a few minutes before dinner. I think the boys are still trying to figure out our threesome.
Dinner last night – back to the Tasting Restaurant — same menu as Manhattan – but with salt/pepper grinders… we might be converted. And they (Manhattans) threw a pair of Newfies (Newfoundlanders) at the table next to us out because the 60+ gentleman and his well dressed wife, well, he didn't have long pants on, but was sterling otherwise.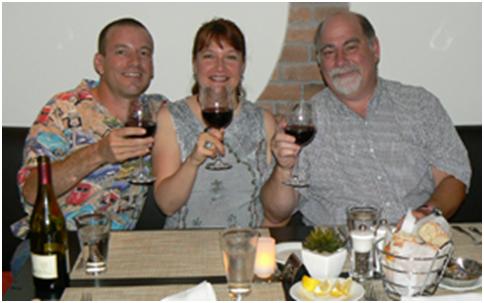 After dinner Dan went to gamble, Lisa to wander, and me to go to the Blue Club and listen to a set of the Slam Allen Blues Band. Damn, they are good. Odd, considering the things the Epic isn't getting right on this cruise, with the exception of the medley duo, the entertainment has been quite good.
This is what greeting Dan and Lisa on their return to the room – their steward put Dan's sunglasses that were lying out – on the towel animal. Sadly, mine was plain.
So, those are my three pictures for day three of the cruise. Plans for tonight are:
FOD at 6pm (finally they moved it forward, but still in a bar with music
Dinner
Second City Comedy Troupe at 11
Sack time.
[? ? ?]