All The Kittens slowly dispersed during the morning… Dan and Lisa the earliest, then Luscious and Terwilliger, then Javier, then DancingBear and I.
Got the car gassed up on the way to the Rental Car Return facility that is almost walkable from the condo… and then the cluster-F of the shuttle back to the airport, neither DB or myself are fans of these "consolidated facilities".
Through securities First Class line and headed to the President's Club (Continental) Lounge by 11ish – I think DancingBear is getting spoiled travelling with Uncle Markie – short lines, free drinks and newspapers.
Uneventful flight back. Got back in time for the news.
This evenings project? Cleaning out the hall closet of all the toiletries that I've hauled home from various hotels. Why do I do this? Once a year I bag them all up and donate them to a local drop in center for gay youth – Lambert House. Think I've collected enough in the last year: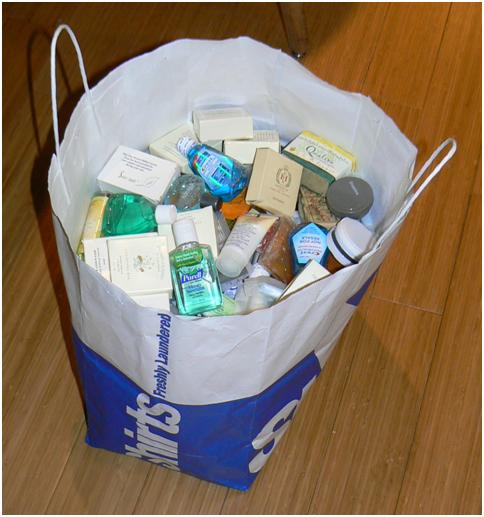 This is a habit that my father passed down to me – he used to collect the soaps and whatnot for orphanages in South America.
And I figured out where to mount the server! But more on that tomorrow.
[? ? ?]