Well, I'm afraid this trip was a bust for actually spending any time rolling around in the hay. Today's excuse: power outage, got up too late for play time before work. At least I know its true – as the power went off in the condo as well, but I noticed the blinking clock and reset it. Trouble and bad luck follows that boy like the dust cloud over Pigpen (Charlie Brown character for those youngsters in the audience). At least I had quiet time to get ahead of the ball for consulting work. It might have even paid for the trip.
Why am I reminded of my first house in Portland (bought for $39,500, sold five years later for $80,000)… the boring and never changing drive between NE Oregon and Seattle. When I owned the Portland house I lived in Seattle… a 3.5 drive, and I was there at least once a month. Man, I-5 gets really boring, fast. Amusingly Whitaker seems to be connected to this as well, since he rented a room in the house (I kept a room as well), and now he's in Astoria. What, twenty plus years later. Odd.
Speaking of Astoria, stopped by the Finnish Sauna and looked into the windows that were clear… interesting building. Two-story poured concrete with a brick front façade. In a town with a history of massive fires – included one that took out a massive wharf while I was in Seaside, concrete seems like a good choice. Let's see – the great fire of 1883, the not so great fire of 1922, and now the Cannery fire of 2010. For the history of Astoria: http://en.wikipedia.org/wiki/Astoria,_Oregon. No wonder the sauna building is concrete, twice burned, etc.
Of course, I could just fly to Astoria… SeaPort Air does King County Airport (across the Duwamish, 10 minutes from my house) to Portland, and then Portland to Astoria. And no rubber gloves as it's all from non-secure airports. Of course, it's $322 round-trip with a stop in Portland. Ouch.
Missed picking up my shirts at the cleaners by 10 minutes… they keep shortening their Saturday hours, it's now down to 2pm. Damn. Guess that means the 29th, glad I didn't need them for the trip to Santa Fe next week. But I did pick up the packages at the apartment – one for Hummingbird, and my new kicks – shoes that is: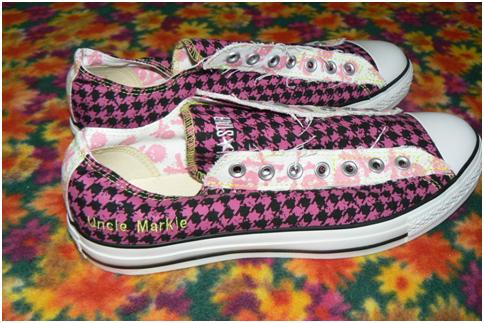 If you look close you can see the Uncle Markie stitched into the sides… nice slip-ons for the trip to Santa Fe. The weather is supposed to be in the upper 40's so I shouldn't freeze.
A gumbo dinner at Jimmy's place with Suze… damn fine. And Christmas has started early – I got my first bag of "Naughty Coal"… and a lovely penis candy mold.
[? ? ?]