Wait… we are on holiday… why is the alarm going off… we just got here!
Oh, right. Johnnie has a date with Miku – the www.girlswhosurf.com instructor who what the Japanese 2010 Longboard Champion (born in Tokyo, but raised in Honolulu).
Out the door at 10:45am, and I'm starting to feel a little better – ate the rest of my ham roll-up from last nights' dinner after catching up on the blogging.
Got to the beach and I was issued my lawn chair (I'm just along for the ride)… funny that the beach she is teaching from is the one closest to two of the hotels I've recently stayed in, next to the "Gilligan's Island Marina" as I refer to it (also just behind the "Hawaii 5-0" building). The ratio of tourists to locals is about 10-90, and of the 90% locals, a good 60% of them seem to be homeless guys camped out under the palm fronds.
Here is the start of Johnnie's lesson – he hasn't surfed since he was 13 years old (I saw the picture from the Royal Hawaiian with his father from the early seventies). The instructor is the one who is bent over – honest, Johnnie is paying attention to the lesson, and not her ass. Right.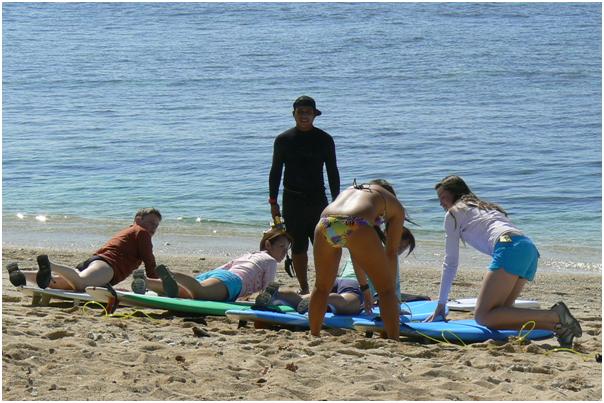 The squid in the background is the class photographer – he got one good shot of Johnnie up and boarding, and a couple of small videos – not much, s he got a big discount on the DVD ($15 vs. $60), which at that point, he went for it. I have a video of them coming off the surf, but tethered to my cell phone, I can't post those yet.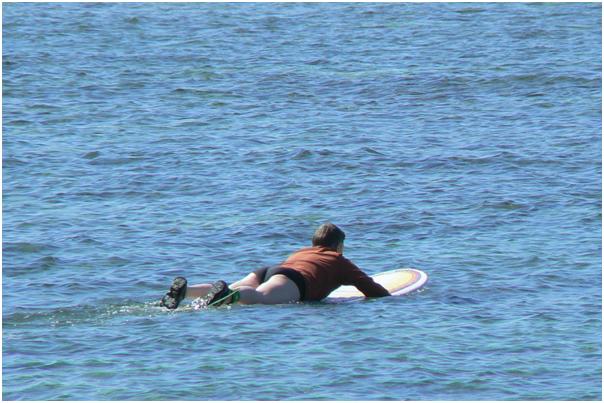 Of course if you look at the blowout of one of the pictures, it seems he is getting some special tutoring…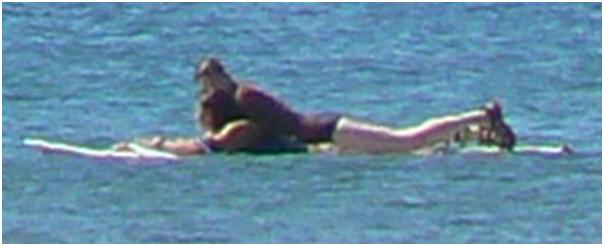 Looks sort of "dirty" to me, but with all that spandex and water, it must be "clean".
After getting back to the condo I'm famished – which is a good sign in light of the recent self-food poisoning… and Johnnie got this great shot of me at lunch, having my first "phoo-phoo" drink.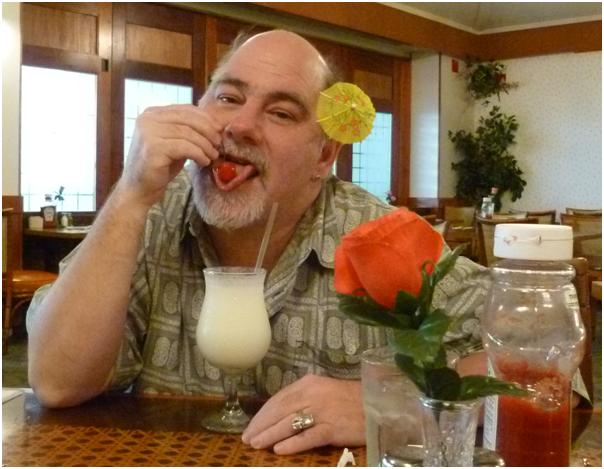 Yeah, it looks like I'm feeling better.
Back to the room for what turned out to be a post lunch food coma nap, then off to the Food Pantry for supplies and cocktail materials. Bags later – thanks Johnnie for bringing the backpack, we are set up with cocktails and dinner/breakfast/lunch supplies. Ice is on the 3rd floor by the pool – five ice machines lined up in a row. Impressive.
Dinner was a roast chicken, a side of marinated sweet onions, and a Caesar salad. We forgot to pick up wine, so we just continued on with cocktails (gin and tonic for Johnnie, whiskey and coke for me – both with lime to keep the scurvy away).
Nice to have my stomach back in one piece.
[? ? ?]