Up at 9:30… 4 hours after Johnnie – a.k.a. SurfBetty… named after the label on his surfboard from www.girlswhosurf.com.
Thankfully he left the coffee going.
Bagel and cream cheese for me for breakfast, and hanging around the room… 45 minutes by the pool with the tradewinds….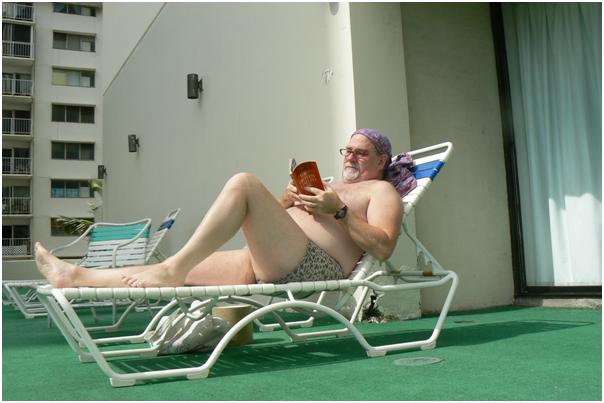 Who would be thinking I'm reading the Thirteen Petalled Rose by Adin Stiensaltz – A Discourse on the Essence of Jewish Existence and Belief.
When SurfBetty came back from the beach, we were off on the "efficiency run"… take the Hilo Hattie shuttle to the main Hattie store, drink the juice, cruise through the store, out the exit, down the Nimitz two blocks to hit, first, the Salvation Army:
3 quart Pyrex Dutch Oven
Blue Tag 50% off 100% silk Tommy Bahama second label pea green shirt
Then, off to the Kmart across the street for:
Microwave omelet cooker
Tons of groceries
Back to Hilo Hattie to catch the shuttle back to the hotel.
Got the call from Darcie and Jeanne who are staying in a condo over Hulu's – which is the gay bar in Waikiki – that's nice. Apparently a good bar with a view of Diamond Head.
Within the hour they are over for a poo poo platter which then turns into a light dinner… don't we look slightly out of focus on the balcony?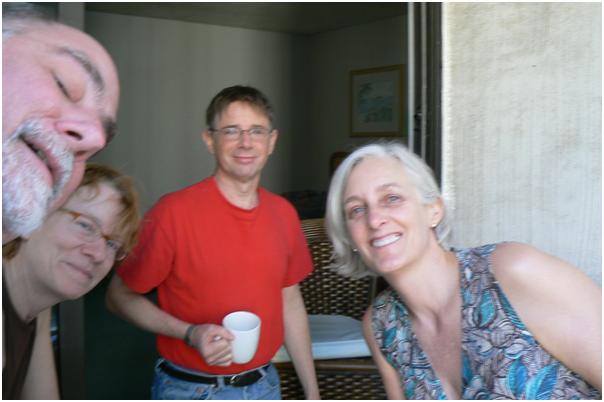 Looks like we are going on a road trip tomorrow. WooHoo! Darcie and Jeanne's friends have a car to loan us tomorrow so we can take the island tour… something about a shrimp truck somewhere. It's Darcie – I'm signing on.
After the girls were gone, and the dinner dishes cleaned…. It was time to put the Dutch Oven to use… making chicken stock in a microwave. Who would have thought – less than an hour later, we have eight cups of chicken stock (complete with using the left over lime rinds from our drinks, but only a couple, to give it a little zest). The quest is to figure out how to cook decent meals in a limited kitchenette – trust me, at the Salvation Army I was looking for 1-2 burner electric grills/griddles/burners which extended into the Kmart camping section looking for camp stoves, etc. In the end, we are making do with the microwave and the Pyrex Dutch oven…. I hear you can do Prime Rib in one.
FYI – it's about 40 minutes to make chicken stock from bones and water in a microwave.
Hell, we even recycled the upper plastic cover from the grocery store roasted chicken into a fruit bowl for the bar.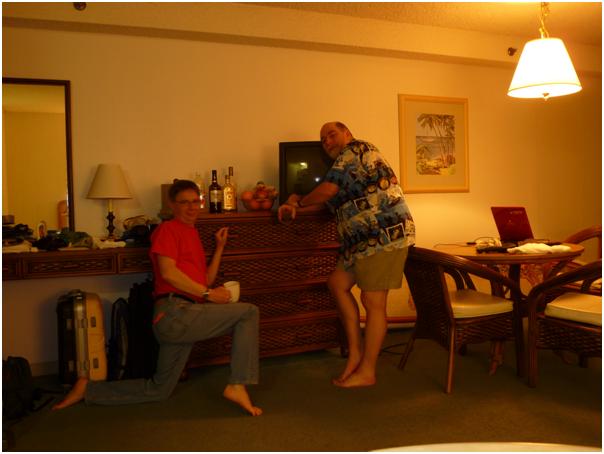 Who would have thought that Darcie and Jeanne would have booked a trip in September and SurfBetty and I booked in December without any communication would have resulted in being a block and a half away from each other somewhere in Hawaii.
Damn… I'm having fun.
[? ? ?]