Couldn't bring myself to get out of bed early, or make breakfast – just headed out the door at nine to make a 10:30 ukulele factory tour. Didn't think it would take an hour and a half to get across town… but the bus service is a wee bit slow, and a wee bit crowded. What I don't understand is why they don't put articulated buses on the 19/20 routes since it always packed.
Got to the factory a little before ten, checked in, and then headed out to find a snack – oddly enough with a Japanese woman also waiting for the tour. She comes for a month every February with her husband who plays tennis all day.
Our tour guide (below) is the 87 year old son of the founder of Kamake Hawaii. He was a little surprised that there were half a dozen people on the tour – on a sunny day. Usually it's the rainy days that bring the large numbers.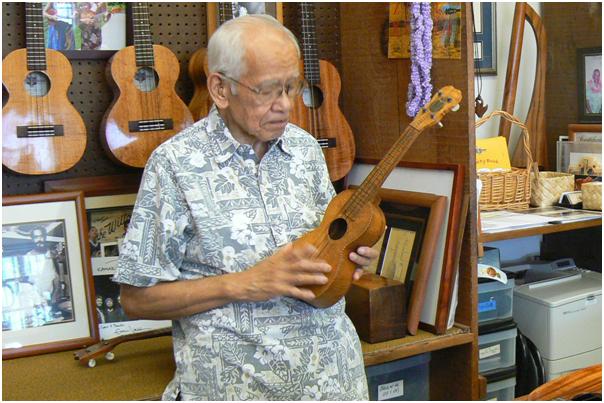 They manufacture a little over 4000 ukuleles a year, and when they move later this year to a more efficient building, that number will go to 5000+. You can see how squeezed they are in this shot…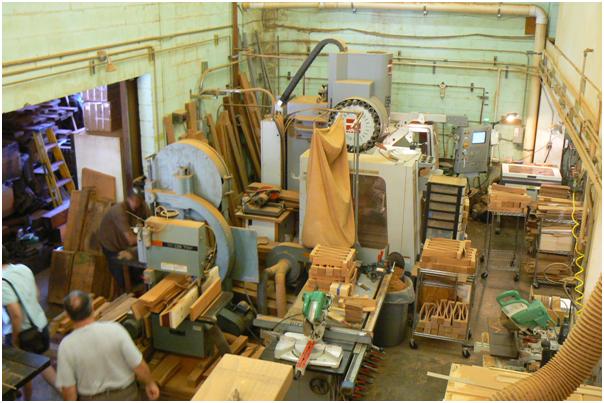 The 30-45 minute tour ended up taking an hour and a half – lots of reminiscing and family history included (his four sons are involved in the business as well). Well worth the time.
And speaking of time, when I got on the bus this morning… at a little after nine, I was given a transfer that was good until 3:45pm – well in advance of the two hours you are supposed to get, so I used the transfer to come home.
Lunch at L&L – BBQ Chicken and Beef Curry Combo – chicken good, beef was stringy and a little dry, mac salad awesome.
A little time around the pool, waited a little too late and the sun went behind the building so I headed back to the room to start cocktail hour.
Dinner tonight is sort of a canton noodle shabu shabu with green onions, thinly sliced beef, and bok choy, with a salad on the side. The broth was the 2nd third of the chicken stock we made early in the trip. Damn tasty.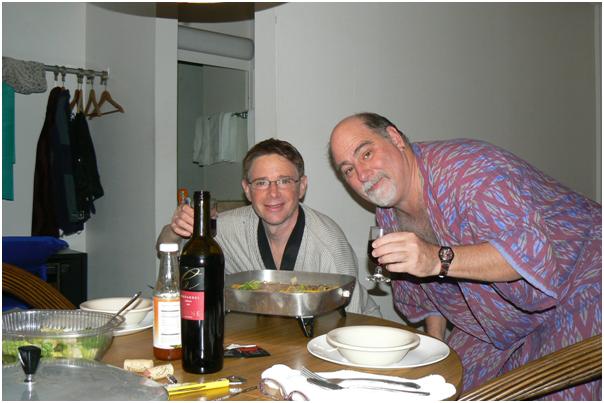 Notice the top of the roasted chicken container repurposed into a salad bowl (and then after dinner, it was back to being the fruit bowl). And for our final shot of the day… a very stuffed refrigerator…