As I was getting dressed this morning I realized that I haven't worn long pants all week. It's a nice feeling.
Today's mission is to hit the Hilo Hattie giant tent sale. Don't know what was wrong with the shuttle bus, but it took almost 50 minutes for it to show up at the stop down the street.
Big deals were to be had in their parking lot under the tent – tons of $9.99 shirts all the way up to 5x… some (like one of the ones I got – the red one) marked down from $53.99.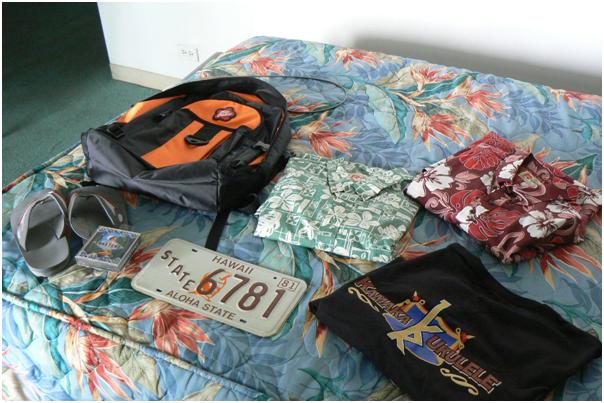 The only problem for me was that the2XL selection was pretty well picked over – apparently there are a lot of chunky guys here in Hawaii. The sandals were $2.99, the backpack $8.99 and the license plates and T-shirt were from previous shopping expeditions.
Got a little sun in the afternoon before turning my attention to dinner. And here is your Kitchenette Kooking™ tip of the day… use the frozen cubes of chicken stock to keep the ahi and octopus pupu platter chilled.
Dinner tonight was a jambalaya with Portuguese sausage and a side salad – after the substantial pupu platter after SurfBetty returned from his late afternoon surf.
[? ? ?]