Starting to work our way through the leftover food in the fridge… the last two eggs for breakfast, and a bagel with a salmon shmear. Yum.
Overcast in the morning, but perfect for hanging out on the Lanai working on the J.K. Jance detective novel.
2pm found me craving a meal out so down the street to Tiki's I went – it's on the second floor of the Aston Waikiki with a nice view of the beach. Oddly enough, my visit coincided with happy hour (2-5pm) so a couple of margaritas on the rocks to go with my grilled pastrami on rye – terribly Hawaiian, don't you think.
Got back and settled in on the Lanai… and then the maids came… off to the pool with me, let them work in peace.
And at the pool is where it happened… I finished the book. Six hours to knock off 345 pages of pulp fiction… after taking a week to slog through 181 pages of religious texts. I wonder which was better for my soul?
The Girlz called for cocktails on their rooftop deck, so off I went – that will also make the Jameson last through the evening. And I was able to get a better flamingo shot looking down on the Honolulu Zoo…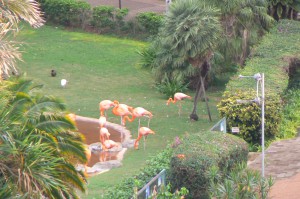 SurfBetty was out on his last surf run of the trip unless he goes early in the morning.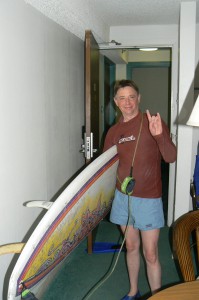 Dinner was leftovers… got to get rid of the rest of the gin, whiskey, and wine… though when you put your glass in the ice bucket while having wine with dinner… it tends to end up like this:
That's it for today for tomorrow brings the return to the doom and gloom of winter in Seattle.
[? ? ?]