Surprisingly (for me) we made it out of the house and onto the road at 10am. That even included a full breakfast service.
At Duty-Free, picked up two bottles of wine (yes, I know, wine) and a bottle of Bacardi Reserve Rum — seems that my house/road guest being from Puerto Rico originally means he likes his rum. The reason for the wine (two bottle limit) is that we are only up here for two days and that's a bottle for each night, and drinks before and after. The goal is to have nothing left.
NO ONE in front of me in the regular (non-Nexus) lane which was a shocker. The traffic coming back into the states looked like about an hour delay. My guess is that with the hockey finals and a soccer match last night that there was extra traffic for a Saturday.
Made a pleasant discovery in the first town over the border… a reasonably priced sit down lunch place, a chain, but good. Boston Pizza would be the name. Fernando had a small pizza with a pint of beer, I had the bacon wrapped steak chunks with a small amount of onion straw fries with a Cosmopolitan. It was just the right sized meal rather than something to put me into a food coma.
The reason the discovery is so important is that when headed to Whistler, it's just at about the perfect lunch time since once you get on to the still-torn-up Highway 1 there isn't much of an easy-on easy-off area.
The weather turned nice enough that it was top down for the rest of the way to Whistler.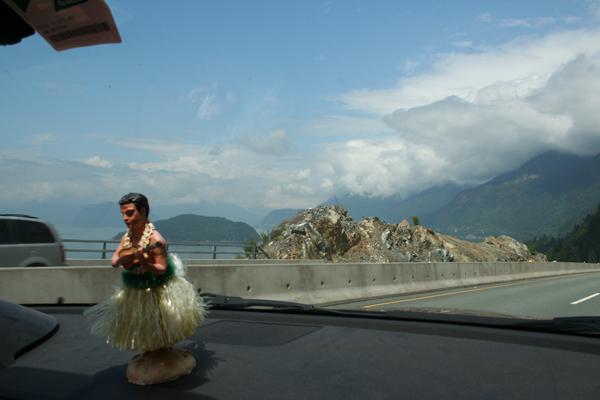 Needless to say, this was taken by Fernando from the co-pilot's seat.
A quick stop for the final groceries in Squamish (wasn't I just here a couple of weeks ago?) and off to the WorldMark Cascade Lodge at Whistler Village. Here is a cute shot of the 2010 Winter Olympics Stone God: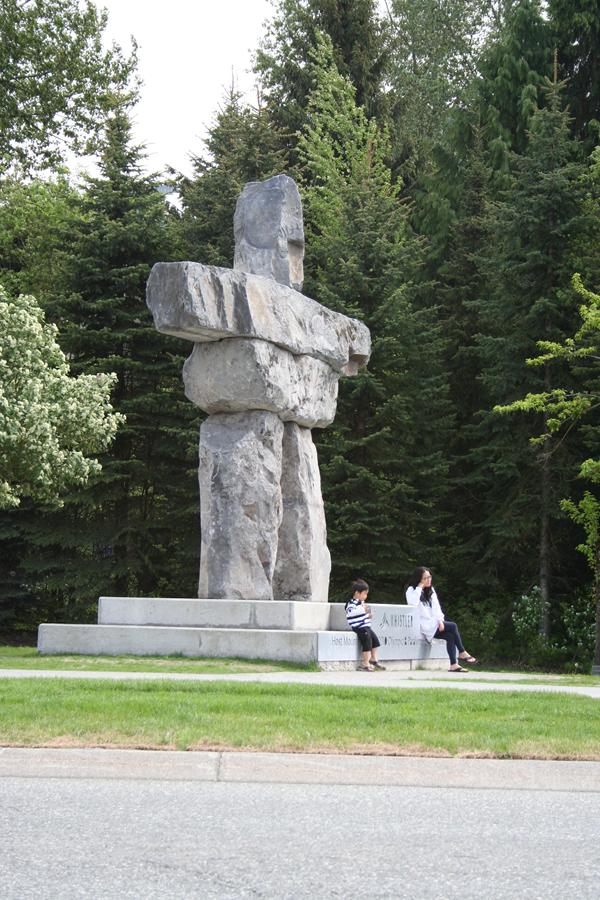 After checking in and setting up the wireless node, I flopped on the couch and crashed for an hour. I love driving, but that doesn't mean it doesn't take something out of me.
Dinner was a pork tenderloin, mashed potatoes, and a big salad with a lovely Greg Norman Cabernet Syrah from Australia.
Add dip in the hot tub after dinner and you have a fine day.
[228.0]