Folly according to Wikipedia:
In architecture, a folly is a building constructed primarily for decoration, but either suggesting by its appearance some other purpose, or merely so extravagant that it transcends the normal range of garden ornaments or other class of building to which it belongs. In the original use of the word, these buildings had no other use, but from the 19th to 20th centuries the term was also applied to highly decorative buildings which had secondary practical functions such as housing, sheltering or business use.
Here is the complete article: http://en.wikipedia.org/wiki/Folly
And speaking of Follies, here is today's status: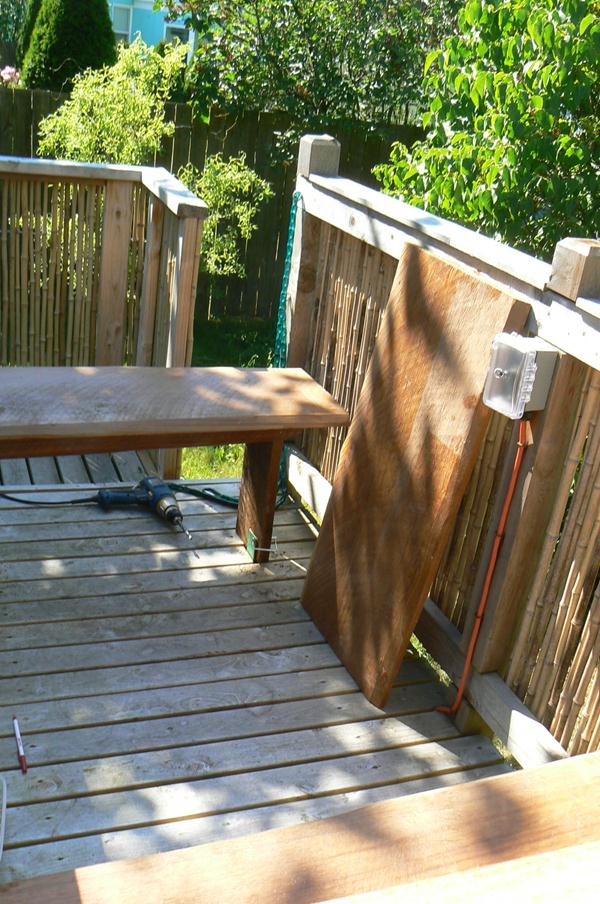 That slab you see to the right will be the new trestles table to go between the benches on the lift. If you look at the base you can see quick release pins to remove both of the benches. The trestle table will be free standing so I can use it on the main deck's dining area as a side table.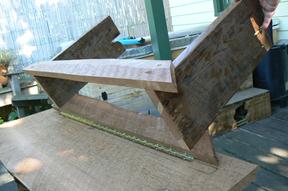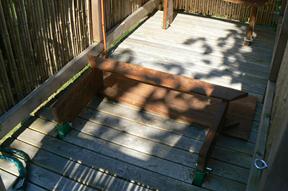 The bench on the entrance side is hinged in two places, the bench and the legs. The second photo shows (albeit with bad shading) the bench laid flat for boarding.
My workday was interrupted by a call from one of the colonels with bad news… they aren't going to do the week they/we had booked in Cabo San Lucas. I've been offered the condo so I guess I'm looking for someone for the couch (that was to be my place in the condo). So, no table tonight. But I did figure out the dimensions and which lumber it's coming from.
So far the bill for the "folly" changes are under $20 from Homo Depot for a 3/8″ drill bit and some sand paper… and from Grocery Outlet, a "market umbrella", sorry, no pic yet.
The second and final interruption was WonderFool who was in the neighborhood watering another friends plants… cocktails, then we were out the door to Jalisco with a $10 off coupon. It had been too long. The staff missed him and I hadn't been there for years.
Back home and just dealing with the stuff of life in the internet age.
Oh, and the new vamping cot fits in the trunk when it's all folded up.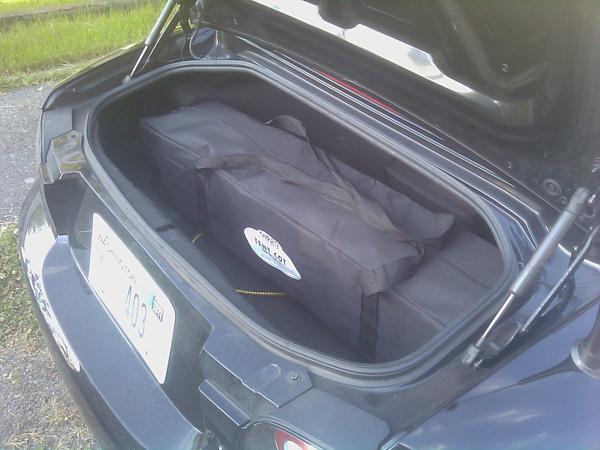 Guess it's time to start sewing some custom packing bags for the back of the Miata. Another item for the list.
[227.3]