This afternoon I went to my first wholesale wine tasting for folks that owe wine shops, local restaurants sommelier, etc. Something tells me they aren't all going to be like this. Ever go to a wine tasting and sample a nice heavy red and say, this would go great with a nice juicy steak — well, at this wine tasting, they had an Argentine chef grilling up stacks of rib-eyes (and sausage) and slicing them up into finger food. Got there at 4, left at 5:30 and didn't need dinner!
The wines?
From Tomero:
2010 Torontes (white)
2010 Malbec
2009 Cabernet Sauvignon
2008 Petite Verdot Reserva
2006 Grand Reserve Malbec
From Vistalba:
2009 Corte C
2008 Corte B
2007 Corte A
From Andeluna
2010 Torrontes
2009 Cabernet Suvignon
2007 Limited Reserve Cabernet Franc
2004 Limited Reserve Malbec
From Finca La Anita:
Tonada 2010 Chardonnay/Torrontes
Tonada 2010 Malbec
Finca La Anita 2007 Malbec
Finca La Anita 2006 Petite Verdot
That's a whole lot of swirling sipping and dumping.
The venue? The Stables in Georgetown (www.georgetownstables.com) which I'd never heard of before, but is a wonderfully funky "for-rent" venue. Check out the pictures on their website.
And today's picture? A detail shot of the gate next door to the stables. Nice work: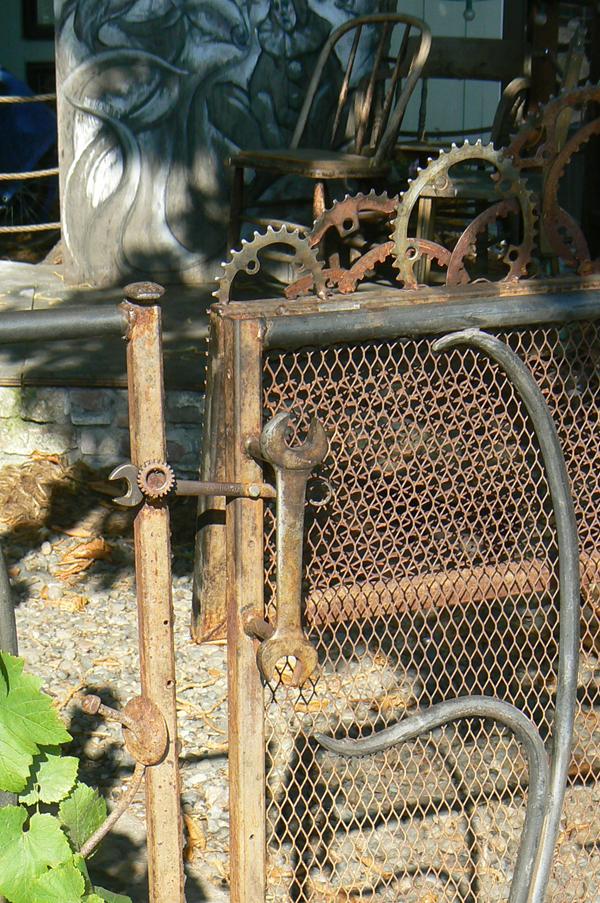 The rest of the evening was spent compiling 25 megs worth of digital wine maps from around the world to use as shop dècor.
[223.7]