You log into your Alaska Airlines "My Trips" section and it looks like this:
My Trips – Purchased

About My Trips | Add a Current Flight Reservation | Book a Flight | View Alaska Airlines Vacations Reservation

| | | | |
| --- | --- | --- | --- |
| Purchased Reservations | Departs | Confirmation Code | Check-In |
| Honolulu (HNL) | Tue, Sep 6, 2011 | XXXXXX | Â |
| Seattle, WA (SEA) | Fri, Sep 23, 2011 | XXXXXX | Â |
| Santa Fe (SAF) | Sun, Sep 25, 2011 | XXXXXX | Â |
| Seattle, WA (SEA) | Sat, Oct 1, 2011 | XXXXXX | Â |
| Tucson (TUS) | Sat, Oct 8, 2011 | XXXXXX | Â |
| Santa Fe (SAF) | Thu, Nov 3, 2011 | XXXXXX | Â |
| Cabo San Lucas/Los Cabos (SJD) | Mon, Nov 21, 2011 | XXXXXX | Â |
| Seattle, WA (SEA) | Tue, Nov 29, 2011 | XXXXXX | Â |
It just looks like I'm missing a flight or two in December. Oh, and one of those flights (Oct. 1st) is my buddy Joe coming to visit for part of my birthday celebration. To keep my MVP Gold for 2012 I'll need to either need to do another one of those Hawaii (from B'ham to HNL or SEA to KOA) or SEA-EWR and then a SEA-OAK ¯ there is a party in NYC I didn't think I could go to except now I have a place to stay. Doesn't a Saturnalia party sound fun.
What I booked today was a Bellingham to Honolulu trip in early September before the push is on at the shop. Looks like air and lodging will be at $500 r-t and it looks good for an upgrade as I chose days that had lots of seats left, which also matched up with dates available for cheap WorldMark accommodations ($105.00 for two nights in a one-bedroom condo).
In shop news for today, was waiting around for a delivery from Dunn Lumber of wine rack materials… they showed up around 2pm: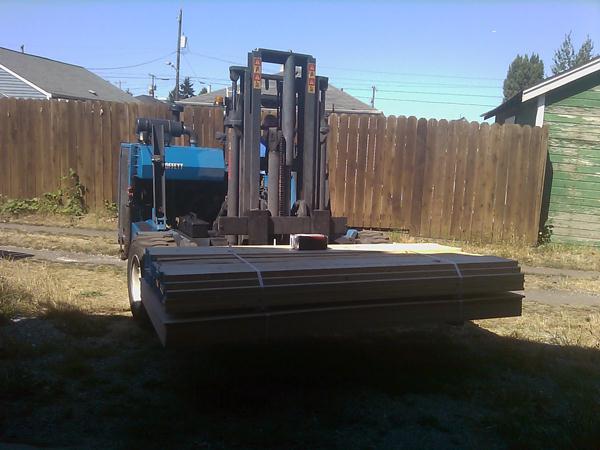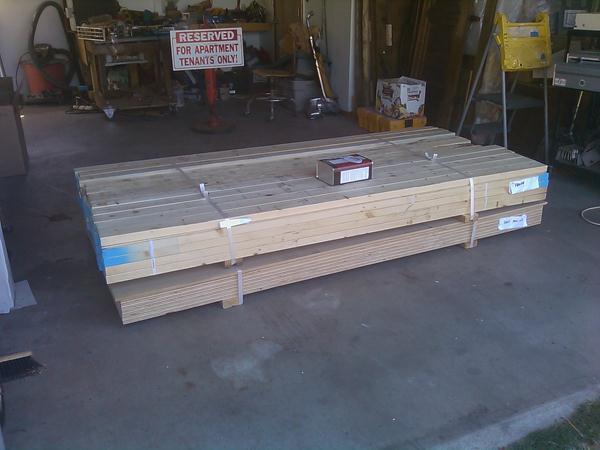 So much for parking in the garage tonight! But it did force me to continue on with the cleaning of the garage by getting the rest of the sawdust collected. Still didn't finish my dust collection system. Damn.
The Steak Dinner with Swanda has been pushed out until tomorrow so that he will be fit company, leaving me with making a Chicken Over Greens dinner from last night's leftovers. It could be worse.
[220.3]