Got to the shop around 10:30am just in case there was a problem after the power went out last night. Arrive to find:
We have power
The credit card machine "auto-settled" so there was a nice tape waiting for me
The cash register spit up its tape as well.
Got all the bookwork done and the doors open at 11am. Surprisingly Jim showed up in the early afternoon (even with a slight cold) to crank through a bunch of wine cards. For some reason I neglected to get a shot of how the racks are looking with the new vertical cards.
It was a good thing Jim did come is as mid-afternoon we had a "whale" come in talking about a case and a half of Christmas wine, and picking up several bottles of $25-50 a bottle wines to try.
Closed the doors as little after 5 and sprinted home to get ready for dinner with Jameson where we had our own little wine tasting: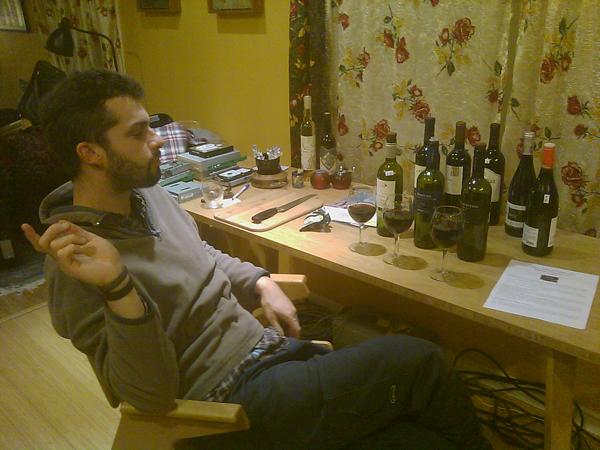 The three open bottles were the dregs from the Saturday tasting, plus we opened a Chilean to go with the Italians.
Unfortunately Jameson's visit is short — tomorrow it back to Olympia and the problem of his pump house for the rental property.
At least we had a good meal of lamb chops and spinach sautèed in bacon and vinegar.
[212.0]