It is a rare thing to have a sunny day in Seattle in the winter. And how nice that I dropped the top on a check run to the apartment.
I really do like it better with the top down. Brother Jon is talking about joining me for the rag-top trip to Santa Fe for niece Em's graduation this May. Means May is going to be BUSY with the poker weekend at Long Beach and a 13-day land/water cruise tentatively schedule right after that.
Guess that fucks my May billing. Who knows – if Brother Jon isn't coming along, I might just fly.
Amongst the other things today I did get a little SOB work done. I found the remote for the rear TV, figured out why the HDTV converter wasn't working on the first day of the original conversion (bad batteries), and started figuring out how the microwave cabinet panel will look like.
Illustration below: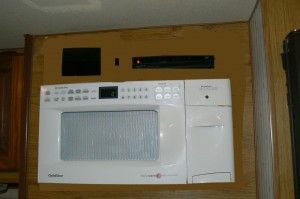 OK — it a photo-shoppedversion of a possible layout without the cabinet door. I think I need to find another instrument or outlet to stick in there for balance. Currently it is a video monitor, a power switch for the monitor and the HDTV converter box mounted on top of the microwave/toaster combination. Tomorrow I purchase the brad nail gun after the marketing meeting.
Dinner was another steak — should I check my cholesterol? At least I had salad and some greens.
And my bathrobe still smells like Hugo Bass and cigarette smoke from last night. Bad dates never end.
[216.5]