It is so nice to drive to the eastside with the top down, even if I am freezing my butt off in the morning.
Odd marketing meeting this morning with Barb in Dallas and Swanda in Minneapolis, and the owner nowhere to be found. Must have been a family crisis since that's about all that would keep him off the conference call.
And what a list of errands:
Bank (2 checks)
Harbor Freight (brad air nailer for making the valances for SOB, and other miscellaneous items)
AAA (maps for the new car)
Jaguar of Bellevue (check on a new DVD for the navigation system)
Lowes (two rolls of fencing and a 2x4x1/4″ piece of oak veneer for the microwave enclosure for SOB)
Radio Shack, Shucks and Napa looking for interesting gauges to mount in the left over space in the microwave enclosure.
Whew! Who knew that the Jaguar was a delivery van…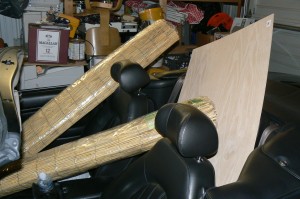 Had a great dinner at Jimmie's with Suzanne as well. Nothing beats having someone else cook for you.
[218.9]