The morning was work, work, work.
The afternoon was work and dealing with a worker working on the outdoor kitchen and other little projects. Handy worker, Stewie, from automotive repairs (earlier this week) to finishing the fence work and putting the ceiling into the outdoor kitchen (though it still needs to be trimmed out):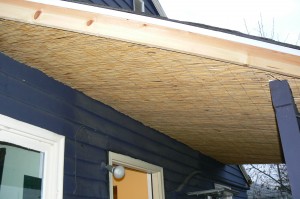 It continues the bamboo theme of the back porch. Still working on the concept for the countertops — probably also trimmed out in bamboo. And I need to extend the lighting so that it points towards the grill and the convection oven.
Thanks to Helene I have plenty of protein in the fridge… I'm thinking it will be chicken tonight, and the roast tomorrow. Buffalo will go into the freezer for next week (thinking about doing it in the same marinade that I use on flank steak).
And as for travel, my luck is holding — my freebie upgrade to First Class on the Oakland trip on Saturday came through this morning. I even got my favorite seat — 1C (1B on United, but Alaska uses a different numbering system).
[219.0]