So, if I'm not billing hours, I should be banging nails or doing electrical work.
Today, it's both banging nails (got the trim done on the outdoor kitchen) and doing electrical (new lights, an outlet).
Here is the end result…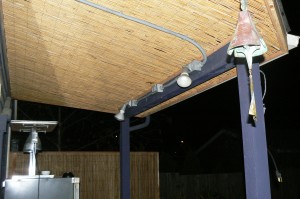 Man, that looks good in the photo! And there is even an outlet to plug in Christmas lights into.
Unfortunately it was 5:30pm when I was donewith this project and company was do at 6:00pm — Fluff, DBear, Dunderful.
Crap — time to get a roast and potatoes into the convection oven (4 pounds, 1.25 hours) and potatoes (should have been .75 hours), and corn bread (15 minutes). Salad, wine, appetizers — hell, life it hard.
Pushed company out (thank god they loaded and started the dishwasher) at 9pm so I could actually pack and do the final paperwork for tomorrow's trip.
Damn — at least it's a late morning flight.
[217.6]