How many runs of errands can I go on today with the top down?
How about Ballard for more chemistry parts to to hang out a bit with my friend Jacob? How about getting the car washed? How about grocery shopping?
Got two runs through today — not the cort of pictures I want to post here, but if you ask, I can send you a link to Uncle Markie's Beer project.
Gnarlene and Wonderful due for dinner tonight. Had to call Wonderful to remind him — should have called Gnarlene early to remind him as when he did get the reminder call he'd already had fish and chips in Alki before biking back home. The sun affects people in the Pacific Northwest by bleaching their brains when it comes out.
Of course, with the sun and the temperature rising, we did have dinner with Al tonight, that would be Al Fresco, for the first time in six months: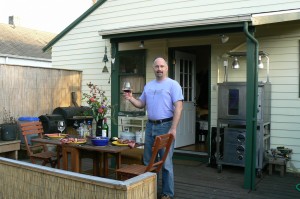 That would be wonderful holding up his wine glass in salute to spring. Spring lamb that is. It was baaaaautifuly cooked in a Caribbean jerk rub with a long log of challah (fluffy, just not braided), and some lovely mixed greens. Gnarlene joined us for wine after dinner — bringing along the scotch he promised for helping him move in new living room furniture.
What I need to get on these sunny days are shots of me and my sexy car together, alone, in some beatufil surroundings.
[219.7]