So — here are the results of the scholarship reading… the numbers were delayed because of an issue with Outlook and Excel on my netbook. Got to fix that tomorrow….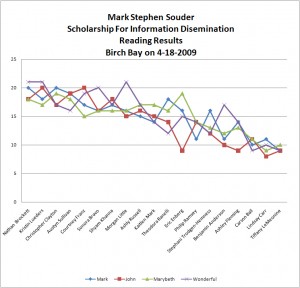 So, out of the condo at 10, stuck at the border for 40 minutes — but once I got up to the window the border guy said — "Ah, informed traveler, waving his license around like a flag." Dinner with friends, nothing to declare — not up long enough for duty-free. "Have a nice day".
Got back to town in time for a quick sandwich before heading to the doctor for what was, I guess, the annual physical — which I haven't had in at least ten years… and yes, complete with the finger up the bum, but at least now my tetanus shot is up to date.
Dinner tonight we the trio, me, myself and I. Filet mignon, salad and wine.
And no, the doctor's weren't really happy with my alcohol consumption, but on the positive side I met Gene Shallot's son — who is one of the two doc's in the box. I have the PA (that would be Physician's Assistant rather than Prince Albert).
[? ? ?]