Today the choices were:
Free Duwamish River Tour about the ecology of the river
Ride in a B-17 for $450
The river tour won because of price, but as we were getting ready to leave (all 40 of us)… one of the engines wouldn't turn over. We got a 45 minute overview and a priority invitation to the next one.
Here is a shot of the dead boat in the water:
On the upside — at least now I know where the dock is and how long it takes to get there.
I did see the B-17 fly overhead while I was on the boat…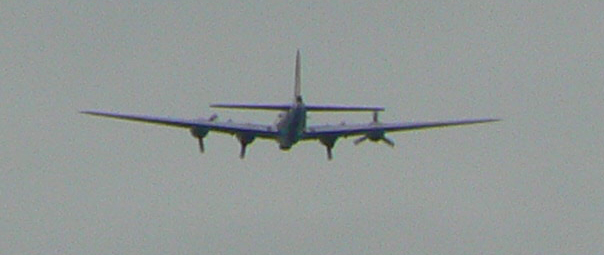 And as the day continued, I ended up at Habitat For Humanity's store of left over materials on the way home picking up a sink for the outdoor kitchen. Yet another project!
Ross was supposed to be here for dinner and cruise clothes consultation at 5. Try 6:30 — the boy does run late. Dress up had to wait until after dinner.
Dinner? two beautiful pork chops, salad, much wine, cornbread muffins.
Dress up? he actually has a dark suit that will work for one of the evenings that is formal… but for the first evening we were thinking of this as the outfits… matching, sort of Wayne Newton like with the white shirts in flared collars with chest hair showing….
Stayed up way too late.
[218.1]