It is 5:45am and I still need to hit the shower before breakfast. Off to tour the Fjords after a bagel with lox and creamcheese, then onto the boat this afternoon to sail away.
Don't know what internet service will be like on the boat — but know I'll have some Thursday at least.
Evening Update – 5-17-09, Uploaded 5-20-09
A Whale Of A Tour.
This morning it was lots of wildlife, including whales. Here is a shot of an Orca whale: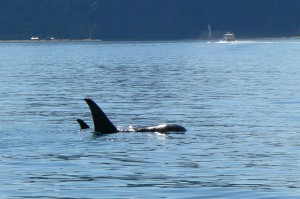 Also saw puffins, Beluga whales, sea otters, seals, and a glacier or two. All the pictures will be posted once I'm near a better internet connection.
So, what does Uncle Markie look like after days of a forced march….
We finally got on board around 4pm and headed off to have a cocktail once we were settled in. Luggage got to the room about 6pm, and we started unpacking the "wine" – well, two bottles were wine. The others were Moonshine, Orange Vodka, Scotch, and Rye for our own Maxi-Bar (as opposed to the mini-bar at $5 a shot).
I did swing by the Front Desk to check on how much of an onboard credit I got… drum-roll…. $250. They counted this as a 14 day cruise (even though half was on land). Guess that will pay for wine at dinners, a few internet minutes tomorrow to update the blog, and maybe a little left over for the room tip.
Dinner tonight in the Rotterdam dining room – which turns out to be shared table dining. Ick. Oh well – better get around to making some reservations!
[? ? ?]