It seems to be a long run from Juneau to Ketchikan as we don't arrive until 2PM. I had to text Swanda when we pulled up next to the Norwegian Pearl – the boat that we were on for our Caribbean cruise last December. Too funny.
But before I go on with the day – here is a shot of Ross and I at dinner last night on formal night:
Today was the Mariner Brunch – in honor of all the "Mariners" on board – that would be someone who has sailed with Holland America before. Free wine with lunch! Apparently there are so many Mariners on board that they had to schedule two of these brunches to handle the number of people. This in addition to the Tile Coaster that was delivered to the room a couple of days ago.
Once we docked I did the "Wi-Fi Dance". What is that dance? Trying various locations around the ship to find an open signal to snatch on and get my mail. No luck.
New plan – wander around town and do the same dance. I ended up wandering around the boardwalks which are all around downtown Ketchikan and the surrounding hillside -a pretty town.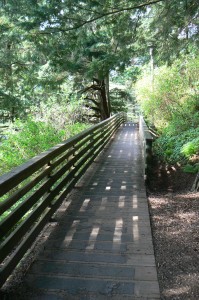 While on the boardwalk I was "accosted" by five junior high schools kids. "Are you from the cruise boat?" "Take our picture!" And to honor the friendliness of the local kids – here you go:
I came home (that would be to the room on the boat), had a plate of build-it-yourself nachos from the pool bar and took a nap.
Reading update:
Finished all the New Yorkers
Finished all the other magazines
Two-thirds of the way through McGarrity's "Everyone Dies"
Tonight is just a regular night of stuffing our face at dinner.
Probably no immediate post for tomorrow as we are at sea all day — destination Vancouver, Sunday morning.
[? ? ?]