Back in the air for me, again.
Up at 8:30, out the door to the airport at 10am.
Bummer — pulling into the airport I get a text message from Alaska Airlines — your flight has been delayed by 45 minutes (which turned into a little over an hour). Had they sent it a half an hour earlier I would have stayed at Mark and Onyx's and gotten some more work done.
The same lunch from the way down was served on the way back — but because my seat mate didn't want his (nor did the rest of the crew) I got his as well.
A work meeting with Swanda followed my arrival to Seattle (with stops at the liquor store and Safeway). Man did he look beat. Nothing like opening a new office to through you into the blender.
Raf came by at around 7 for dinner, and movie and a sleep over. Seems he's broken up with his girlfriend and is homeless, again. I least I have a ton of yardwork to get done so he can earn some bucks to keep his phone, storage locker and insurance paid off.
Dinner was steaks, roasted potatoes, salad and wine. It never seems to get boring.
And here is Raf's contribution to the discussion of food. An oyster shot: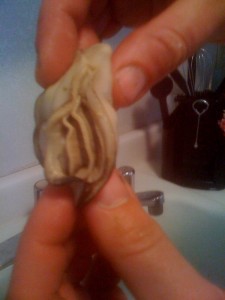 [? ? ?]