Maybe this should be titled how I spent my Saturday after waking up in Olympia…
I've been toying with making an HDTV antenna for Swanda so he could get more channels… there was a blog post months ago with some photos… and I finally got around to making it: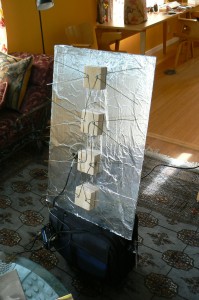 Corrugated plastic (thanks Jill), spray mount, chunks of 2×4, a dozen coat hangers and some electronics.
Two hours of building, a half an hour of testing, and Swanda now has Channel 7, 13, and SIX religious channels in addition to the ones that he used to have before.
Dinner was pork in a sweet chile sauce and a bibb lettuce salad with a lovely huge heirloom tomato. Damn good.
[222 but mid-day]