Just a quick note and a quick picture…
Raf working on SOB, I went and worked on Jimmie's computer, and this is a shot of a house on a barge that delayed my trip back home from Home Depot (1st Avenue Bridge):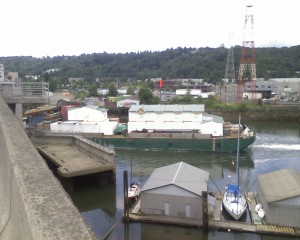 But I got a date tonight so off I am back into the kitchen to finish all the prep work.
Tenderloin, roasted potatoes, salad (from Jimmie's garden) with fresh raspberries from my garden, and a couple of possibilities for wine.
Wish me luck.
[219.9]