After a slightly delayed morning drive by shagging it turned into project day.
Project number one. Install the Inverter Control Panel and Rotary AC Switch into SOB. Now all the power stuff is on one panel under the refrigerator: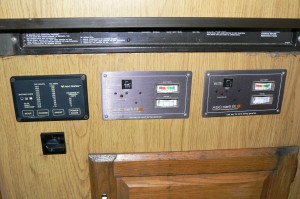 The small black rotary switch will shift the 110 power from shore power to inverter to generator. Super simple.
Next up on the agenda — spray paint Jimmie's propane burner stand high-heat black after Wonderful did a little sand blasting on it. Just in time for Jimmie to start on the beer for Sandi's Wedding in November:
And on to the phone booth. Well, I got it mostly unburied, but that's about all I got done with it:
Spent more time thinking about the electric hoist system that I have the parts for to go into the garage…. did some dis-assembly of the one from the church and starting thinking about plans for the new one. Nine feet of track (left one piece at the church) which should swing everything out of the way of the Jag.
Dinner tonight was with H20Blanco (WhiteWater) who is in town after the Bush visiting family and friends. A huge slab of ribs and salad and wine, and more importantly, a diagnosis of the last problem on the Wolf Range — new thermostat. I get the part, he will install it saving me a $500 service call.
[222.6 — damn potato salad at yesterday's BBQ]