An uneventful morning, and an uneventful flight in seat 1C — that was only 10-15 minutes late getting it which wasn't too bad. My worry is for my flight on Wednesday for which Jill and I are hoping to dodge a bullet (or more precisely, a hurricane).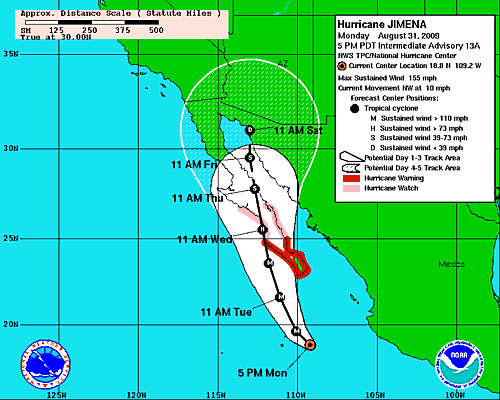 Cabo San Lucas in in the red hurricane warning zone, but out of the rain and wind. I praying for a change in direction tonight or tomorrow or that we will be just delayed a bit as we fly around the storm. Wish us luck.
Got home around 3pm and immediately started sending out more trademark cease and desist emails, making work notes for tomorrow meeting, and generally cleaning up the mess of mail.
Pushed off a computer appointment tomorrow so I could chill out… and then I get email that one of my clients has dropped me as of September 1st. I guess this is just as well since my September is a mess.
This evening better improve. It's freaking 7pm and I need a steak.
And a steak it was and some mixed vegetables, a little wine, a little TV and it's the end of the day.
[220.9 — but LATE in the day, so that's good]