Yes, I replaced my perfectly good cell phone with a newer one… one that runs on T-Mobile's 3G network which they are rolling out nationwide. The dark burgundy area is 3G around Seattle: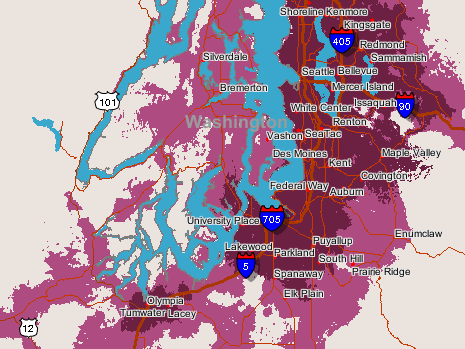 So — how well does it work? Well, I went to the SpeakEasy Speed Test page and used my TinyToyComputer as the test bed with my phone tethered via USB (I suppose I could have used bluetooth, but havent' figured out how to do that yet).
The results? Amazing!
Laptop with 2G tethered connection: 133 kps download, 41 kps upload (really slow)
Laptop with #G tethered connection: 1776 kps download, 360 kps upload (smokin')
Office computer with ClearWire Wi-Max connection: 1497 kps download, 199 upload (damn)
So — the 3G connection is faster than my home connection. That's a shocker. And here is what the phone looks like — a little thinner and lighter than my old phone, but with a slightly different interface: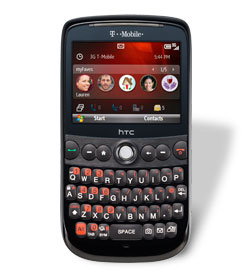 Speaking of computers, Joannie's is now out of the hospital (my dining table) and in return I get a fish platter a month or two from now. It only took three days to purge her computer of the devil.
Quiet dinner at home tonight, with occasional runs to the garage to bind catalogs for the Great Art Party. Did you know you can buy tickets to the Great Art Party online via PayPal? Here is the link — check it out.