First, a recap of yesterday's events that didn't get on the blog….
Jonathan not feeling good, running two hours late to pick me up because he was fighting off nausea
His car starts seeping transmission fluid half way to Canada
The beer belly wouldn't hold the scotch and started dribbling (what is it with leaking fluids!)
But we were on the boat a little after 2pm. Here is a picture from our balcony: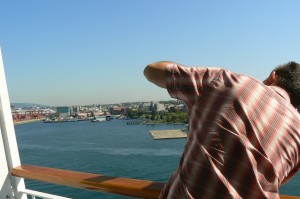 And now for today.
It was a day at sea. Room service continental breakfast in the morning, late breakfast, late lunch, and a martini tasting at 4pm.
At 6pm it was the second installment of the Friends of Dorothy. For those of you who don't know — it's a standard event on cruise ships these days — just like the Friends of Bill W. for the AA/NA (Alcoholics Anonymous/Narcotics Anonymous). Friends of Dorothy is for all the gay and lesbian travellers — though on this ship the attendees tend to be all gay men (though I've seen a couple of couples that I thought were lesbians).
Tonight was "Formal If You Feel Like It" night so Jonathan and I dressed up for dinner in the Seven Seas restaurant for lobster tails, beef wellington, and nice Carmenare from Argentina.
It was an early to bed evening for me, even with the double espresso with Cointreau after dinner. No post midnight room service for us tonight (like very early this morning).
[? ? ?] or should I just add the 7 pounds now.