Talk about lazy daze at sea. Up late, lounge around all day, look out at the grey roiling mass of the sea. I guess without the rocking of the boat, Cabo would have been like this had we gone. Lots of cabin time, lots of reading time.
Jonathan was a sweetheart and brought me breakfast in bed this morning – which was good because I forgot to put the card out last night to have it delivered. On Norwegian it's a continental breakfast that you can have delivered, on Holland America you can get a full breakfast. Oh well.
Lunch today was in the sushi bar. For a $15 up-charge you can pig out on all the sushi you can stomach, and we stomached a lot of sushi.
Today's picture: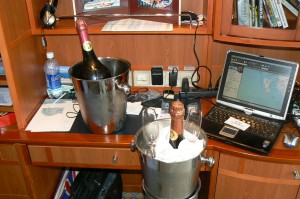 At Le Bistro the other night I was looking at a magnum of the 1996 Tattinger Rose Cometes de champagne that at $260 a magnum was the same price as the regular bottle. This peaked my interest… and the head wine steward was summoned…. After several days of discussion which went from $260 for one, $180 each for two, $145 each for three… we finally ended up at $140 each for two and if I want more he will try and knock the price down to $120 each and write a new ticket. Of course, add the mandatory 15% on top of that.
We opened one of the magnums at the Friends of Dorothy meeting down in the Havana Bar – why it's named the Havana Bar when you can't smoke in there is a mystery, but you CAN buy Cuban cigars and smoke them outside.
We're getting good crowds at the nightly gatherings – sometimes over a dozen guys showing up (and a few more lingering along the side too shy to join in.
Dinner tonight was more like snacks with a bottle of wine with two of the FOD boys (well, men, since they were both 60 plus) up in the Tapas Bar… not the best implementation of a tapas bar – no table service, no napkins or silver, and worse, a really small selection of tapas.
After dinner we went off to a comedy/magic show, which was surprisingly good, though I'm waiting for the crew show which I believe is on Saturday night.
With the light dinner, it was room service after the show and then to bed. Time change tonight back to PST.
[? ? ?]