Talk about a late morning…. I was out of bed at 10:30, Jonathan at 11! Just enough time to get to the Friends of Dorothy lunch at the Seven Seas which got 10 of the guys to show up at. Not bad. I'm figuring the gay men on board at something like 20+.
After breakfast – oh, I mean lunch – I stopped by the reservations desk to book Le Bistro, the French restaurant with the reasonable up-charge, for tonight and the steak place for our final night.
Here is where we were at 2:30 this afternoon: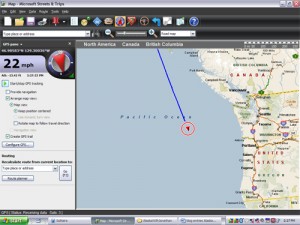 A lazy afternoon of reading before the standard 6pm Havana Club rendezvous. It isn't even in the printed schedule for today, but we passed the word around. Getting to be a habit to start the cocktail hour then.
On the way to dinner we ran into our favorite photo lady – and she got us to pose for her in some "fun" and "daring" shots  — much to the amusement of many other couples in the lobby. Can't wait to see how those turn out!
Dinner tonight was back at Le Bistro – which was good as always – I know this restaurant was on the Pride of America on the Hawaii route, and I believe that it was on the Pearl that Swanda and I were on last December.
After dinner I'm dead in the cabin and Jonathan is off helping the boys with internet access, then off to the White Party – I'm just hoping he brings me a twink for dessert.
[? ? ?]