Up at 8:30, rolled over and re-awoke at 9:30. Got to love Ambien for being able to sleep through the night and avoid jet lag.
Bagel and cream cheese for breakfast, sandwiches around 2 for lunch — just  a lazy day around the house with all three of us sitting on couches working away at our computers.
As part of the celebration of Arthur Guinness' 250thbirthday (yesterday), the celebrations continue though the weekend. Tonight is Culture Night in Dublin, with pretty much every venue offering multiple programs. Our pick for tonight was an Organ Recital by Mark Duleyat the National Concert Hall… half an hour in length, and free if you didn't count the cab ride to/from.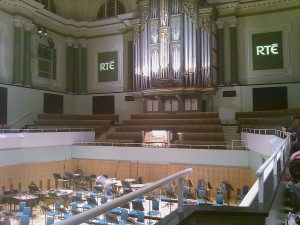 That would be the organ…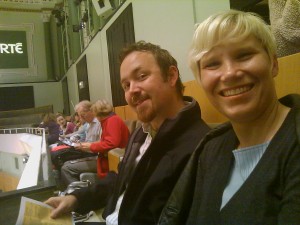 This that would be Jeff and Mindi! Not bad pictures considering they are off my cell phone.
After the concert is was off the the local fresh market — but the meat counter was closed so we'll thaw pork chops when we get home. At least we were able to restock the wine cabinet and get some more Diet Coke for me.
I was the designated chef — whipping up a salad, steamed asparagus, and pork chops with fried onions and plums. Yum.
A late night — let's hope it doesn't affect our tomorrow plans for Middleton and Waterford.
[? ? ?]