Shouldn't Saturdays be slow?
For some reason I was up at 7:45 this morning… and decided to print the Winter Call Envelopes which I couldn't get to print last night. It's amazing what a lack of whiskey in my system does to getting a cranky job to print.
Then some laying around reading the morning paper and finishing the latest (for me) New Yorker.
Noonish saw me slowly (traffic was bad, but it's a sunny day, so who cares) running to Costco for drugs (Ambian and Cialis), then Amtrak to pickup train tickets for Turkey Day, then to Home Depot for Weed Barrier for under the gravel going in by the back gate. Guess I should find someone to deliver some gravel!
A little more reading (Out and Wired) and a short nap. A little work. Prep for dinner… beautiful shot of the fall colors in my neighborhood: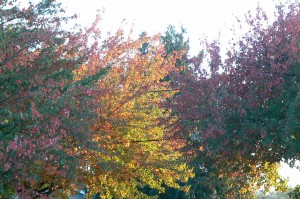 And speaking of dinner. I'm baking some bread because Jonathan is coming to dinner and will typically eat an entire 1lb. loaf. Add a pound plus steak, a baked spud and a salad, and I might be able to fill him up.
Who knows — might even get my tiny travel netbook fixed while he's here.
[219.6]