Something that I figured out last night is that with those three round-trips to the Bay Area that I booked I get to Alaska MVP Status a trip earlier…. after the Orlando trip (Nov. 2 to 6th to see Dan and Lisa) rather than the one way to Flagstaff to catch the train to Santa Fe for Turkey Day.
Why is MVP Gold important? Better chance of upgrading to 1st class, 100% mileage (but not EQM) bonus, and most importantly — the Priority Line at Sea-Tac through security, right behind the airline crew.
But on with my day…
Or maybe it's on with Raphael's day of not working for Mick because of weather, instead, painting my front and back door. Back door featured here: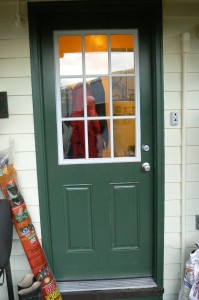 It's only been primed steel for two years now. I haven't a clue for the front door — guessing Wonderful put it in, so that would be five plus years of a primed front door.
Work in the afternoon — kicking things off the To-Do list.
Dinner was Chicken Florentine with Raf — damn, room and board is good here.
[221.7]