Corrections, corrections, corrections. I feel like a scene from Fiddler on the Roof.
So, yesterdays post, here are the corrections:
Even the top 10 list headline was screwed up:
So, the 10 Rules To Be A Good Housewife:
That should be:
So, the 10 Rules To Be A Good HouseGUEST: – really, we aren't in the 50's anymore
And the biggie (other than the other typo I found and will fix):
If your borrow their car, wash it, return it full of cash, even it was empty. You just saved $30-50
Let me tell you, if you fill their car up with cash, even pennies, you will be out more than $30-50. That should have been GAS!
Thanks Onyx for catching those problems… before Swanda caught them.
But all this is just a segway into how I spent my day: working, travelling to the city to work, coming home and buying the last of the ingredients for dinner. But let's start with lunch after a visit to to San Francisco branch…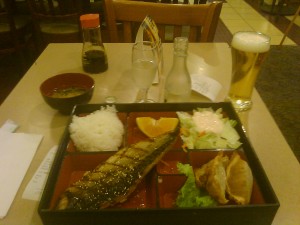 Great little Japanese place not far from the E&A San Francisco office that does a nice bento box lunch. I got the deluxe and then added a little dry sake — and when I was rung up she offered me a free Sapporo Beer. OK. I was thinking the small glass like the sake — no, it was a full 10-12 oz pour of Draft Sapporo. How do they do that — ship kegs over? Anyway — here is the place: Kamakura Sushi and Sake House.
Then it was back across the bay (easy commute even with the Bay Bridge closed) and a trip to the Berkeley Bowl for the last remnants of tonight's dinner of Tandori Pork, mixed greens and a lovely rice concoction which I didn't burn, but could have used another five minutes.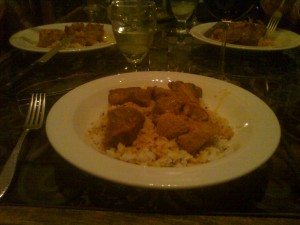 Actually got to bed at a decent time — which is good because I fly out in the morning.
[? ? ?]